Previous

Next

property
$273
3 BR / 3 BA / Sleeps 7
$273
Book
3 BR
/
3 BA
/
Sleeps 7
|

Quick view
Spacious full floor Penthouse with spectacular Coral Sea views and conveniently positioned close to everything you need. It is in a small luxury resort with 4 pools including great kiddies pool. Airlie Beach is a party town. You have clubs, restaurants, bars all within strolling distance. It is also a family …
Ocean or water views

Shared outdoor pool (unheated)

Hot Tub/Jacuzzi

Wireless Internet

Washing Machine
Smoking allowed - ask

Suitable for children

Suitable for the elderly - ask
Previous

Next

property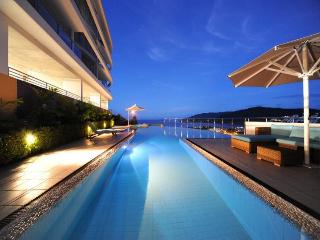 $156
2 BR / 2 BA / Sleeps 4
$156
Book
2 BR
/
2 BA
/
Sleeps 4
|

Quick view
Perfectly positioned in the hills just behind the main street of Airlie Beach this two bedroom contemporary apartment which features modern appliances and furnishings has fantastic sea views and is walking distance to the lagoon, shops, restaurants and bars. This apartment is located in the resort complex Searene …
Shared outdoor pool (unheated)

Washing Machine

Clothes Dryer

A/C or climate control

Balcony or terrace
Suitable for children

Suitable for the elderly

Wheelchair accessible
Previous

Next

property
$203
2 BR / 2 BA / Sleeps 4
$203
Book
2 BR
/
2 BA
/
Sleeps 4
|

Quick view
This two bedroom is located in a resort complex in Airlie Beach. The resort offers 3 swimming pools, BBQ facilities, a GYM and a fine dining restaurant and lounge. This two bedroom is fully self contained and sleeps up to 4 guests. It has private access to the main pool via the balcony staircase and is a much sought …
Ocean or water views

Shared outdoor pool (unheated)

Hot Tub/Jacuzzi

Washing Machine

Clothes Dryer
Suitable for children

Suitable for the elderly

Wheelchair accessible
Previous

Next

property
$328
4 BR / 5 BA / Sleeps 8
$328
Book
4 BR
/
5 BA
/
Sleeps 8
|

Quick view
Kookaburra Lodge Whitsundays" an amazing holiday destination at the very top of the valley. Kookaburra Lodge can accommodate for a large family or famililies travelling together. This beautiful home sits on 4 acres is private and surrounded by nature with only a 7 minute drive to Airlie Beach and 3 minute drive to …
Mountain Views

Shared outdoor pool (unheated)

Hot Tub/Jacuzzi

Washing Machine

Clothes Dryer
Pet friendly - ask

Smoking allowed - ask

Suitable for children

Suitable for the elderly

Wheelchair accessible
Beautiful Property, Wonderful View.
Left on Jan 07, 2015 for a stay in December 2014
Kookaburra Lodge was absolutely breathtaking, from the view from the pool to the well appointed bedrooms and lounge rooms. The kitchen was well appointed (however the oven took a bit of getting used to). We had 8 people living in the house for a week and hardly knew anybody was there. Definitely worth a close look at for future holidays, would highly recommend this property.
Previous

Next

property
$781
4 BR / 5 BA / Sleeps 8
$781
Book
4 BR
/
5 BA
/
Sleeps 8
|

Quick view
Luxury Resort Style Holiday Home with ensuited bedrooms, expansive indoor outdoor lounging dining and entertaining areas alongside beautiful wet edge swimming pool. Stunning views and sea breezes walking distance to all attractions. Simply Beautiful! FEATURES: • Superb swimming pool and outdoor living area with …
Suitable for children

Suitable for the elderly - ask

Wheelchair accessible - ask
Previous

Next

property
$468
3 BR / 3 BA / Sleeps 8
$468
Book
3 BR
/
3 BA
/
Sleeps 8
|

Quick view
Prestigious 3 bedroom Residence on Horizons! This magnificent home located in the award winning Horizons Estate defines sophistication and class combined with modern executive style living. From the stunning interior through to the large two leveled timber deck, you can see views forever. Entertain or relax in …
Ocean or water views

Washing Machine

Clothes Dryer

Outdoor Dining Area

A/C or climate control
Suitable for children - ask

Suitable for the elderly
Simply Stunning
Left on Apr 04, 2014 for a stay in March 2014
Stayed here for 5 nights but wish it had been longer. The house is inside a gated community so very secure. The views out of every window is incredible basically this place is amazing the height of luxury. I would highly recommend this to any one who wants some luxury in Airlie Beach
Previous

Next

property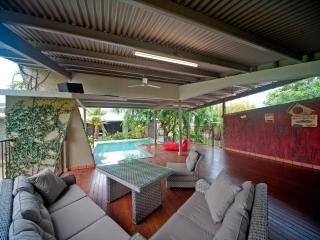 $367
1 BR / 3 BA / Sleeps 12
$367
Book
1 BR
/
3 BA
/
Sleeps 12
|

Quick view
Entertainers Holiday Home - 4 Bedrooms plus cinema room, open plan living, kitchen and dining opening up to exterior courtyard. BBQ with open fireplace and pizza oven! This home is located only a few minutes drive to the shopping centre and is 5 KM to the heart of Airlie Beach. There is plenty of parking and room …
Washing Machine

Clothes Dryer

Outdoor Dining Area

A/C or climate control

Patio
Suitable for children

Suitable for the elderly

Wheelchair accessible
Previous

Next

property
$195
2 BR / 2 BA / Sleeps 7
$195
Book
2 BR
/
2 BA
/
Sleeps 7
|

Quick view
This three bedroom apartment is situated in Airlie Beach walking 800 meters to the main street. The apartment has three bedrooms and sleeps up to 7 guests. The balcony has outdoor seating and water views and the complex has a large swimming pool. The apartment is fully self contained with a large kitchen and laundry …
Ocean or water views

Shared outdoor pool (unheated)

Washing Machine

Clothes Dryer

A/C or climate control
Previous

Next

property
$180
1 BR / 1 BA / Sleeps 2
$180
Book
1 BR
/
1 BA
/
Sleeps 2
|

Quick view
Airlie Beach fully self contained one bedroom apartment with one bathroom and open plan lounge to exterior patio and a functional kitchenette with fridge, microwave, toaster and kettle. Includes dishes for four guests. Perfect for a family wanting close proximity to town and resort facilities. Pool, toddler pool and …
Shared outdoor pool (unheated)

Hot Tub/Jacuzzi

A/C or climate control

Linens Provided

Towels Provided
Previous

Next

property
$265
4 BR / 2 BA / Sleeps 10
$265
Book
4 BR
/
2 BA
/
Sleeps 10
|

Quick view
Norms Beach House is perfectly positioned one house back from the waterfront and is only 200 metres from the main street and beautiful public swimming lagoon where there are great play facilities for the kids. There is direct access to the boardwalk that takes you to town or the around to the marina. Great fishing …
A/C or climate control

Balcony or terrace

Parking

Grill

Linens Provided
Previous

Next

property
$176
2 BR / 1 BA / Sleeps 2
$176
Book
2 BR
/
1 BA
/
Sleeps 2
|

Quick view
Airlie Beach fully self contained two bedroom apartment with one bathroom and open plan lounge to exterior patio and a functional kitchens. Perfect for a family wanting close proximity to town and resort facilities. Pool, toddler pool and spa as well as BBQ area and gym are all part of the resort. Resort 1 Bedroom …
Ocean or water views

Shared outdoor pool (unheated)

Hot Tub/Jacuzzi

Washing Machine

A/C or climate control
Suitable for children

Suitable for the elderly - elevator access

Wheelchair accessible
Previous

Next

property
$312
2 BR / 2 BA / Sleeps 6
$312
Book
2 BR
/
2 BA
/
Sleeps 6
|

Quick view
Waterfront Apartment perched on the Peninsula. Three bedrooms, two bathrooms and open plan living and dining area. Balcony overlooking Abel Point Marina and Whitsunday Island. The Peninsula is located at the tip of Shingley Drive directly on the Airlie Beach boardwalk and beside Shingley Beach. The location is walking…
Ocean or water views

Shared outdoor pool (unheated)

Washing Machine

Clothes Dryer

Outdoor Dining Area
Suitable for children

Suitable for the elderly

Wheelchair accessible
Previous

Next

property
$328
4 BR / 3 BA / Sleeps 10
$328
Book
4 BR
/
3 BA
/
Sleeps 10
|

Quick view
The house has it all. Four bedrooms plus a study that can double as a bedroom with a double fold out sofa bed. Large open space lounge/kitchen and dining area that opens up onto an entertaining deck with pool overlooking views of the Coral Sea. Viewpoint is very popular for our holiday guests. With a fantastic …
Ocean or water views

Washing Machine

Clothes Dryer

Outdoor Dining Area

A/C or climate control
Previous

Next

property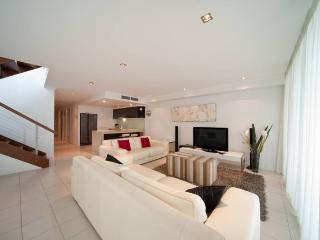 $304
3 BR / 2 BA / Sleeps 6
$304
Book
3 BR
/
2 BA
/
Sleeps 6
|

Quick view
This property is suited to holiday makers wanting an ideal location in the Whitsundays. Watch the children play on Shingley Beach from the Viewing Deck. Three Bedrooms, 3 Bathrooms, 2 decks, open plan kitchen, lounge and dining room. The second level Sunset viewing deck is perfect to relax and or entertain with…
Waterfront

Ocean or water views

Shared outdoor pool (unheated)

Washing Machine

Clothes Dryer
Pet friendly - ask

Suitable for children

Suitable for the elderly - elevator access

Wheelchair accessible
---
---