4 Results
Relevance
Price: low to high
Price: high to low
Number of reviews
First Bight villa
5 bedrooms / 8 bathrooms / sleeps 12
"Awesome vacation" Casa Vista Verde exceeded our expectations!! House was perfect, Nolvia was even better:) Her meals were excellent and the service of the entire staff was first-class. Ana made the details easy and we thoroughly enjoyed the week in Roatan. Only downside was the sandflies - irritating things but not too bad.
Match: Private fishing lake or river Pool or snooker table
All filters match
Price per night from
$543
Utila apartment
1 bedroom / 1 bathroom / sleeps 2
"Honduran adventure and Restful Times" Victoria and Henry Karpinski were amazing hosts. The accommodations in the penthouse were actually...breathtaking. Everything inside was clean, orderly and practical to just live and relax. The views were incredible and beautiful blue, green, and coral colored water views from every window and decks! The restaurant one story below was so convenient to grab a meal or snack then come back upstairs and relax. The kayaks and snorkeling equipment you can use while staying with Henry & Victoria are a fantastic way to get out and do some adventure time. The sea life is incredible and taking the kayak a short distance will take you to deserted sandy beaches. Thank you Victoria and Henry for a fabulous vacation! I will be sure to tell my friends and family to come visit! Mariners Landing, a short ride across the sea was terrific and would love to help find some buyers for your beach front properties. Henry's construction work was top-notch and your design work on layout and decorating was fabulous! Keep up the good work...
1 of 2 match: Pool or snooker table, Private fishing lake or river
1 of 2 filters match
Price per night from
$154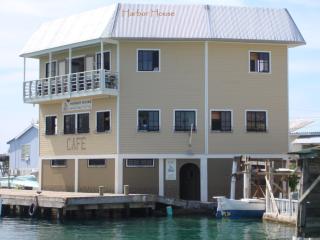 Roatan apartment
3 bedrooms / 3 bathrooms / sleeps 6
"Great if you want to be active or just relax!" Club Natale is located in right next to some of the best snorkeling on the island. In addition, the condos are located on a hill next to the beach which allows great view of the ocean. It probably takes 30 seconds to walk to the beach which is very private and located right next a lagune. Great place. It has a peace about it which is really nice.
1 of 2 match: Pool or snooker table, Private fishing lake or river
1 of 2 filters match
Price per night from
$197
West Bay condo
2 bedrooms / 2 bathrooms / sleeps 6
1 of 2 match: Private fishing lake or river, Pool or snooker table
1 of 2 filters match
Price per night from
$166