Previous

Next

property
$100
1 BR / 1 BA / Sleeps 6
Inquire
1 BR
/
1 BA
/
Sleeps 6
|

Quick view
Cozy condo in the heart of Folly Beach, South Carolina is perfect for an inexpensive weekend or weekly getaway, with a small family or group of friends. Totally new HVAC system installed Sept. 2014. This perfectly decorated 1Bedroom/ 1Bathroom condo is just two blocks from the Folly Beach Pier and is located directly …
Internet Access

A/C or climate control

Microwave

Refrigerator

Satellite or cable TV
Suitable for children

Suitable for the elderly - ask

Wheelchair accessible - ask
Great Time on Folly Beach
Left on Mar 28, 2013 for a stay in March 2013
My husband and I stayed here for a long weekend. We had a great time and the condo worked very well for us. I loved that we could walk to all the cute bars and restaurants on Folly, and it was a quick 15-minute drive (without traffic) to downtown Charleston. The only thing I would change is that the cleaning crew only left us with half a roll of toilet paper, so we had to buy our own, even though…
Previous

Next

property
$145
3 BR / 3 BA / Sleeps 8
Inquire
3 BR
/
3 BA
/
Sleeps 8
|

Quick view
Newly renovated 3 Bedroom Marsh View condo located at the Edge of America is a great getaway for your family or a group of friends. If peace and quiet is what you need, then this Turn of River condo is for you. The screened in patio looks over the Intercoastal Waterway (ICW). Enjoy the cool breezes while watching …
Ocean or water views

Shared outdoor pool (unheated)

Internet Access

Washing Machine

Clothes Dryer
Suitable for children

Suitable for the elderly - ask

Wheelchair accessible - ask
nice view
Left on Feb 28, 2013 for a stay in February 2013
great and nice unit. had a wonderful stay.would stay again and probably will
Previous

Next

property
$150
2 BR / 1 BA / Sleeps 4
$150
Book
2 BR
/
1 BA
/
Sleeps 4
|

Quick view
Completely renovated marsh front duplex. We are just steps from the most beautiful beach access on Folly and 2 blocks from the Washout for surfers. Property features 2 sister units each with 2 bedrooms and 1 bath. Rent entire duplex for 8 people or one side for 4 people. Perfect for 2 families. Features include …
Ocean or water views

Wireless Internet

Washing Machine

Clothes Dryer

A/C or climate control
Pet friendly

Suitable for children

Suitable for the elderly
All you could ask for
Left on Sep 13, 2014 for a stay in August 2014
Stayed with my wife and our two daughters and had a wonderful time. The location is very short walk to a nice part of Folly Beach and a short walk to some great surfing at the "washout". The property was clean with a fun theme and it had everything we needed. An outdoor shower would be a nice addition.
Previous

Next

property
$150
3 BR / 3 BA / Sleeps 6
Inquire
3 BR
/
3 BA
/
Sleeps 6
|

Quick view
PLEASE CLICK ON THE "AVAILABILITY" TAB ABOVE TO CHECK FOR AVAILABLE DATES. Welcome to our fabulous one-level, three-bedroom, three-bath Folly Beach home at Turn of River! If you are looking for something a little different than the usual beach-themed condo, THIS IS IT! We just purchased this spacious 1,500 s.f. condo…
Waterfront

Ocean or water views

Shared outdoor pool (unheated)

Internet Access

Washing Machine
Suitable for children

Suitable for the elderly - elevator access

Wheelchair accessible - ask
Fantastic!
Left on Jun 29, 2012 for a stay in June 2012
Our family had a wonderful time at this condo! The view from the screened in balcony is awesome! The condo has everything you need. The towels and linens are luxurious. There is plenty of space even with six adults. It is an easy walk to the beach and many nearby sites to see. Highly recommend the swamp walk at Magnolia Plantation.
Previous

Next

property
$142
4 BR / 2 BA / Sleeps 8
Inquire
4 BR
/
2 BA
/
Sleeps 8
|

Quick view
Clean, darling 4 bedroom beach house located direcly on the ocean beach sands in Folly Beach at 1675 E. Ashley Avenue. House was completely remodeled in 2012; 4 bedrooms (3 queen beds, 2 twin beds), 2 bathrooms, living/dining room; new kitchen. Fully furnished with all appliances; stove, refrigerator, microwave, …
Waterfront

Ocean or water views

A/C or climate control

Central heating

Porch
Suitable for children - ask

Suitable for the elderly - ask
Previous

Next

property
$136
3 BR / 3 BA / Sleeps 6
Inquire
3 BR
/
3 BA
/
Sleeps 6
|

Quick view
3 of Folly Beach's closest units to the fishing pier and Center St.! 15 minutes from historical Charleston with many fine restaurants and historical sites, gardens and Forts. Public boat ramp with parking less than 1 mile. Golf course less than 10 minutes on nearby James Is. Other famous courses nearby.This …
Wireless Internet

Fireplace

Washing Machine

Clothes Dryer

A/C or climate control
Suitable for children

Suitable for the elderly

Wheelchair accessible
Previous

Next

property
$150
3 BR / 2 BA / Sleeps 10
$150
Book
3 BR
/
2 BA
/
Sleeps 10
|

Quick view
Comfortable 2nd row beach house. Only a 5 minute walk to the beach. Large back deck with a private back yard for family activities. Open kitchen and dinning room, great for family meals. Kitchen is fully equipped. The house has 1 king bed, 1 queen bed, 2 twin beds and 2 sofa beds.2 bathrooms. Master bathroom has …
Wireless Internet

Washing Machine

Clothes Dryer

Outdoor Dining Area

A/C or climate control
Suitable for children

Suitable for the elderly
Previous

Next

property
$150
3 BR / 2 BA / Sleeps 10
Inquire
3 BR
/
2 BA
/
Sleeps 10
|

Quick view
Charming professionally decorated beach house steps from the beach. "It's A Shore Thing" beach house is a great place for that family vacation, or private getaway. The open floor plan and vaulted ceiling, and well-appointed amenities allow for a relaxing and comfortable vacation. Uniquely situated 9 miles from …
Ocean or water views

Washing Machine

Clothes Dryer

A/C or climate control

Central heating
Pet friendly

Suitable for children - ask

Suitable for the elderly - ask
Previous

Next

property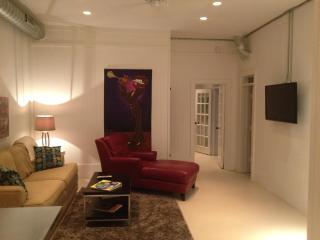 $150
1 BR / 1 BA / Sleeps 5
Inquire
1 BR
/
1 BA
/
Sleeps 5
|

Quick view
Newly renovated apartment on a corner lot one block from the beach with amazing beach access. Only a 15 minute drive from beautiful historic downtown Charleston. One large bedroom with one large bath. Open modern kitchen with new cabinets, granit countertops and new appliances. Kitchen is fully stocked with dishes…
Internet Access

Washing Machine

Clothes Dryer

A/C or climate control

Central heating
Pet friendly - ask

Suitable for children

Suitable for the elderly

Wheelchair accessible
Comfortable, Clean, Convenient and Cool place to stay in Folly B
Left on Nov 02, 2012 for a stay in October 2012
For the two of us this was a perfect place to stay. We rented beach bikes and rode the six blocks to the shops and restaurants for breakfast every morning - then rode the bikes about three miles or so out to the lighthouse at the end of the island. A nice one block walk to the beach and a nicely shaded street made it pleasant for a walk and an evening drink on the patio. The place was new, …
---
---