Previous

Next

property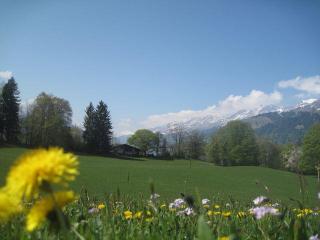 $196
6 BR / 2 BA / Sleeps 11
$196
Book
6 BR
/
2 BA
/
Sleeps 11
|

Quick view
Halteweidli is in the heart of some of the world's best skiing, and yet offers the opportunity for complete relaxation. The chalet stands quite alone at the end of a half mile private lane, in a stunning location, just above the Thunersee and facing the entire length of the Kandertal, with breathtaking views from …
Ocean or water views

Mountain Views

Internet Access

Fireplace

Washing Machine
Pet friendly - ask

Suitable for children

Suitable for the elderly - ask
Christmas vacation 2011
Left on Jan 25, 2012 for a stay in December 2011
We (family with 3 kids 3 y.o., 9 y.o., 12 y.o.) spent two weeks in aescheried and are very content with our vacation.
First surprise was that early in the morning four little deers approached so close to our home.
Set on the edge of the hill the house looks down to the forest and you can watch wildlife that inhabits it just from the bed: squirrels, woodpeckers, other birds and if you are lucky…
Previous

Next

property
$402
3 BR / 2 BA / Sleeps 6
Inquire
3 BR
/
2 BA
/
Sleeps 6
|

Quick view
When you take a vacation to a foreign country like Switzerland, you're going to be participating in the local culture. You'll be skiing Swiss slopes, visiting Swiss museums, and eating Swiss chocolate so why should your Swiss accommodation be any different? This authentic Switzerland chalet apartment is great for a …
Internet Access

Washing Machine

Clothes Dryer

Central heating

Grill
Pet friendly - ask

Smoking allowed - ask

Suitable for children - ask

Suitable for the elderly - ask

Wheelchair accessible - ask
Previous

Next

property
$70
7 BR / 4 BA / Sleeps 13
$70
Book
7 BR
/
4 BA
/
Sleeps 13
|

Quick view
Cosy Chalet Ave at Top location on the sunny side of the world-famous winter- and summer resort Grindelwald is ideal for family vacation and offers one of the best views on the famous Eiger North Face, the Fiescherlücke and the Wetterhorn. Only 5 minutes (1 km) by car from the center of the village, 150 m from the …
Mountain Views

Sauna

Internet Access

Fireplace

Washing Machine
Pet friendly - ask

Suitable for children

Suitable for the elderly

Wheelchair accessible - ask
If I could, I would buy Chalet Ave right now and live there forever
Left on Feb 10, 2014 for a stay in June 2012
Chalet Ave has many assets - the typical Swiss setting - the amazing view - the easy access - the quiet of being away from the main street - the natural setting - the beautiful Chalet - the intricate and ornate woodwork - staying in a chalet where every nook and cranny has a story - the relaxing outside garden and patio - the amazing wooden water trough - the sounds of Switzerland that seep …
Previous

Next

property
$107
2 BR / 1 BA / Sleeps 6
$107
Book
2 BR
/
1 BA
/
Sleeps 6
|

Quick view
Holiday Apartment in Chalet - Zãundli House B Habkern Switzerland Comfortable 3 1/2 room holiday apartment in Chalet in the Swiss mountains in the Bernese Oberland. Well equipped kitchen, big living room, 2 closed bedrooms one with double bed and one with a bunkbed and single bed and an extra bed or cot can be set …
Mountain Views

Washing Machine

Outdoor Dining Area

Central heating

Balcony or terrace
Suitable for children

Suitable for the elderly
Wonderful , amazing views.
Left on Jul 06, 2014 for a stay in June 2014
This apartment was very clean and well appointed. Easy parking and the views were amazing. A great place to stay and relax.

Thank you.
Previous

Next

property
$67
2 BR / 1 BA / Sleeps 6
Inquire
2 BR
/
1 BA
/
Sleeps 6
|

Quick view
The holiday homes are well equipped and have all the advantages of an apartment plus the special atmosphere and facilities associated with camping "Great for families". we can accommodate 2-7 persons (max 4 adults 3 children), all have a full inventory, Drinkable mains water, Waste drainage, Toilet, Shower, Fridge, 4 …
Ocean or water views

Mountain Views

Shared outdoor pool (unheated)

Sauna

Washing Machine
Suitable for children

Suitable for the elderly - ask

Wheelchair accessible - ask
Cheaper than Bournemouth!
Left on Dec 21, 2012 for a stay in September 2012
First class on an imaculate site. Friendly site managers always willing to help when needed.
Mini supermarket, restaurant and a beach on site; and the high alps within a few miles.
My wife and I have been customers of altogold for many years because we can't find anything better
Previous

Next

property
$244
2 BR / 2 BA / Sleeps 4
$244
Book
2 BR
/
2 BA
/
Sleeps 4
|

Quick view
Chalet Kiwi is situated in the heart of Grindelwald village, a 5 minute walk from the main railway station (where you can find trains to Männlichen, Kleine Scheidegg , the Jungfraujoch, ...). Walking distance to bus stops, the Sports Center with indoor swimming pool and ice rink, restaurants. The chalet is close to…
Mountain Views

Internet Access

Fireplace

Washing Machine

Central heating
Suitable for children

Suitable for the elderly - ask
Extraordinary chalet, lovely furnishings, perfect location!!
Left on Jul 12, 2010 for a stay in June 2010
This is a beautiful chalet, beautifully maintained. It's everything that the website photos suggested it would be, and more! Altogether worth the price. The rental managers are extremely friendly and helpful. Location couldn't be better -- set back from the street in a quiet location, but with superb mountain views from the porch, and only a three-minute walk to the railroad station. Perfect …
Previous

Next

property
$86
2 BR / 2 BA / Sleeps 4
Book
2 BR
/
2 BA
/
Sleeps 4
|

Quick view
Interior "Brienzersee", 3-room apartment on 1st floor, cosy furnishings: living/dining room with cable TV. Exit to the balcony. 1 room with 1 double bed. 1 room with 1 x 2 bunk beds. Kitchen (3 hot plates, oven) with dining table. Shower/WC, bath/shower/WC. Electric heating. Balcony. Beautiful view of the lake, the …
Balcony or terrace

Parking

Stove or Oven

Television
Pet friendly

Smoking allowed - ask

Suitable for the elderly

Wheelchair accessible - ask
Previous

Next

property
$95
2 BR / 2 BA / Sleeps 4
Book
2 BR
/
2 BA
/
Sleeps 4
|

Quick view
Interior 3-room apartment on 2nd floor, stylish and cosy furnishings: living/dining room with cable TV, radio, CD-player and DVD. 2 rooms, each room with 2 beds (90 cm, length 200 cm). Open kitchen (oven, dishwasher, 4 ceramic glass hob hotplates, microwave), fondue Set (cheese). Shower/WC, bath/shower/WC. Small …
Washing Machine

Balcony or terrace

Dishwasher

Microwave

Stove or Oven
Suitable for the elderly

Wheelchair accessible - ask
Previous

Next

property
$121
2 BR / 2 BA / Sleeps 4
Book
2 BR
/
2 BA
/
Sleeps 4
|

Quick view
Interior "Apt. G", 3-room apartment 65 m2, on the ground floor, bright, modern and tasteful furnishings: living/dining room with Scandinavian wood stove, cable TV, radio, CD-player and DVD. 1 room with 1 double bed (2 x 80 cm, length 200 cm). 1 room with 1 double bed (1 x 160 cm, length 200 cm). Open kitchen (oven, …
Fireplace

Balcony or terrace

Dishwasher

Stove or Oven

Television
Suitable for the elderly

Wheelchair accessible - ask
Previous

Next

property
$105
2 BR / 1 BA / Sleeps 4
Book
2 BR
/
1 BA
/
Sleeps 4
|

Quick view
Interior 3-room apartment 65 m2 on 1st floor, south facing position, practical and cosy furnishings: living room 15 m2 with satellite TV, international TV channels, radio and CD-player. 1 double bedroom 14 m2 with 1 double bed (2 x 90 cm, length 200 cm). Exit to the balcony. 1 double bedroom 11 m2 with 1 double bed (2…
Balcony or terrace

Parking

Garden

Microwave

Television
Suitable for the elderly

Wheelchair accessible - ask
Previous

Next

property
$150
2 BR / 1 BA / Sleeps 4
$150
Book
2 BR
/
1 BA
/
Sleeps 4
|

Quick view
Sunny 3-room apartment in braungebranntem chalet right on the slopes and still in the village. New kitchen, new bathroom with shower / WC, small bedroom with bunk beds, large bedrooms each with a double and a single bed, living room, porch. Breathtaking views of the Eiger, Mönch and Jungfrau. Starting point for …
Pet friendly

Suitable for children

Suitable for the elderly
Previous

Next

property
$139
2 BR / 1 BA / Sleeps 4
Ideally located in the village of Spiez, 5 minutes from the bus stop and 20 minutes walk from the train station. Our newly renovated 2 bedroom unit overlooks the lake of Thun. A large garden with under cover BBQ area is there to be used. The garden is bordering onto the forest which is ideal for taking a stroll, or …
Ocean or water views

Mountain Views

Internet Access

Washing Machine

Clothes Dryer
Pet friendly - ask

Suitable for children

Suitable for the elderly

Wheelchair accessible
Rental is a winner
Left on Mar 17, 2014 for a stay in October 2013
Last October (2013) we had the pleasure to spend three weeks at this rental. It was a wonderful experience to be repeated again as soon as possible.
Mr. & Mrs. Erb are most accommodating and friendly owners.We enjoyed meeting them.

The apartment is spacious, with comfortable and elegant furniture, dishes, and linens. Great kitchen.Everything you need is there, done in the best of taste.

The …
---
---