Previous

Next

property
$300
2 BR / 2 BA / Sleeps 6
$300
Book
Coronado condo
2 BR
/
2 BA
/
Sleeps 6
|

Quick view
Beachfront 2 Bedroom, 2 Bath Designer Condo. Live on Coronado Beach, voted finest beach in America by the Travel Channel, you will be on the 14th floor and eye-level with passing pelicans, seagulls and Navy jets, watch pods of dolphin, and seals (nautical) as well as follow the training of Navy Seal Team and Marines …
Waterfront

Ocean or water views

Shared outdoor pool (unheated)

Internet Access

Housekeeping Optional
Suitable for children

Suitable for the elderly

Wheelchair accessible
Previous

Next

property
$200
1 BR / 1 BA / Sleeps 4
Inquire
Coronado house
1 BR
/
1 BA
/
Sleeps 4
|

Quick view
The El Cordova offers an informal Spanish garden and courtyard Visitors to the San-Diego region looking for lodging that provides premier accommodations, a relaxed atmosphere, and world-class amenities should check out the El Cordova Hotel. This charming Spanish-Village hotel located in the island village of Coronado…
Waterfront

Hot Tub/Jacuzzi

Wireless Internet

Outdoor Dining Area

A/C or climate control
Suitable for children

Suitable for the elderly - ask

Wheelchair accessible - ask
Previous

Next

property
$500
5 BR / 3 BA / Sleeps 10
1 / 27
(9)
" Excellent "
Inquire
Coronado house
5 BR
/
3 BA
/
Sleeps 10
|

Quick view
Calendar is up to date - Five bedrooms 3 full baths and is pet & kid friendly! . Imagine staying in the exclusive Coronado Cays, the only water front/marine community in San Diego. What a view... the Pacific Ocean, Point Loma and even Mexico! You can hear the soothing sounds of the waves or the yell of a sea …
Ocean or water views

Internet Access

Fireplace

Housekeeping Optional

Washing Machine
Pet friendly

Suitable for children

Suitable for the elderly

Wheelchair accessible - ask
Perfect Family Beach Vacation Home
Left on Jan 06, 2012 for a stay in June 2011
My family of 5 has stayed at this home for a week the past several summers. The location is awesome with short walks to playgrounds, tennis courts, the Loew's hotel next door and, of course, the beach! The home was equipped with everything we needed and the owner was responsive to any questions or concerns that we had. I highly recommend it!
Previous

Next

property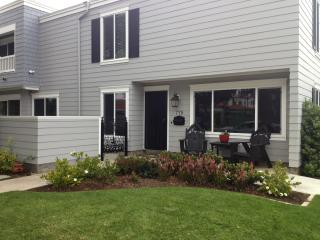 $425
3 BR / 3 BA / Sleeps 6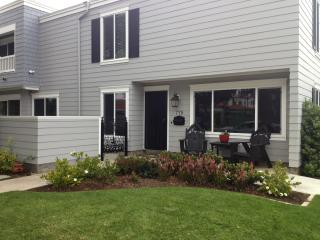 1 / 12
(2)
" Excellent "
$425
Book
Coronado condo
3 BR
/
3 BA
/
Sleeps 6
|

Quick view
This is a three bedroom 2.5 bath unit that is actually private. It is one of six units. Mine is on the corner. It has its own entrance, porch and private fenced patio. The upstairs has a master and bath and two more bedrooms and a bath. The downstairs has a living room, dining room, kitchen, a half bath and a …
Internet Access

Fireplace

Washing Machine

Clothes Dryer

Outdoor Dining Area
Pet friendly - ask

Suitable for children

Suitable for the elderly - ask

Wheelchair accessible - ask
Cute and Fun says it all
Left on Mar 15, 2014 for a stay in March 2014
The first thing to note is that this is not a typical rental unit. You are renting Barb's home. As such it is in excellent condition and the interior decorating is, well...cute!

Centrally located and very comfortable. Barb came by and gave us some excellent restaurant and other tips about Coronado and San Diego.

Wonderful outdoor gas fire pit really adds to the charm of the unit.
Previous

Next

property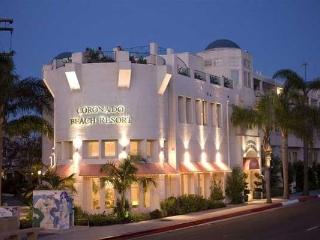 $199
1 BR / 1 BA / Sleeps 4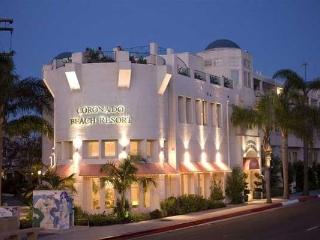 1 / 26
(24)
" Excellent "
Inquire
Coronado condo
1 BR
/
1 BA
/
Sleeps 4
|

Quick view
The Coronado Beach Resort is the perfect home base for exploring the delights of Coronado- one of Southern California's most treasured historic cities with an unforgettable stretch of white sand beach. The resort is uniquely located across the street from the famed Hotel Del Coronado, and offers guests easy access …
Ocean or water views

Hot Tub/Jacuzzi

Internet Access

Housekeeping Optional

A/C or climate control
Suitable for children

Suitable for the elderly

Wheelchair accessible - ask
The Best of Everything in Coronado
Left on Feb 03, 2012 for a stay in January 2012
Enter Coronado Beach Resort and you are welcomed immediately by staff and resident Parrot "Cody". The aroma of fresh baked cookies or freshly made popcorn wafts around you as the front desk caters to your every request. The condo rooms range from studios that are cozy for couples, spacious one and two bedrooms that are great for families or friends. I had my daughter's 18th birthday party there …
Previous

Next

property
$643
4 BR / 3 BA / Sleeps 10
$643
Book
Coronado house
4 BR
/
3 BA
/
Sleeps 10
|

Quick view
Welcome to our Home away from Home. 2450 sqft 3 Story Home. 4 beds/3.5 bath/2 car garage. Sleeps 8-10. Home sits 500 ft to Beach and Ferry Landing where we look at the spectacular skyline city views across the Bay each day. This luxurious and professionally staged home contains wonderful decor and neutral …
Waterfront

Ocean or water views

Internet Access

Fireplace

Housekeeping Optional
Previous

Next

property
$643
4 BR / 2 BA / Sleeps 8
$643
Book
Coronado house
4 BR
/
2 BA
/
Sleeps 8
|

Quick view
Our home is ready to give you lasting memories of a fabulous vacation. We are in a quite neighborhood and a short walk to the beach. Our home has recently been remodeled with gourmet kitchen and beautiful baths. The outdoors features 2 Palaps that give you more tropical living spaces. Featuring 3 BBQ's and fireplace…
Hot Tub/Jacuzzi

Wireless Internet

Fireplace

Washing Machine

Clothes Dryer
Suitable for children

Suitable for the elderly

Wheelchair accessible - adapted
Previous

Next

property
$950
4 BR / 3 BA / Sleeps 8
$950
Book
Coronado house
4 BR
/
3 BA
/
Sleeps 8
|

Quick view
Enjoy all the glory of Coronado in this newly remodeled 4Br/3Ba single-story corner-lot home, just 1 short block to the beach and 15 leisurely minutes walk into town and the Hotel del Coronado. 1 Master Bedroom with Master Bath; 3 Queen Bedrooms (1 with private entrance). New kitchen, washer/dryer, fully enclosed …
Ocean or water views

Internet Access

Fireplace

Housekeeping Optional

Washing Machine
Pet friendly

Smoking allowed - ask

Suitable for children

Suitable for the elderly

Wheelchair accessible - ask
Previous

Next

property
$200
0 BR / 1 BA / Sleeps 2
$200
Book
Coronado resort
0 BR
/
1 BA
/
Sleeps 2
|

Quick view
AVAILABLE 22 Jul-2 Aug 2015: Exquisite studio condo in the hard-too-get (sold-out) Coronado Beach Resort. This resort is directly across the street from the majestic and world renowned Hotel Del Coronado, and steps from the beautiful Coronado beach, recently rated the #1 beach in America! The unit sleeps 2 and has …
Ocean or water views

Hot Tub/Jacuzzi

Internet Access

Housekeeping Optional

Washing Machine
Suitable for children

Suitable for the elderly - elevator access

Wheelchair accessible - ask
Previous

Next

property
$600
4 BR / 4 BA / Sleeps 11
$600
Book
Coronado house
4 BR
/
4 BA
/
Sleeps 11
|

Quick view
Our spacious, comfortable and inviting home sleeps 11 people in 4 bedrooms with 4 full baths. Lots of open space throughout the house to enjoy the warm sunlight and ocean breezes. Fully remodeled with top of the line appliances and features throughout the house. Just across the street from a beautiful park and an easy…
Internet Access

Fireplace

Washing Machine

Clothes Dryer

Outdoor Dining Area
Previous

Next

property
$1,200
5 BR / 5 BA / Sleeps 10
$1,200
Book
Coronado house
5 BR
/
5 BA
/
Sleeps 10
|

Quick view
Great home to bring the family together, a wall of glass doors in the family room slides away completely, creating an open, bright and breezy floor plan. the backyard is wired for sound around the pool and hot tub. The out door kitchen has a flat screen TV and a beer tap built into the bar. Your family will have a …
Hot Tub/Jacuzzi

Internet Access

Fireplace

Washing Machine

Clothes Dryer
Pet friendly - ask

Suitable for children

Suitable for the elderly

Wheelchair accessible
Previous

Next

property
$500
2 BR / 3 BA / Sleeps 6
$500
Book
Coronado condo
2 BR
/
3 BA
/
Sleeps 6
|

Quick view
A classic Cristilli creation with ten foot doorways, high ceilings and artistic window placements to bring light into the floor-plan. The kitchen is appointed with Viking appliances, custom European cabinetry, granite slab countertops and full granite back-plashes. Spacious rooftop patio to enjoy views from tis …
Suitable for children

Suitable for the elderly

Wheelchair accessible
Previous

Next

property
$246
3 BR / 3 BA / Sleeps 5
$246
Book
Coronado house
3 BR
/
3 BA
/
Sleeps 5
|

Quick view
This town home is located on the bay in Coronado, or I should say Paradise. That's what people around here call Coronado. Come enjoy the best this city has to offer, like sailing on the bay, biking, and jogging our trails, or just relaxing in the warm sunny weather. Our unit has 3 bedrooms, and 3 baths, 2 patios, and …
Waterfront

Shared outdoor pool (unheated)

Hot Tub/Jacuzzi

Internet Access

Fireplace
Pet friendly

Suitable for children

Suitable for the elderly

Wheelchair accessible
---
---