Previous

Next

property
$139
1 BR / 1 BA / Sleeps 4
$139
Book
1 BR
/
1 BA
/
Sleeps 4
|

Quick view
Come stay in my private apartment located in the heart of Greenpoint, Brooklyn! This private, clean 1 bedroom is located on the entire 2nd floor of a 3 family building. The apartment is located on a very quiet, tranquil tree-lined street, yet 1/2 block away from amazing restaurants, bars, shops, laundromats, …
Internet Access

Housekeeping Optional

A/C or climate control

Parking

Books
Suitable for children

Suitable for the elderly - ask
Beautiful second floor apartment
Left on Jul 30, 2013 for a stay in July 2013
We stayed in this second floor apartment in Brooklyn from July 16 to 19, 2013. The apartment is beautifully furnished, clean, and has all the extras you would want-- from towels to kitchen appliances, and a large satellite TV.

The neighborhood is fine and we felt safe even when the 4 of us were walking from the subway after midnight.

Because our time in the City was short, we spent very …
Previous

Next

property
$175
1 BR / 1 BA / Sleeps 3
$175
Book
1 BR
/
1 BA
/
Sleeps 3
|

Quick view
Lonely Planet has just rated Queens #1 in the 'Top 10 Places in the US for 2015'-so stay where its all happening! Monthly rate: $3400.00 Nightly Rate: $175.00 for 2, $195.00 for 3 End cleaning fee: $175.00 Children over 10 are welcome Architecturally designed, this gorgeous one bedroom artist loft includes white …
Waterfront

Ocean or water views

Internet Access

Fireplace

A/C or climate control
Suitable for the elderly - ask
All you need to explore NYC one stop from Grand Central
Left on Sep 11, 2013 for a stay in October 2012
With Grand Central & midtown Manhattan one stop away I found LIC to be a great base for exploring NYC during my 2 week stay in 2012. The apartment is lovely - clean light & airy with extremely friendly & helpful hosts & is handily located, the subway entrance is only half a block away & there is a fantastic organic deli & great restaurants within 2 minutes walk. Highly recommend the East River …
Previous

Next

property
$69
1 BR / 1 BA / Sleeps 2
$69
Book
1 BR
/
1 BA
/
Sleeps 2
|

Quick view
ROOM AMENITIES -Queen size bed -Room key -TV local channels. -WiFi/internet service -Clean sheets, Duvet and pillows -Clean towels -Hair dryer -Shampoo and Body Wash Your room has a key and I won't enter it. You'll Share The kitchen, bathroom and living area with other guests and in…
Internet Access

Outdoor Dining Area

A/C or climate control

Central heating

Deck
Suitable for children - over five
Previous

Next

property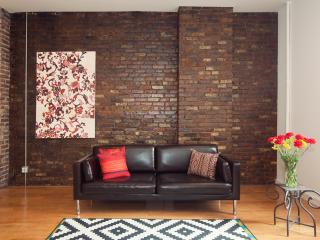 $250
2 BR / 1 BA / Sleeps 4
$250
Book
2 BR
/
1 BA
/
Sleeps 4
|

Quick view
Lonely Planet has just rated Queens #1 in the 'Top 10 Places in the US for 2015'-so stay where its all happening! Monthly rate: $5400.00 Nightly Rate: $250.00 for 2-3, $270.00 for 4 End cleaning fee: $175.00 Children over 10 are welcome This 2 Bedroom Artist Loft in New York City offers a high quality, unique city …
Waterfront

Ocean or water views

Internet Access

Washing Machine

Clothes Dryer
Suitable for the elderly - ask
Fantastic Immaculate Loft-Great location
Left on Aug 29, 2013 for a stay in March 2013
I just loved this Loft! The location is perfect for visiting or working in NY (I was working there for 6 weeks)-the subway is a 1 minute walk away, it runs fast and in 5 minutes you are in Grand Central, 8 minutes in Times Square. As I was working in NY this allowed me to connect to the downtown express train and be at my Wall Street job in 20 minutes flat. A few times I took the fast and fun …
Previous

Next

property
$195
1 BR / 1 BA / Sleeps 4
$195
Book
1 BR
/
1 BA
/
Sleeps 4
|

Quick view
The apartment is located in the prime waterfront area of Williamsburg Brooklyn, New York City. Please click 'Read More' and scroll down to the bottom of this page for a clear explanation of rates & prices. Christmas & New years are different prices. We have a lot more positive reviews on other vacation rental …
Waterfront

Internet Access

Washing Machine

Clothes Dryer

A/C or climate control
Pet friendly

Suitable for children

Suitable for the elderly

Wheelchair accessible
Excellent location in the heart of Williamsburg
Left on Dec 20, 2012 for a stay in October 2012
Had a great stay in a cool apartment in the best neighborhood of NYC. The host was really easy to deal with and helpful. The overall standard of the apartment was great. And you cant ask for a better location, since you're in the middle of Williamsburg 3 mins walk from the center of Bedford ave and 5-10 mins by subway from 14th st Union Square.
Previous

Next

property
$350
3 BR / 1 BA / Sleeps 8
$350
Book
3 BR
/
1 BA
/
Sleeps 8
|

Quick view
Have lavish dinner parties, reunions and business meetings all in the same space. Want to fit it all in to that fast New York minute, charge your batteries on the east side of the River in the little village of Dutch Kills in a very comfortable home with everything you can need. This Apartment is on the 2nd (top) …
Internet Access

Fireplace

Housekeeping Optional

A/C or climate control

Central heating
Pet friendly - ask

Suitable for children

Suitable for the elderly
Realy cozy place, close to the city.
Left on Feb 10, 2013 for a stay in January 2013
Great place, only a block away from the subway, and two stations from Manhattan.

The owner, Steffan, and his assistant, Anne, were really friendly and resourceful. They've made sure we were assisted at all times.

I'd definitely stay in this place again.
---
---
There are no more results in New York City.
Top of page