Previous

Next

property
$50
2 BR / 1 BA / Sleeps 4
$50
Book
2 BR
/
1 BA
/
Sleeps 4
|

Quick view
This place is great for 1-4 people, very clean, new and convenient to downtown in Osaka! Just 10 mins to Umeda, Shinsaibashi, and Namba. 15 mins to Osaka Aquarium KAIYUKAN, Universal Studios Japan. Nearest Station: 2 mins on foot from the Sennichimae line and the Chuo line Awaza station. Please tell us the time of …
Wireless Internet

A/C or climate control

Parking

Linens Provided

Towels Provided
Previous

Next

property
$260
1 BR / 1 BA / Sleeps 6
Welcome to TowerApt with city view in a brand-new luxury high rise. It is conveniently located beside America Mura, around 5 minutes walk from Dotonburi, Namba, Shinsaibashi, 9 stations and OCAT bus terminal. You will locate the high rise as soon as you get out of one exit of Namba stations of 7 train lines. There …
Hot Tub/Jacuzzi

Sauna

Internet Access

Housekeeping Optional

Washing Machine
Suitable for children

Suitable for the elderly - elevator access

Wheelchair accessible
Wonderful Stay
Left on Jul 29, 2014 for a stay in July 2014
We had a wonderful stay at this apartment for 4 nights. The owner, Ms Akane, speaks and writes perfect English and was very nice to come and find us on the street while we were heading the wrong direction when we arrived!

The equipments are all new and clean. The beds are comfortable. We also tried the gym and the lounge in the apartment building which were nice too (the penthouse floor …
Previous

Next

property
$99
1 BR / 1 BA / Sleeps 3
$99
Book
1 BR
/
1 BA
/
Sleeps 3
|

Quick view
Since this is my first experience to rent out, I want to offer VERY GOOD DEAL and make your stay as comfortable and easy as possible. You will be staying at a Lucky, charming, brand new, sunny, spacious 45 square meter (485square feet) apartment with balcony in hip area of Minami Horie, Osaka all to yourself! If …
Internet Access

Washing Machine

A/C or climate control

Balcony or terrace

Linens Provided
Suitable for children

Suitable for the elderly - elevator access

Wheelchair accessible
Previous

Next

property
$80
1 BR / 2 BA / Sleeps 3
$80
Book
1 BR
/
2 BA
/
Sleeps 3
|

Quick view
Cozy place that is ideal for two but can be plenty for one!! Fully furnished room with new appliances, cookware, and utensils. Very clean and well keep for the traveler looking for a modern Japanese style room to accommodate your Japan experience. The space has a modern design. The surrounding windows give the room a…
Wireless Internet

Washing Machine

A/C or climate control

Central heating

Balcony or terrace
Previous

Next

property
$80
1 BR / 1 BA / Sleeps 4
$80
Book
1 BR
/
1 BA
/
Sleeps 4
|

Quick view
The apartment is located 10minutes walk from Exit4 of ShinOsaka station, which is convenient for taking Shinkansen, JR train, and Subway train. Facilities and Amenities: 2 Magniflex single-size beds with Magniflex Memory form Mattresses, which can easily be arranged as one king-size bed (2m*2m) if preferred. 1 …
Wireless Internet

A/C or climate control

Linens Provided

Towels Provided
Previous

Next

property
$70
1 BR / 2 BA / Sleeps 2
$70
Book
1 BR
/
2 BA
/
Sleeps 2
|

Quick view
Feel like a true local living in a real home with us! We have just renovated the entire interior with balance traditional atmosphere with modern facilities. Enjoy a spacious and calming environment. We want you to pack light so take note of what we have for you! We will provide you with: - Comfy futons with clean …
Wireless Internet

Washing Machine

A/C or climate control

Balcony or terrace

Linens Provided
Suitable for children - ask
Previous

Next

property
$30
4 BR / 2 BA / Sleeps 4
$30
Book
4 BR
/
2 BA
/
Sleeps 4
|

Quick view
Welcome to Osaka Japan Travel. We operate from Osaka Japan to provide holiday accommodation, guest houses, rooms for rent & travel advice for foreign tourists. When visiting Japan we recommend you take you visit Osaka Castle, Osaka Aquarium, Dotonbori (Namba) as well as neighbouring Kyoto, Kobe and Nara. We …
Wireless Internet

Washing Machine

A/C or climate control

Towels Provided

Microwave
Suitable for children - ask

Suitable for the elderly

Wheelchair accessible - ask
Great location and very helpful
Left on Feb 03, 2011 for a stay in May 2008
I stayed here for 6 months. When I first arrived in Japan I didn't really know where to stay but I was really happy to find this apartment as compared to my prior apartment it was much cleaner and gave me a lot more privacy.
It's located right in between Osaka Castle, Namba and Umeda. Which means you can walk or bicycle to any of them. It was really nice living so close to Osaka castle because it…
Previous

Next

property
$100
1 BR / 1 BA / Sleeps 4
Experience local of Osaka life.convenient to travel to Kyoto and other cities. 180' ocean view remodeled to Japanese contemporary style. 30-45min from KIX international airport. Safe and quiet country, yet nice harbor area. 60 mini to Osaka by express train Walking distance to beach condominium also available taxi …
Waterfront

Ocean or water views

Washing Machine

Clothes Dryer

A/C or climate control
Previous

Next

property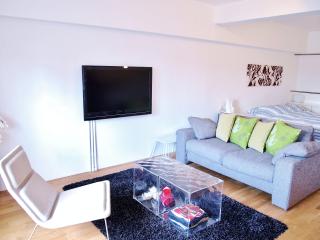 $150
0 BR / 2 BA / Sleeps 4
Inquire
0 BR
/
2 BA
/
Sleeps 4
|

Quick view
Newly remodeled super groovy designer apartment in the middle of the hippest area of Osaka, Minami Horie. Fantastic river and city view from the balcony is all yours to enjoy. Only 5 min walk from JR Namba (OCAT), Shinsaibashi, American village, and a short train ride from Umeda and all other major city centers. …
Waterfront

Internet Access

Washing Machine

Clothes Dryer

A/C or climate control
Smoking allowed - ask

Suitable for children

Suitable for the elderly

Wheelchair accessible
Spacious, designer pad in the heart of cosmopolitan Osaka
Left on Nov 19, 2010 for a stay in October 2010
My partner and I stayed in this apartment while I was attending a language school in Japan. As my partner had to work from home in Osaka, we needed a place that was large enough to comfortably accommodate the two of us 24/7.

We inspected about 5 other hotels/rental properties before finally settling on this apartment. Although we ended up spending more on accommodation than we had originally …
Previous

Next

property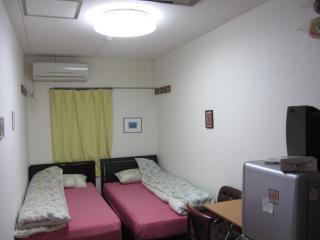 $28
3 BR / 1 BA / Sleeps 6
$28
Book
3 BR
/
1 BA
/
Sleeps 6
|

Quick view
Our Namba Apartment allows you to stay cheaply in the heart of Osaka, without compromising on space, facilities or your privacy. We have 3 rooms in an apartment with kitchen and bathroom, toilet , which can be configured either as twin or triple rooms depending on your booking. there are lots couple need the room…
Suitable for children

Suitable for the elderly

Wheelchair accessible
For a homey feel
Left on Nov 19, 2014 for a stay in October 2014
This place is absolutely great for backpackers who need more space at a reasonable price to stay. The shower can be a little cramped as it's designed for just 1 person, but the house is very clean and the neighbourhood has an atmosphere that makes you feel in place. A small temple is right next to this place, and a couple of convenience stores and a supermarket about 100m away makes for great …
Previous

Next

property
$29
3 BR / 2 BA / Sleeps 9
$29
Book
3 BR
/
2 BA
/
Sleeps 9
|

Quick view
Awaza Apartment you can stay affordably in the central Osaka roughly half way between Umeda and Namba giving you the flexibility to walk to both. Our rooms offer you privacy but also the convenience associated with living in an apartment. Awaza Apartment can offer up to 2 separate apartments at same building &amp…
Internet Access

Washing Machine

A/C or climate control

Balcony or terrace

Books
Suitable for children

Suitable for the elderly - ask

Wheelchair accessible - ask
nice experience in Osaka
Left on Dec 24, 2012 for a stay in December 2012
Conveniently located and comfortable place. The apartment has everything you need for family living. We went to the supermarket and bought groceries to cook all meals. The owner is very very kind and nice, gave us comprehensive guide to the apartment and the surroundings, even travel guide. Home away from home. Very satisfied.
Previous

Next

property
$200
5 BR / 1 BA / Sleeps 19
$200
Book
5 BR
/
1 BA
/
Sleeps 19
|

Quick view
Newest Boomtown in Osaka - Abeno - Experience the "deep" local side of Osaka, in a traditional "Machiya" Japanese style influenced newly renovated house for leasing! Free Mobile WiFi provided! Use internet anywhere in Japan during your stay with this handy mobile device we provide. This listing is for the entire …
Internet Access

Washing Machine

Clothes Dryer

A/C or climate control

Porch
Suitable for children - ask

Suitable for the elderly - ask
Once in a life time experience
Left on Sep 12, 2013 for a stay in August 2013
The location of this guesthouse is right smack in the middle for any adventurer. Minutes away (walking distance) to train stations, shopping, great food, night life (red light..), and drinking. Our host Nate, was a very cool laid back guy. He actually met us up near the station and walked us over to the guesthouse. I was really surprised how close it was. Nate has several great recommendations …
Previous

Next

property
Inquire for rates.
1 BR / 1 BA / Sleeps 4
Inquire for rates
Book
1 BR
/
1 BA
/
Sleeps 4
|

Quick view
The apartment is located 10minutes walk from Exit4 of ShinOsaka station, which is convenient for taking Shinkansen, JR train, and Subway train. Facilities and Amenities: 2 Magniflex single-size beds with Magniflex Memory form Mattresses, which can easily be arranged as one king-size bed (2m*2m) if preferred. 1 …
Wireless Internet

A/C or climate control

Linens Provided

Towels Provided
---
---