Previous

Next

property
$185
3 BR / 2 BA / Sleeps 6
$185
Book
3 BR
/
2 BA
/
Sleeps 6
|

Quick view
2 B&B; suites, absolute waterfront, with private entry by lift or stairs .Free use of kayaks and dingy. Fabulous views from your pillow along the beach and across to Russell. Comprehensive breakfast menu included in tariff. Patio area with outdoor seating, stairway to beach and only a 10 min stroll to town, cafes, …
Waterfront

Ocean or water views

Internet Access

Housekeeping Optional

Washing Machine
Suitable for children - ask

Suitable for the elderly - elevator access

Wheelchair accessible
Ideal place to stay
Left on Jan 30, 2013 for a stay in January 2013
This is the ideal place to stay in Paihia. Perched on a hill above Sullivans Beach with a short walk down steps through the garden directly onto the beach ,the location of Allview Lodge cant be beaten. The views from our Pohuhukawa Suite were breath-taking. How absolutely pleasant it was to sit inside or out on the verandah and just gaze out at the view of the beach, islands, boats, people …
Previous

Next

property
$94
1 BR / 1 BA / Sleeps 3
Inquire
1 BR
/
1 BA
/
Sleeps 3
|

Quick view
Aqua Heights is a spacious 1 bedroom Paihia self-contained unit with stunning sea views. Enjoying fantastic views out to the water from the sunny deck, this well kept unit includes linen for a hassle-free stay, including free Wi-Fi. Convenience, comfort, and views... Relax and take it all in! This Paihia self-…
Washing Machine

Clothes Dryer

Parking

Garage

Grill
Pet friendly - ask

Smoking allowed - ask

Suitable for children - ask

Suitable for the elderly - ask

Wheelchair accessible - ask
Previous

Next

property
$159
3 BR / 2 BA / Sleeps 6
Inquire
3 BR
/
2 BA
/
Sleeps 6
|

Quick view
Paihia Views is a 3 bedroom, 2 bathroom Paihia holiday home. Enjoying a central location with peaceful sea views, this Paihia holiday home is an easy Bay of Islands getaway for up to 6 guests! This Paihia holiday home includes open plan living that flows outdoors... Keep cosy indoors with sea views, or relax on the …
Washing Machine

Parking

Grill

Dishwasher

Freezer
Pet friendly - ask

Smoking allowed - ask

Suitable for children - ask

Suitable for the elderly - ask

Wheelchair accessible - ask
Previous

Next

property
$132
1 BR / 1 BA / Sleeps 2
$132
Book
1 BR
/
1 BA
/
Sleeps 2
|

Quick view
Our large, selfcontained, studio apartment is located on the hill over looking the Bay.Enjoy the views, the Tui birdsong, the safe tranquil setting and great location. 5 minute walk to all the major attractions, cafe's. We look forward to welcoming you to the birth place of our nation. The apartment is quiet, …
Ocean or water views

Internet Access

Housekeeping Optional

Deck

Parking
Pet friendly - ask

Smoking allowed - ask

Suitable for children - ask

Suitable for the elderly - ask
Previous

Next

property
$123
1 BR / 1 BA / Sleeps 2
$123
Book
1 BR
/
1 BA
/
Sleeps 2
|

Quick view
Million dollar sea views from a million dollar setting, Bay-of-Islands accommodation at it's best yet only 400m from the beach & offering truly spectacular ocean & marina views that will have you relaxed before the stars fill our sub tropical sky's. Open plan lounge & diner with full fitchen facilities…
Waterfront

Ocean or water views

Wireless Internet

Housekeeping Optional

Washing Machine
Suitable for the elderly

Wheelchair accessible
Amazing apartment - amazing hosts!
Left on Mar 18, 2014 for a stay in February 2014
Janet and Jim are terrific hosts and the apartment is exactly as shown. Excellent kitchen with everything you could ever need. They are very familiar with the area and gave me great trips on things I should see. Traveling alone, it was nice to know they were nearby - but never intrusive. They are a lovely couple and the apartment is truly amazing.
Previous

Next

property
$140
2 BR / 2 BA / Sleeps 4
Inquire
2 BR
/
2 BA
/
Sleeps 4
|

Quick view
Amazing Views is a 2 bedroom 2 bathroom Paihia holiday apartment right across the road from the waters edge! This modern apartment complex includes a swimming pool and BBQ area, making an ideal base for up to 4 guests in the heart of Paihia! This Paihia holiday apartment includes comfortably appointed open plan living…
Shared outdoor pool (unheated)

Washing Machine

Clothes Dryer

Grill

Dishwasher
Pet friendly - ask

Smoking allowed - ask

Suitable for children - ask

Suitable for the elderly - ask

Wheelchair accessible - ask
Previous

Next

property
$164
2 BR / 1 BA / Sleeps 4
$164
Book
2 BR
/
1 BA
/
Sleeps 4
|

Quick view
A unique experience when in the Bay of Islands. At your doorstep all the activities for tourists whilst staying in a modern cottage sited on a cattle farm. You might like to watch the working dogs move cattle. Peace and quiet staying in cosy, country comfort. Mature stands of trees encourage abundant varities of …
Fireplace

Washing Machine

Porch

Parking

Books
Suitable for children - ask

Suitable for the elderly - ask
Fantastic cottage and great find!
Left on Dec 16, 2010 for a stay in November 2010
Everything about the cottage was excellent. It is spacious, comfortable, well-equipped, very quiet, nice surrounds, easy to find and only 5 minutes drive from the centre of Paihia. The owner was most welcoming and the price was great value for money.
Previous

Next

property
$150
2 BR / 2 BA / Sleeps 7
$150
Book
2 BR
/
2 BA
/
Sleeps 7
|

Quick view
This is a top-of -the-line penthouse right in the small township of Paihia in the beautiful Bay of Islands in the north of New Zealand. The area is drenched in history. The Treaty of Waitangi, signed close-by in 1840, was the country's foundation document. The Bay of Islands is popular with Tourists and local …
Waterfront

Ocean or water views

Hot Tub/Jacuzzi

Sauna

Internet Access
Suitable for children

Suitable for the elderly - elevator access

Wheelchair accessible
Previous

Next

property
$133
3 BR / 3 BA / Sleeps 7
$133
Book
3 BR
/
3 BA
/
Sleeps 7
|

Quick view
Welcome to our home set in 4acres of native bush and gardens on the Waitangi River - home to many NZ birds including Moreporks. Feed our friendly farm animals and meet our cat, Panpoot. All our rooms have an ensuite (one with a corner bath), TV/DVDs, Teas, Coffee & Refrigerator. Our two river side rooms have a sofa…
Ocean or water views

Internet Access

Fireplace

Housekeeping Optional

Washing Machine
Smoking allowed - ask

Suitable for children - ask

Suitable for the elderly

Wheelchair accessible - ask
Previous

Next

property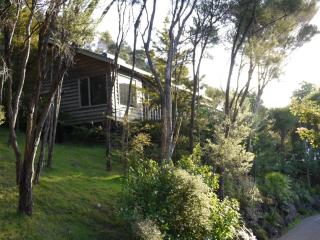 $150
0 BR / 1 BA / Sleeps 2
$150
Book
0 BR
/
1 BA
/
Sleeps 2
|

Quick view
(website: hidden) Our five self-contained apartments in the heart of the Bay of Islands, cater to guests who like to relax in comfort, style and privacy – without fuss. Our modern apartments provide everything you need to enjoy the peace and tranquility of this remarkably beautiful place. All our accommodation …
Hot Tub/Jacuzzi

Internet Access

Housekeeping Optional

Washing Machine

Outdoor Dining Area
Pet friendly

Smoking allowed - ask

Suitable for the elderly - ask
Previous

Next

property
$250
3 BR / 2 BA / Sleeps 6
$250
Book
3 BR
/
2 BA
/
Sleeps 6
|

Quick view
(website: hidden) (2 x Dbl, 1 x Dbl or Twn) Our five self-contained apartments in the heart of the Bay of Islands, cater to guests who like to relax in comfort, style and privacy – without fuss. Our modern apartments provide everything you need to enjoy the peace and tranquility of this remarkably beautiful place…
Hot Tub/Jacuzzi

Internet Access

Washing Machine

Outdoor Dining Area

Balcony or terrace
Pet friendly

Suitable for children

Suitable for the elderly

Wheelchair accessible
Great location, lovely house and furnishings
Left on Jan 13, 2013 for a stay in January 2013
We just needed one night in Paihia as we were doing a dolphin excursion before heading on to the Hokianga, but we needed space for two couples and one child (i.e. 3 bedrooms) for which this place was perfect (and rare).

If I was staying in Paihia / Bay of Islands for any reason I would like to book this again. Very nice and tastefully appointed, comfortable, all the amenities you would want. …
Previous

Next

property
$190
2 BR / 1 BA / Sleeps 5
$190
Book
2 BR
/
1 BA
/
Sleeps 5
|

Quick view
(website: hidden) One bedroom Apartments One bedroom & living area, bathroom upstairs, one bedroom downstairs with 3 single beds A great place to come and relax while being the centre of it all. Use Waiora as your base to near and far around the North. Our one bedroom apartments are large enough to cater for a …
Hot Tub/Jacuzzi

Internet Access

Washing Machine

Outdoor Dining Area

Deck
Pet friendly

Suitable for children

Suitable for the elderly

Wheelchair accessible
---
---