Previous

Next

property
$101
3 BR / 2 BA / Sleeps 6
Inquire
3 BR
/
2 BA
/
Sleeps 6
|

Quick view
Charming country house 6km from Vila Verde center. Situated in front of main road accessing Vila Verde, in 2012 this house has been improved in same details: new 60m2 wood deck on the pool area, air conditioned on the living room and a small refurnished on the bathroom. Placed on a hillside turn south, it offers …
Mountain Views

Housekeeping Optional

Washing Machine

Outdoor Dining Area

A/C or climate control
Pet friendly

Smoking allowed - ask

Suitable for children
Previous

Next

property
$205
4 BR / 4 BA / Sleeps 8
Inquire
4 BR
/
4 BA
/
Sleeps 8
|

Quick view
Charming country house part of a large rural property of 40.000m2. Perfectly placed on the typical Vila Verde countryside, this property offers to its guests a nice scenario for an unforgettable holiday break.. This property is composed by a 2-floor main house and a detached covered area next to pool. This …
Mountain Views

Fireplace

Housekeeping Optional

Washing Machine

Outdoor Dining Area
Smoking allowed - ask

Suitable for children
Previous

Next

property
$191
4 BR / 3 BA / Sleeps 8
Inquire
4 BR
/
3 BA
/
Sleeps 8
|

Quick view
A combination of 2 cosy detached cottages situated on a hillside overlooking the superb valley of River Neiva. These cottages are part of a rural property with forest area, vineyards, cultivation lands and domestic animals. The property has large terraces, picnic area with stone table, vineyard area, and a nice pool …
Mountain Views

Fireplace

Housekeeping Optional

Washing Machine

Outdoor Dining Area
Previous

Next

property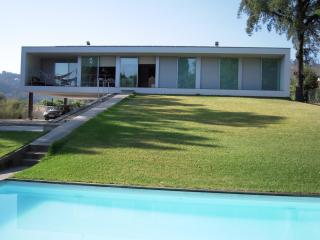 $156
3 BR / 3 BA / Sleeps 6
Inquire
3 BR
/
3 BA
/
Sleeps 6
|

Quick view
Beautiful high class villa situated 8km from Vila Verde center. Superbly placed on a tranquil hillside faced south and surround by forest and agricultural fields. The atmosphere is rural and it's a permanent invitation for long strolls across the area. It has a excellent solar exposure, offering nice natural …
Mountain Views

Fireplace

Housekeeping Optional

Washing Machine

Outdoor Dining Area
Smoking allowed - ask

Suitable for the elderly - ask
Previous

Next

property
$171
2 BR / 3 BA / Sleeps 5
Inquire
2 BR
/
3 BA
/
Sleeps 5
|

Quick view
This two bedroom duplex apartment is located in the prestigious Quinta do Lago. Close by are two tennis courts and two communal swimming pools. For those who like water sports there is a lake with water sports including sailing and windsurfing. Upon entering this duplex apartment you are presented with a spacious …
Washing Machine

A/C or climate control

Fitness Room

Dishwasher

Microwave
Suitable for children - ask
Previous

Next

property
$720
6 BR / 6 BA / Sleeps 13
Inquire
6 BR
/
6 BA
/
Sleeps 13
|

Quick view
This very attractive and comfortable six bedroom villa is set in a very quiet position in Quinta do Lago. There are lovely views of the golf course and the villa's goal is definitely relaxation. Located in a great setting for peace and relaxation this six bedroom villa is a great holiday home. Upon entering the …
Washing Machine

Clothes Dryer

A/C or climate control

Balcony or terrace

Garden
Suitable for children - ask
Previous

Next

property
$130
2 BR / 0 BA / Sleeps 6
Inquire
2 BR
/
Sleeps 6
|

Quick view
Charming farmhouse with magnificent landscape view, located in Pico dos Regalados, Vila Verde, on the mountain hang, between Braga and Ponte da Barca, enjoying excellent sun exposure. The estate is located in a very quiet area, ideal for a relaxing time in family or between friends, away from the city stress. Perfect …
Washing Machine

A/C or climate control

Balcony or terrace

Parking

Garden
Pet friendly - ask

Smoking allowed - ask

Suitable for children

Suitable for the elderly

Wheelchair accessible - ask
Previous

Next

property
Inquire for rates.
3 BR / 3 BA / Sleeps 7
Inquire
3 BR
/
3 BA
/
Sleeps 7
|

Quick view
This classic style three bedroom villa is located in the prestigious Parque Atlantico area of Quinta do Lago. This south facing villa has great sunny exposure and shady sitting areas. There are three bedrooms which are all en-suite. The spacious and light lounge area is comfortable and has patio doors which lead out …
Internet Access

Washing Machine

A/C or climate control

Balcony or terrace

Fitness Room
Suitable for children - ask
---
Looking for more rentals?
We're showing only results that match your dates and preferences.
See all 8 Vila Verde rentals, all 13 Braga rentals, or start a new search.
---