Previous

Next

property
$87
3 BR / 2 BA / Sleeps 7
$87
Book
3 BR
/
2 BA
/
Sleeps 7
|

Quick view
A well renovated part of an ex monastery from the XII century, placed in the heart of the Tuscan countryside, surrounded by olive trees and vineyards. Ideally located to reach important art cities like Florence, Siena, S. Gimignano and Pisa. The house contains three floors and a garden with BBQ, including a …
Internet Access

Fireplace

Washing Machine

Outdoor Dining Area

Central heating
Suitable for children

Suitable for the elderly - ask
The best holiday ever in the loveliest place with wonderful host
Left on May 30, 2012 for a stay in May 2012
We recommend this holiday home to anyone who enjoys peaceful,idylic beautiful countryside,home comforts and friendly neighbours! My husband and I stayed for a week with our son and wife and daughter and her fiancee. The house was spacious, perfect for 6 people with private space for each couple.
Andrea has converted this part of the old monastery with great care and sympathy and they have …
Previous

Next

property
$158
3 BR / 3 BA / Sleeps 6
Inquire
3 BR
/
3 BA
/
Sleeps 6
|

Quick view
La Rocca - Apartment Beige is a Tuscany farmhouse located on one of the hills that surround Montespertoli. Its hilltop location offers splendid views of the landscapes of Chianti and the charming Tuscan countryside. It accommodates 6 persons with its 2 double bedrooms, 1 twin room, and 3 bathrooms. This 110 square …
Shared outdoor pool (unheated)

Hot Tub/Jacuzzi

Sauna

Internet Access

Fireplace
Previous

Next

property
$187
3 BR / 1 BA / Sleeps 5
$187
Book
3 BR
/
1 BA
/
Sleeps 5
|

Quick view
La Cipressaia is an independent house of 85 m2 with 4 rooms on 2 floors furnished in a comfortable and tasteful way. Dining room / living room with satellite TV, safe, sofa, armchairs, table and chairs. Kitchenette with 4 points fire, microwave, fridge / freezer. 1 large double bedroom, 1 single bedroom and a double …
Shared outdoor pool (unheated)

Internet Access

Outdoor Dining Area

Patio

Parking
Smoking allowed

Suitable for children

Suitable for the elderly
Great choice
Left on Jun 02, 2012 for a stay in May 2012
We come to Il Poggetto every year around may. We just were there last week for the 5th time! And it is always a joy to come back and spend a wonderful time with the family in this kind of paradise. The surrounding is more than just beautiful, the location near cities like Florence and Pisa and lots of small lovely villages, makes it easy to have different day trips every time. And the best part …
Previous

Next

property
$99
3 BR / 2 BA / Sleeps 6
$99
Book
3 BR
/
2 BA
/
Sleeps 6
|

Quick view
Under the Tuscan Sun: Casa Alina Terracotta laden 12th century villa in the ancient village of Saint Vito of Ortimino, is just six kilometers from the town of Montespertoli; in an unspoiled, laid-back region of the Chianti countryside. Seasonal festivals celebrating the local truffles, the grape harvest and fresh …
Wireless Internet

Washing Machine

Clothes Dryer

A/C or climate control

Central heating
Previous

Next

property
$141
3 BR / 2 BA / Sleeps 6
Inquire
3 BR
/
2 BA
/
Sleeps 6
|

Quick view
Comfortable portion of a country house very close to Montespertoli, a town in the Tuscan hills about 25 km from Florence and 30 km from San Gimignano. The country house is made up of the apartment for rent, and the apartment of the owners, who are nice, discreet and welcoming people. Guests of Casa Renzo have …
Smoking allowed

Suitable for children

Suitable for the elderly - ask
Previous

Next

property
$148
3 BR / 1 BA / Sleeps 6
Inquire
3 BR
/
1 BA
/
Sleeps 6
|

Quick view
Experience Chianti! Dive in the pool, swimming and enjoying our villa. Wonderful castle dating back to the 12th century, restored in the 17th century by the noble family of Acciaioli, with a magnificent tower built on the model of the one of Palazzo Vecchio in Florence. Montegufoni castle is part of a large estate …
Smoking allowed

Suitable for children

Suitable for the elderly - ask
Previous

Next

property
$224
3 BR / 2 BA / Sleeps 6
Inquire
3 BR
/
2 BA
/
Sleeps 6
|

Quick view
Experience Chianti! Dive in the pool, swimming and enjoying our villa. Wonderful castle dating back to the 12th century, restored in the 17th century by the noble family of Acciaioli, with a magnificent tower built on the model of the one of Palazzo Vecchio in Florence. Montegufoni castle is part of a large estate …
Smoking allowed

Suitable for children

Suitable for the elderly - ask
Previous

Next

property
$136
3 BR / 2 BA / Sleeps 6
Inquire
3 BR
/
2 BA
/
Sleeps 6
|

Quick view
Experience Chianti! Dive in the pool, swimming and enjoying our villa. Wonderful castle dating back to the 12th century, restored in the 17th century by the noble family of Acciaioli, with a magnificent tower built on the model of the one of Palazzo Vecchio in Florence. Montegufoni castle is part of a large estate …
Smoking allowed

Suitable for children

Suitable for the elderly - ask
Previous

Next

property
$149
3 BR / 3 BA / Sleeps 6
Inquire
3 BR
/
3 BA
/
Sleeps 6
|

Quick view
Experience Chianti! Dive in the pool, swimming and enjoying our villa. Wonderful castle dating back to the 12th century, restored in the 17th century by the noble family of Acciaioli, with a magnificent tower built on the model of the one of Palazzo Vecchio in Florence. Montegufoni castle is part of a large estate …
Smoking allowed

Suitable for children

Suitable for the elderly - ask
Previous

Next

property
$95
3 BR / 2 BA / Sleeps 9
Inquire
3 BR
/
2 BA
/
Sleeps 9
|

Quick view
Accommodation in Chianti for luxury holidays. Farming estate producing wine and olive oil with a charming farmhouse situated in a small luxury hamlet of houses in panoramic and quiet location amidst the hills surrounding Montespertoli, in Chianti. The farmhouse, is divided in a main building and the owner's house. In …
Pet friendly

Smoking allowed

Suitable for children

Suitable for the elderly - ask
Previous

Next

property
$208
3 BR / 2 BA / Sleeps 8
Inquire
3 BR
/
2 BA
/
Sleeps 8
|

Quick view
Comfortable country house, created from a carefully renovated barn, located a short distance from the small medieval hamlet of Lucardo, offering tranquility and relaxation in the characteristic Tuscan landscape. Equipped with a completely enclosed garden and a pool reserved for guests' use, it is within easy reach of …
Pet friendly

Smoking allowed

Suitable for children

Suitable for the elderly - ask
Previous

Next

property
$183
3 BR / 2 BA / Sleeps 5
Inquire
3 BR
/
2 BA
/
Sleeps 5
|

Quick view
Villa Ivory is located in heart of Tuscany, on top of the hill in an outstanding location, just a short distance from Chianti Classico and Chianti Fiorentino, where life goes on in utter harmony with nature, culture and tradition. Villa Ivory presents you the opportunity to experience an oasis of peace and serenity in…
Internet Access

Fireplace

Balcony or terrace

Parking

Garden
Previous

Next

property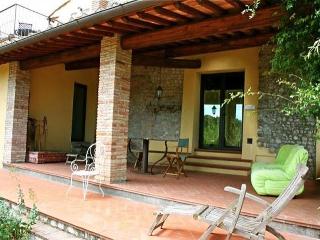 $105
3 BR / 1 BA / Sleeps 4
Inquire
3 BR
/
1 BA
/
Sleeps 4
|

Quick view
Villa Sunflower is located in heart of Tuscany, on top of the hill in an outstanding location, just a short distance from Chianti Classico and Chianti Fiorentino, where life goes on in utter harmony with nature, culture and tradition. Villa Sunflower presents you the opportunity to experience an oasis of peace and …
Internet Access

Fireplace

Balcony or terrace

Parking

Garden
Previous

Next

property
Inquire for rates.
3 BR / 1 BA / Sleeps 5
Inquire
3 BR
/
1 BA
/
Sleeps 5
|

Quick view
Villina Fiorenza andnbspis located in heart of Tuscany, on top of the hill in an outstanding location, just a short distance from Chianti Classico and Chianti Fiorentino, where life goes on in utter harmony with nature, culture and tradition. Villina Fiorenza presents you the opportunity to experience an oasis of …
Internet Access

Fireplace

Balcony or terrace

Parking

Garden
---
---
There are no more results in Montespertoli.
Top of page