5 Results
Relevance
Price: low to high
Price: high to low
Number of reviews
Chester cottage
2 bedrooms / 2 bathrooms / sleeps 4
Match: Video player
All filters match
Price per night from
$169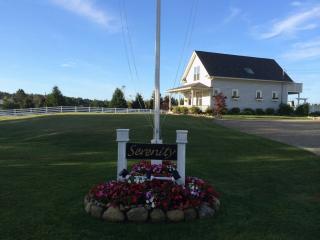 Great rentals within 20 miles that match your search
Halifax house
4 bedrooms / 3 bathrooms / sleeps 10
Match: Video player
All filters match
Price per night from
$592
Rose Bay cottage
3 bedrooms / 2 bathrooms / sleeps 6
"Delightful, whimsical little house by the sea" We have been coming to this cottage for several years and absolutely love it every time! It is a simple, relatively rustic house, but well laid-out, clean and organized. We have two young children, and all of the little details make this rental such a pleasure: the playroom full of toys and arts & crafts materials; the "tickle trunk" with dress-up costumes; board games for the family; a "pack-and-play" crib for our littlest one; super-cute kid beds; a great collection of kids books; sand toys and lots of room to play outside. The kids can't wait to come back to it every year... We also love it for the gorgeous views of the bay, the impressive gardens, the restful screened-in porch, the unbelievable starry skies, the little brook that runs near the house, all of the little nooks and spots outside to read a book or just take in the view. It really is a wonderful, magical little spot. A gorgeous white-sand beach, Hirtle's, is a short drive and there is a great little General Store at the top of the road for many essentials. The town of Lunenburg is not very far away (a UNESCO World Heritage site), and there are lots of interesting spots in the area to explore. Overall, we would very much recommend it!
Match: Video player
All filters match
Price per night from
$293
Hubbards house
3 bedrooms / 2 bathrooms / sleeps 6
"Beautiful Views, Comortable and Relaxing Home" As you drive into the beautifully graveled driveway and see the ocean at the side of the house you just know that this will be a relaxing vacation. When you enter the house you are invited in by a well equipped kitchen that leads into a beautiful family/living room. Downstairs there is a bedroom with a double bed and a three piece bathroom. Upstairs the master bedroom is the full width of the house with a picture window looking out into St. Margaret's Bay. Upstairs at the back of the house is a lovely bedroom with two double beds. As our friends had traveled from the UK we gave the upstairs bedrooms to them and took the down stairs ourselves. Back down on the ground floor the living room leads out onto a large deck which is fantastic for bbq's and just relaxing. This in turn leads to a large grassy area which in turn leads to a small private beach. The area around the house has many services and features and I can sincerely recommend it to anybody that wants a relaxing vacation within easy traveling distance of Halifax and the South Shore. All in all an excellent location and great value for money.
Match: Video player
All filters match
Price per night from
$210
Riverport house
4 bedrooms / 2 bathrooms / sleeps 8
Match: Video player
All filters match
Price per night from
$346