10 Results
Relevance
Price: low to high
Price: high to low
Number of reviews
Magnet log cabin
2 bedrooms / 2 bathrooms / sleeps 6
"The cabin was nice and the setting was beautiful and tranquil." If you want to spend some time in the country but have nice conveniences like a hot tub, TV, grill, all the stuff you need in the house, this is a great choice. The views of the Ohio River are memorable - the wild life (humming birds, hawks, rabbits, etc.) is plentiful. The cabins are really nice and offer lots of light and views. This is a perfect place to unplug and unwind!
Price per night from
$281
Magnet log cabin
3 bedrooms / 3 bathrooms / sleeps 14
"Wonderful!" We stayed in the Heron's Nest for a family reunion. It was a wonderful! Both the reunion and the cabin and the stay. Being on the river was a different experience for me as I'm used to lakes and beaches. But it was superlative! The morning mists cloaked the river in a blanket of fog from which trees, water, and the occassional barge emerged slowly over the early morning. The chimes played a quiet background vibrant hum that was quite appropriate. I sat out on the deck and watched the mists rise and dissipate then watched the sunlight play as sparkling diamonds over the water. It was wonderful and I did some writing in this wonderful environment. I plan to come back just for myself in the future. I wouldn't have left but I had to come back to the big city for my job. The cabin is multi-storied and big. Each of us, singly or as a mini-group, had our own level and plenty of room. Bug and Michelle and the rest of the staff are very warm and wonderful people and made us feel like family. The area abounds in so many things to do! Some days we just stayed in and grilled and enjoyed being there. Others we went out hiking, caving, and exploring. We definately all want to come back again next year! We had a wonderful time and now have wonderful memories! I would highly recommend these cabins and the Heron's Nest in particular. It's nicely situated on the river to watch the river and the small amount of river traffic (which are actually very nice to watch). And has a nice hot tub, campfire area, dock, etc. It's in nicely quietly remote yet not too far from a lot of fun things to do. Five stars! - Grant
Price per night from
$310
Magnet log cabin
4 bedrooms / 4 bathrooms / sleeps 22
"So accommodating" We had our high school student leader retreat (FFa Officers) from three high school stay for our annual retreat. Everything we needed was provided...except the hot weather. Beautiful and well taken care of property.
Price per night from
$310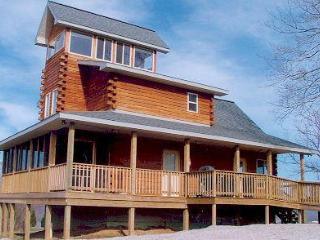 Magnet log cabin
4 bedrooms / 4 bathrooms / sleeps 30
"We love this place!" It's a wonderful place. We usually have around 15 people. The last two years we stayed in the Colucci Castle! 30 minutes for a gallon of milk, but only 60 seconds from great burgers and the beer! We began our stay a few years ago at Buzzards Roost (another great spot). Love this place so much, brought the GrandKids last summer for a long weekend at Heron's Nest (like a smaller Buzzards Roost and on the river! They loved it also! The group of 15 will be back in May - Derby Week!
Price per night from
$310
Magnet log cabin
2 bedrooms / 2 bathrooms / sleeps 6
"Beautiful Cabin" We loved the cabin. It was very clean and had everything we needed. The area is great. We will be staying there again.
Price per night from
$281
Magnet log cabin
3 bedrooms / 2 bathrooms / sleeps 18
"Heaven on the river" My family and I had the pleasure of spending a long weekend at the Bonnie Pearl this spring. The cabin was welcoming, comfortable, and spotless, with a spacious living room and dining area and a kitchen, all of which faced out on the river. Bud and Michelle were very kind in helping everyone find their way depending on the various arrival times and giving us information on local eateries and the area. We had gone to de-stress, and the cabin sucked all the stress away. Sitting on the wrap around porch watching barges pass on the river's horseshoe bend was a joy. We are currently planning a return trip.
Price per night from
$310
Magnet log cabin
2 bedrooms / 3 bathrooms / sleeps 10
Price per night from
$281
Great rentals within 20 miles that match your search
Brandenburg b&b
6 bedrooms / 6 bathrooms / sleeps 14
Price per night from
$1,117
English house
2 bedrooms / 1 bathroom / sleeps 4
Sulphur tented camp
1 bedroom / 1 bathroom / sleeps 4