Previous

Next

property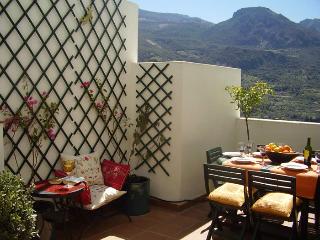 $56
3 BR / 2 BA / Sleeps 6
Inquire
3 BR
/
2 BA
/
Sleeps 6
|

Quick view
El Ladero Grande is situated in the pretty, flower-draped village of Güejar Sierra in a stunning location in the heart of the beautiful Sierra Nevada National Park - but still only 20 mins from historic Granada and the Alhambra Palace and 20 mins from the Sierra Nevada Ski Resort.This property is a great base for…
Ocean or water views

Mountain Views

Internet Access

Housekeeping Optional

Washing Machine
Pet friendly - ask

Suitable for children

Suitable for the elderly
Beautiful apartment, glorious views, a hop from great walks,tapa
Left on Dec 16, 2009 for a stay in July 2009
We really enjoyed our stay in El Ladero Grande. Guejar Sierra is a great location for seeing the Sierra Nevada and the local people are very friendly. We couldn't find fault with the apartment, which was lovely - comfortable and well-equipped and beautifully decorated. We really appreciated the fabulous views across the valley and the regular bus service into Granada. We're sure we'll be back as…
Previous

Next

property
$123
3 BR / 1 BA / Sleeps 6
$123
Book
3 BR
/
1 BA
/
Sleeps 6
|

Quick view
Casa San Tomas is a new 3 bedroom, 3 storey townhouse in the beautiful Andalucian town of Guejar Sierra. Furnished to a high standard in a contemporary style it has a new modern kitchen with adjoining fully equipped laundry room. The lounge boasts a luxury leather sofa with plasma TV/DVD/Wii/PS3 games console. A log …
Mountain Views

Hot Tub/Jacuzzi

Fireplace

Washing Machine

Clothes Dryer
Suitable for children - ask
Previous

Next

property
$134
2 BR / 1 BA / Sleeps 7
$134
Book
2 BR
/
1 BA
/
Sleeps 7
|

Quick view
The accommodation consists of three cottages, built in a house located opposite the village of Güejar Sierra. The apartments can acommodate up to 9, 7 and 4 persons respectively. Each apartment is fully equipped. The apartments are equipped with a fireplace, kitchen, bathroom and covered terrace. Furthermore the …
Mountain Views

Shared outdoor pool (unheated)

Washing Machine

Outdoor Dining Area

A/C or climate control
Pet friendly

Smoking allowed

Suitable for children

Suitable for the elderly

Wheelchair accessible - adapted
Previous

Next

property
$80
2 BR / 1 BA / Sleeps 4
Inquire
2 BR
/
1 BA
/
Sleeps 4
|

Quick view
Apartamento Lisi is located in the pretty, traditional mountain village of Guejar Sierra; 20 minutes from historic Granada, 35 minutes from the Sierra Nevada ski resort and only 45 minutes from year round sun on the Costa Tropical coast. The apartment is in a new build block, located in a quiet side street, yet only 2…
Ocean or water views

Mountain Views

Washing Machine

Linens Provided

Towels Provided
Pet friendly - ask

Smoking allowed - ask

Suitable for children - ask

Suitable for the elderly - ask

Wheelchair accessible - ask
Previous

Next

property
$67
1 BR / 1 BA / Sleeps 1
$67
Book
1 BR
/
1 BA
/
Sleeps 1
|

Quick view
The Cottage at Casa Rural Fuente la Teja The Cottage at Casa Rural Fuente la Teja The local area includes the pretty village of Güejar Sierra and the Sierra Nevada trails which can be walked or cycled. The cortijo (farm building) is typical of Andalucia, totally independant with its own installations. The Cottage …
Mountain Views

Shared outdoor pool (unheated)

Internet Access

Housekeeping Optional

Outdoor Dining Area
Pet friendly

Smoking allowed - ask

Suitable for children

Suitable for the elderly
Previous

Next

property
$168
2 BR / 1 BA / Sleeps 9
$168
Book
2 BR
/
1 BA
/
Sleeps 9
|

Quick view
The accommodation consists of three cottages, built in a house located opposite the village of Güejar Sierra. The apartments can acommodate up to 9, 7 and 4 persons respectively. Each apartment is fully equipped. The apartments are equipped with a fireplace, kitchen, bathroom and covered terrace. Furthermore the …
Ocean or water views

Mountain Views

Shared outdoor pool (unheated)

Outdoor Dining Area

A/C or climate control
Pet friendly

Smoking allowed

Suitable for children

Suitable for the elderly

Wheelchair accessible - adapted
Previous

Next

property
$90
1 BR / 1 BA / Sleeps 4
$90
Book
1 BR
/
1 BA
/
Sleeps 4
|

Quick view
The accommodation consists of three cottages, built in a house located opposite the village of Güejar Sierra. The apartments can acommodate up to 9, 7 and 4 persons respectively. Each apartment is fully equipped. The apartments are equipped with a fireplace, kitchen, bathroom and covered terrace. Furthermore the …
Mountain Views

Washing Machine

Outdoor Dining Area

A/C or climate control

Balcony or terrace
Pet friendly

Smoking allowed

Suitable for children

Suitable for the elderly

Wheelchair accessible - adapted
Previous

Next

property
$47
1 BR / 1 BA / Sleeps 4
Inquire
1 BR
/
1 BA
/
Sleeps 4
|

Quick view
Situated in the pretty town of Güejar Sierra within a stone's throw of a variety of interesting local bars and restaurants (many of which open up pools for customers in the summer), these apartments are perfectly situated. Historic Granada with the famous Alhambra Palace is only 20 minutes away. The Sierra Nevada…
Ocean or water views

Mountain Views

Internet Access

Washing Machine

A/C or climate control
Pet friendly - ask

Smoking allowed - ask

Suitable for children - ask

Suitable for the elderly - ask

Wheelchair accessible - ask
Great place for exploring city and mountains
Left on May 19, 2010 for a stay in May 2010
Guejar Sierra feels very rural despite its proximity for Granada. A great place to stay for a combination of city and countryside.

The village itself has good shops and places to eat and is very friendly.

The surrounding mountains provide great walking and mountain biking terrain - our only problem was finding the trails as a lot of the local information was in Spanish and we did not find …
Previous

Next

property
Inquire for rates.
3 BR / 1 BA / Sleeps 8
Inquire
3 BR
/
1 BA
/
Sleeps 8
|

Quick view
This well-equipped apartment enjoys airy rooms opening onto a large terrace with dramatic views of the Sierra Nevada mountains. It is located in the relaxed and welcoming village of Güejar Sierra - a traditional Spanish village with cobbled streets, a town square and a handful of restaurants and tapas bars.The …
Ocean or water views

Mountain Views

Washing Machine

Clothes Dryer

Outdoor Dining Area
Pet friendly - ask

Smoking allowed - ask

Suitable for children

Suitable for the elderly - ask

Wheelchair accessible - ask
Peaceful getaway, 30 min drive from ski slopes, 1hr from sea!
Left on Feb 25, 2013 for a stay in January 2011
JANUARY 2011:

Scenic view, authentic little mountain village for spiritual relax. Nice furnitured appartment, large kitchen, big living room with huge scenic view balcony. Buy a 3g-modem and enjoy internet having sun bath.

30 minutes driving to very nice ski resort Sierra Nevada for intermediate skiers (it's not very close, but you get much better price). Parking fees from 10 Euro! First …
---
---
There are no more results in Guejar Sierra.
Top of page