Previous

Next

property
$132
3 BR / 1 BA / Sleeps 6
Inquire
3 BR
/
1 BA
/
Sleeps 6
|

Quick view
Set back from the road at the end of a long private driveway, this charming vacation rental home features a large kitchen, separate dining room, living room and den with a pull out sofa. Painted with muted shades, the cottage radiates light. Picture windows in the living room and sliding patio doors in the dining …
Ocean or water views

Internet Access

Grill

Towels Provided

Dishwasher
Pet friendly

Suitable for children - ask

Suitable for the elderly - ask

Wheelchair accessible - ask
Previous

Next

property
$160
3 BR / 1 BA / Sleeps 4
Inquire
3 BR
/
1 BA
/
Sleeps 4
|

Quick view
Stay by the sea and experience the unique charms of this Nova Scotia vacation rental. Warm and inviting, this delightful holiday home sits in a large garden high on an ocean bluff and enjoys a spectacular panoramic view of the Atlantic. Red Head Retreat is a newly renovated century home with a central …
Internet Access

Fireplace

Deck

Grill

Towels Provided
Pet friendly

Suitable for children - ask

Suitable for the elderly - ask

Wheelchair accessible - ask
A beautiful gem on the South Shore
Left on Jul 27, 2013 for a stay in July 2013
I stayed at the Red Head Retreat with my husband and 2 friends. This was our first trip to the South Shore since moving to NS 2 years ago. The property is absolutely stunning with a huge yard ending at the ocean's edge. It is very private and quiet. The cottage is beautiful and has a spacious open concept on the lower floor. Bedrooms are nice and the cottage is equipped with everything you need. …
Previous

Next

property
$140
2 BR / 2 BA / Sleeps 4
Inquire
2 BR
/
2 BA
/
Sleeps 4
|

Quick view
Rising Sun guest house is a beautiful restored Nova Scotia vacation home. Carefully renovated, the house combines old world character with a coastal inspired modern style. The main floor of this stylish vacation rental has a tasteful living room with a propane fireplace, satellite TV and comfortable chairs. …
Ocean or water views

Internet Access

Fireplace

Patio

Grill
Suitable for children - ask

Suitable for the elderly - ask

Wheelchair accessible - ask
Beautiful getaway in an out-of-the-way spot!
Left on Jul 14, 2013 for a stay in June 2013
We spent a week at the Rising Sun Guest House in June. Very tastefully done; it surpassed our expectations! Kingsize bed was a nice bonus. Could have taken a pass on the mosquitoes and ticks but it still provided us with a great base to explore this historic area. A bit out of the way if you want to hit the south shore 'hotspots', but if you're looking for a quiet, private, beautiful getaway…
Previous

Next

property
$168
3 BR / 2 BA / Sleeps 6
Inquire
3 BR
/
2 BA
/
Sleeps 6
|

Quick view
Shorewood House is a stately four bedroom vacation home, built at the time of Canada's Confederation (1867) by a prominent local shipwright. Its spacious rooms and elegant design reflects the optimism of Shelburne's shipbuilding era. Located at the entrance to the Historic District, this …
Internet Access

Deck

Grill

Towels Provided

Dishwasher
Suitable for children - ask

Suitable for the elderly - ask

Wheelchair accessible - ask
Lovely, well kept & comfortable
Left on Sep 03, 2013 for a stay in July 2013
We stayed for a week and found Shorewood House to suit our needs perfectly. Quiet, comfortable, well-thought out amenities and 50 steps from looking out at stunning sunsets. The kitchen and outdoor BBQ worked well as did the plumbing. No cable TV, but reliable high-speed internet makes up for it.
Previous

Next

property
$94
3 BR / 1 BA / Sleeps 6
Inquire
3 BR
/
1 BA
/
Sleeps 6
|

Quick view
Relax & enjoy the ocean view from the private deck or stroll down the trail to the shore. Cozy up to the Outdoor/Indoor Fireplaces during the evening! This open concept home is completely equipped & has 3 bedrooms (1 with a Queen bed. 1 with a double bed. 1 with bunk beds) The large central bathroom has a claw foot …
Pet friendly

Smoking allowed - ask

Suitable for children - ask

Suitable for the elderly - ask
Previous

Next

property
$137
4 BR / 2 BA / Sleeps 7
Inquire
4 BR
/
2 BA
/
Sleeps 7
|

Quick view
Shorewood House is a stately four bedroom home, built at the time of Canada's Confederation (1867) by a prominent local shipwright. Its spacious rooms and elegant design reflects the optimism of Shelburne's shipbuilding era. Located at the entrance to the Historic District, this beautiful vacation home is walking …
Internet Access

Washing Machine

Clothes Dryer

Central heating

Patio
Suitable for children - ask

Suitable for the elderly - ask
Previous

Next

property
$240
3 BR / 2 BA / Sleeps 6
$240
Book
3 BR
/
2 BA
/
Sleeps 6
|

Quick view
180 degree view of the Chester Basin on the South Shore of Nova Scotia. Watch the moon or sun rise directly out front over the ocean and countless islands. There are no dangerous rips or currents as the ocean is calm, the warmest I have experienced as this area is the farthest inland. in fact we rarely experience fog …
Pet friendly - ask

Suitable for children - ask

Suitable for the elderly - ask

Wheelchair accessible - ask
Previous

Next

property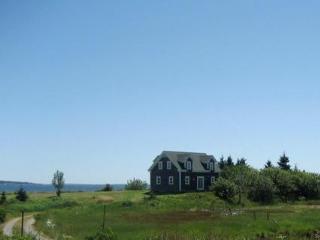 $140
2 BR / 2 BA / Sleeps 4
Inquire
2 BR
/
2 BA
/
Sleeps 4
|

Quick view
It is with great pleasure that I add this cottage to our vacation rentals. Over the past four years we have watched with anticipation as this 19th Century sea captain's haven has been lovingly renovated and restored by an artist and historic preservationist, husband and wife team. By combining …
Waterfront

Internet Access

Canoe

Grill

Towels Provided
Suitable for children - ask

Suitable for the elderly - ask

Wheelchair accessible - ask
The perfect oceanside vacation
Left on Sep 09, 2013 for a stay in August 2013
A week at this house was like a week in paradise. The house is very well built, and comfortably furnished with a great kitchen. The ocean, where you can swim from the rocks, begins right where the lawn ends. That is where both the sun and moon rise. It is comfortable all day in the breeze and stays warm though the night. It is private and feels secluded but is not remote; stores and all you…
Previous

Next

property
$120
2 BR / 1 BA / Sleeps 3
Inquire
2 BR
/
1 BA
/
Sleeps 3
|

Quick view
Rose Gate Cottage is a cozy two bedroom guest cottage overlooking the sparkling waters of Shelburne's pristine Harbour. Sharing the grounds of a private home, the cottage is set apart from the main house, giving the cottage a sense of privacy. This welcoming cottage has a sun room that spans the width of the …
Internet Access

Grill

Towels Provided

DVD Player
Suitable for children - ask

Suitable for the elderly - ask

Wheelchair accessible - ask
Previous

Next

property
$128
2 BR / 1 BA / Sleeps 4
Inquire
2 BR
/
1 BA
/
Sleeps 4
|

Quick view
Originally built in 1850 by Captain George McLean, as a carriage house for the neighbouring property, this attractive cottage has been completely renovated and restored, retaining its original charm and character, with wide pine floorboards and tall baseboards. A traditional floor plan, the house features two …
Internet Access

Fireplace

Grill

Towels Provided

Microwave
Suitable for children - ask

Suitable for the elderly - ask

Wheelchair accessible - ask
Delightful house in a beautiful location
Left on Oct 21, 2014 for a stay in September 2014
We rented Captain McLean's Carriage House for a week in September. It was perfect--very comfortable and plenty of room for the two of us. There are two bedrooms so 4 people would not be overcrowded. You can tell the owners care for the house by the way it is decorated and the little touches like candies left in the living room and a bottle of wine in the 'fridge when we arrived. The yard is…
---
---