Previous

Next

property
$87
1 BR / 1 BA / Sleeps 4
$87
Book
1 BR
/
1 BA
/
Sleeps 4
|

Quick view
Set in its 1200-m² garden with pine trees, the house offers an elegant ground-floor apartment. In the apartment, which is 90 sq meters, there is a master bed and two single beds. The apartment is an open space. It is suitable for a couple or for 4 people. THe price refers to 2 people. FOr every extra person we charge…
Pet friendly

Suitable for children

Suitable for the elderly
Clean, quiet, and comfortable.
Left on Aug 25, 2014 for a stay in August 2014
My family and I travelled from St Moritz to Tirano on the Bernina express and stayed at this location. We were very pleased with the experience. The location is about 10 to 15 minutes walk from the train station. It is in a quiet street, which was very nice at night, as we hardly heard any traffic noise.

Upon our arrival, my wife phoned the owner who came outside to great us. She showed us…
Previous

Next

property
$902
9 BR / 7 BA / Sleeps 16
Inquire
9 BR
/
7 BA
/
Sleeps 16
|

Quick view
Located in Laveno on the east side of Lake Maggiore, Bellezza Grande is composed of the main villa, Bellezza del Lago and the guardian's cottage, Carina del Lago. It is a gracious lakeside property with remarkable views and a private panoramic swimming pool. Set in a 5 ½ acre natural park with century old trees, …
Shared outdoor pool (unheated)

Wireless Internet

Fireplace

Washing Machine

Clothes Dryer
Pet friendly - ask

Smoking allowed - ask

Suitable for children - ask

Suitable for the elderly - ask

Wheelchair accessible - ask
Previous

Next

property
$81
1 BR / 1 BA / Sleeps 4
$81
Book
1 BR
/
1 BA
/
Sleeps 4
|

Quick view
Enjoy your home far from home in the heart of italian Adamello Brenta Park. 600 mt from Ponte di Legno downtown, bus stop in front of the house. Living room, kitchenette, bedroom, bathroom, sofa bed. Lovely apartment suitable for family, couple or single. Cableway nearby, swim pool and bicycle path. You will love it!
Mountain Views

Internet Access

Washing Machine

Central heating

Garden
Previous

Next

property
$65
1 BR / 1 BA / Sleeps 4
$65
Book
1 BR
/
1 BA
/
Sleeps 4
|

Quick view
Please note these Check-in Day Requirements for this property: Jun 13 - Jun 14 : Saturday and Sunday check-out required.; Jun 28 - Jul 04 : Saturday check-out required.; Jul 05 - Jul 11 : Saturday check-out required.; Jul 12 - Jul 18 : Saturday check-out required.; Jul 19 - Jul 25 : Saturday check-out required.; Jul …
Internet Access

Balcony or terrace

Parking

Stove or Oven

Television
Smoking allowed

Suitable for children

Suitable for the elderly - ask

Wheelchair accessible - ask
Previous

Next

property
$71
0 BR / 1 BA / Sleeps 2
$71
Book
0 BR
/
1 BA
/
Sleeps 2
|

Quick view
One room apartment, 38 sq with fully equipped kitchen and bathroom. Ideal for couple (bed is a master bed) or with couple with children . It is possible to add an extra bed. The area is really quiet but still very close to everything. The apartment is inside a big house with a big garden where you can have a BBQ …
Mountain Views

Internet Access

Housekeeping Optional

Outdoor Dining Area

Garden
Pet friendly

Suitable for children

Suitable for the elderly
Casa del Quirino accoglienza garantita
Left on Aug 13, 2014 for a stay in August 2014
Guardando le foto su tripadvisor ho riconosciuto la casa dove abbiamo soggiornato con mio marito alla fine del mese di agosto . Il nome del posto è Casa del Quirino e noi abbiamo prenotato tramite booking.com.

L'appartamento è adatto a due persone con una cucina attrezzata e un bel bagno.

Il giardino fuori a disposizione degli ospiti è grande e ha un bel barbecue , un tavolo con le panche e…
Previous

Next

property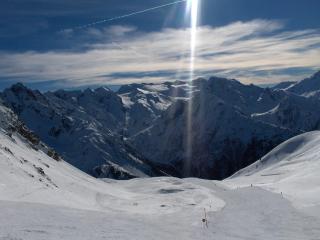 $87
1 BR / 1 BA / Sleeps 4
$87
Book
1 BR
/
1 BA
/
Sleeps 4
|

Quick view
Holiday apartment close to the slopes. it is located in Temù, ski area Temù/Ponte di legno/ Passo del Tonale .The apartment is composed by large living room with kitchen, bedroom with two single beds, sofa bed in living room, bathroom, private garden, communal garden, barbeque, garage. Sleeps 2/4people Just outside …
Mountain Views

Washing Machine

Outdoor Dining Area

Central heating

Parking
Pet friendly

Suitable for children

Suitable for the elderly

Wheelchair accessible - ask
Previous

Next

property
$106
3 BR / 1 BA / Sleeps 9
$106
Book
3 BR
/
1 BA
/
Sleeps 9
|

Quick view
Teglio is a town in the province of Sondrio in middle Valtellina. The center lies along the Rhaetian Alps at an average altitude of 900 m above sea level in a sunny and panoramic area. The summer weather is mild thanks to the great exposure to the sun balanced by the coolness due to altitude. The winter weather is …
Mountain Views

Fireplace

Washing Machine

Outdoor Dining Area

Central heating
Pet friendly - ask

Smoking allowed - ask

Suitable for children
Previous

Next

property
$80
1 BR / 1 BA / Sleeps 4
$80
Book
1 BR
/
1 BA
/
Sleeps 4
|

Quick view
Please note these Check-in Day Requirements for this property: Mar 29 - Apr 11 : Sunday check-in required, Saturday check-out required.; Jun 02 - Jun 04 : Tuesday, Wednesday and Thursday check-out required.; Jun 23 - Jun 25 : Tuesday, Wednesday and Thursday check-out required.; Jul 06 - Jul 09 : Monday check-in …
Internet Access

Washing Machine

Parking

Dishwasher

Freezer
Smoking allowed

Suitable for children

Suitable for the elderly - ask

Wheelchair accessible - ask
Previous

Next

property
$60
1 BR / 1 BA / Sleeps 4
$60
Book
1 BR
/
1 BA
/
Sleeps 4
|

Quick view
Please note these Check-in Day Requirements for this property: Jun 04 - Jun 05 : Thursday and Friday check-out required.; Jun 13 - Jun 14 : Saturday and Sunday check-out required.; Jun 28 - Jul 04 : Saturday check-out required.; Jul 05 - Jul 11 : Saturday check-out required.; Jul 12 - Jul 18 : Saturday check-out …
Internet Access

Balcony or terrace

Parking

Stove or Oven

Television
Smoking allowed

Suitable for children

Suitable for the elderly - ask

Wheelchair accessible - ask
Previous

Next

property
$70
1 BR / 1 BA / Sleeps 4
$70
Book
1 BR
/
1 BA
/
Sleeps 4
|

Quick view
Please note these Check-in Day Requirements for this property: Jun 04 - Jun 05 : Thursday and Friday check-out required.; Jun 13 - Jun 14 : Saturday and Sunday check-out required.; Jun 28 - Jul 04 : Saturday check-out required.; Jul 05 - Jul 11 : Saturday check-out required.; Jul 12 - Jul 18 : Saturday check-out …
Internet Access

Balcony or terrace

Parking

Stove or Oven

Television
Smoking allowed

Suitable for children

Suitable for the elderly - ask

Wheelchair accessible - ask
Previous

Next

property
$60
1 BR / 1 BA / Sleeps 4
$60
Book
1 BR
/
1 BA
/
Sleeps 4
|

Quick view
Please note these Check-in Day Requirements for this property: Jun 13 - Jun 14 : Saturday and Sunday check-out required.; Jun 28 - Jul 04 : Saturday check-out required.; Jul 05 - Jul 11 : Saturday check-out required.; Jul 12 - Jul 18 : Saturday check-out required.; Jul 19 - Jul 25 : Saturday check-out required.; Jul …
Internet Access

Balcony or terrace

Parking

Stove or Oven

Television
Smoking allowed

Suitable for children

Suitable for the elderly - ask

Wheelchair accessible - ask
Previous

Next

property
$40
1 BR / 1 BA / Sleeps 2
$40
Book
1 BR
/
1 BA
/
Sleeps 2
|

Quick view
Please note these Check-in Day Requirements for this property: May 29 - May 30 : Friday and Saturday check-out required.; Jun 19 - Jun 20 : Friday and Saturday check-out required.; Jul 18 - Jul 25 : Saturday check-in required, Saturday check-out required.; Jul 26 - Aug 01 : Saturday check-out required.; Aug 02 - Aug …
Internet Access

Balcony or terrace

Parking

Stove or Oven

Television
Smoking allowed

Suitable for children

Suitable for the elderly - ask

Wheelchair accessible - ask
Previous

Next

property
$90
2 BR / 1 BA / Sleeps 4
$90
Book
2 BR
/
1 BA
/
Sleeps 4
|

Quick view
Please note these Check-in Day Requirements for this property: Jun 28 - Jul 04 : Saturday check-out required.; Jul 05 - Jul 11 : Saturday check-out required.; Jul 12 - Jul 18 : Saturday check-out required.; Jul 19 - Jul 25 : Saturday check-out required.; Jul 26 - Aug 01 : Saturday check-out required.; Aug 08 - Aug 15…
Fireplace

Washing Machine

Parking

Freezer

Microwave
Smoking allowed

Suitable for children

Suitable for the elderly - ask

Wheelchair accessible - ask
Previous

Next

property
$120
3 BR / 1 BA / Sleeps 6
$120
Book
3 BR
/
1 BA
/
Sleeps 6
|

Quick view
Please note these Check-in Day Requirements for this property: May 11 - May 13 : Monday, Tuesday and Wednesday check-out required.; May 22 - May 24 : Friday, Saturday and Sunday check-out required.; May 27 - May 30 : Wednesday check-in required, Thursday, Friday and Saturday check-out required.; Jun 19 - Jun 21 : …
Internet Access

Fireplace

Washing Machine

Balcony or terrace

Parking
Smoking allowed

Suitable for children

Suitable for the elderly - ask

Wheelchair accessible - ask
Previous

Next

property
$60
1 BR / 1 BA / Sleeps 4
$60
Book
1 BR
/
1 BA
/
Sleeps 4
|

Quick view
Please note these Check-in Day Requirements for this property: Jun 03 - Jun 04 : Wednesday and Thursday check-out required.; Jun 13 - Jun 14 : Saturday and Sunday check-out required.; Jun 27 - Jul 04 : Saturday check-in required, Saturday check-out required.; Jul 05 - Jul 11 : Saturday check-out required.; Jul 12 - …
Internet Access

Balcony or terrace

Parking

Stove or Oven

Television
Smoking allowed

Suitable for children

Suitable for the elderly - ask

Wheelchair accessible - ask
---
---