4 Results
Relevance
Price: low to high
Price: high to low
Number of reviews
Flagstaff apartment
1 bedroom / 1 bathroom / sleeps 4
"Exceeded our expectations" We were extremely happy with this rental, but to be clear, this review is for the 2-bedroom unit as the owner had no 1-bedroom units available once we submitted our booking. The front street-view of the unit looks deceptively small until you step inside to discover that there are floors both below and above the entrance level (made possible by the units being on a hillside). The home felt brand new and immaculately clean. Spacious living room, dining room, kitchen and bedrooms. The master bedroom has a huge and luxurious bathroom, along with a large walk-in closet. Both the main floor and master bedroom have spacious balconies. The tall trees blocked any view of the mountains but this was not an issue for us. Very peaceful and tranquil setting. We heard no noise whatsoever during our stay. Kitchen was well equipped with clean and shiny utensils and glassware, etc. Wyndham maintain the properties really well. The one negative is that the check-in desk forces you to visit the neighboring "concierge" desk to obtain a parking permit, when there was no good reason that they couldn't have handed out the parking pass along with the keys and the rest of the check-in paperwork. "Concierge" is code language for "time share agents" who will not reveal their true purpose until engaging you in a super-friendly welcome and offering advice on where to go and what to see. So why are time-share salespeople the custodians of the parking passes? - for one reason only - so you have no option but to interact with them!! I refused to initial and sign their "qualification form" in half-a-dozen places, at which point they made me feel like I was being ungrateful for all the help they'd given me. Owners who are privately renting their places to cash-paying vacationers should demand that Wyndham stops putting their guests through this ordeal upon checking in. There's nothing worse after an exhausting day of travel than to have to deal with pushy timeshare salespeople who are trained to overcome your every objection and ultimately force you to be very stubborn, just to get away from them. My advice is that one of the two spouses should stay behind in the car during the check-in process, so they don't have both of you captive at their desk. To be fair, after this initial encounter they never called or bothered us again during our stay though. As long as you arrive mentally-prepared to endure this encounter, once out of the way, everything else about this resort should surpass your expectations.
Match: Housekeeping Included
All filters match
Price per night from
$113
Flagstaff apartment
2 bedrooms / 2 bathrooms / sleeps 6
"Flagstaff vacation" This was a great place to come home to after a full day of sightseeing. There was plenty of room for everyone to have their own space and relax after a long day. The kids found the mini golf and pool a great way to end the day.
Match: Housekeeping Included
All filters match
Price per night from
$181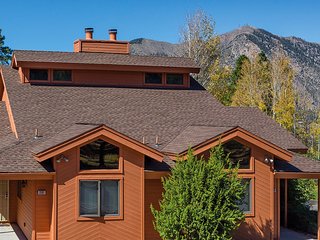 Flagstaff house
6 bedrooms / 3 bathrooms / sleeps 12
Match: Housekeeping Included
All filters match
Price per night from
$2,627
Great rentals within 20 miles that match your search
Parks house
4 bedrooms / 2 bathrooms / sleeps 8
Match: Housekeeping Included
All filters match
Price per night from
$312