13 Results
Relevance
Price: low to high
Price: high to low
Reviews
Monsenor Nouel Province house
17 bedrooms / 15 bathrooms / sleeps 40
Price per night from
$1,357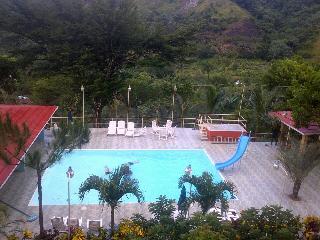 Bonao villa
6 bedrooms / 3 bathrooms / sleeps 10
Price per night from
$226
Monsenor Nouel Province villa
6 bedrooms / 6 bathrooms / sleeps 14
Price per night from
$1,244
Bonao villa
3 bedrooms / 1 bathroom / sleeps 8
Price per night from
$142
Bonao villa
5 bedrooms / 4 bathrooms / sleeps 16
Price per night from
$294
Great rentals within 20 miles that match your search
Cabarete apartment
3 bedrooms / 3 bathrooms / sleeps 10
"Fabulous Condo overlooking Kite Beach" We stayed at this delightful condo for two weeks over the Christmas/New Year's Holiday. It was perfect for our group of five adults and a small dog. The condo has three comfy bedrooms; two with en-suite bathrooms and the third used the powder room. The gourmet kitchen is fully equipped with every appliance you can imagine and there are plenty of pans for baking and stovetop cooking, plus there's a gas grill on the deck. The BEST part is the HUGE deck (apx 30'x40') overlooking Kite Beach: half is uncovered for the Jacuzzi and sunbathing and half is covered for relaxing in the shade on sofas or at the dining table. The beach is clean and wide and good for swimming, especially in the morning. Around mid-day the wind picks up, the surf gets strong and the beach gets crowded with kite-boarder lessons so you have to walk down the beach a few hundred yards to spread your towel- or even better, retire to sunbathe on your private deck. The kite-boarders provide endless entertainment when you view them from the deck as the sky is peppered with colorful jib-sized kites all afternoon. We rented a car so we could drive to restaurants and the grocery store, but cabs were everywhere and not expensive so that would have worked fine too. Cabarete, a lively - if touristy -beach town, is packed with restaurants and bars just a short drive away. Note- the condo is on the top floor so it's a 4-floor walkup but it's well worth it for the view and spacious deck. This condo was just what we wanted – right on a beautiful, quiet beach but with a variety of evening entertainment close by.
Price per night from
$339
Punta Cana b&b
4 bedrooms / 1 bathroom / sleeps 2
Juan Dolio apartment
1 bedroom / 3 bathrooms / sleeps 2
Puerto Plata house
1 bedroom / 1 bathroom / sleeps 4
"It Get Better and Better Every Time I Go!!" This my fifth time visiting Lifestyle thru Mr. Durrenberger and everytime the experience is better, always something new to keep attracting us back. The food is great the staff go beyond to help and assist, the views are amazing everything is adorable. Booking with Mr. Durrenberger will definetely give you the best experience you could ever imagine on your vacation. Vip treatment throughtout the hotels, free access to Ocean World; the benefits are endless. Can't wait to plan my next vacation and stay more time.. Thank You.
Santiago de los Caballeros apartment
1 bedroom / 2 bathrooms / sleeps 2
Alto de Cana apartment
1 bedroom / 1 bathroom / sleeps 4
Jarabacoa villa
5 bedrooms / 6 bathrooms / sleeps 18
Responds fast! avg. 2 minutes
Price per night from
$339
Fantino apartment
3 bedrooms / 5 bathrooms / sleeps 9
Price per night from
$221