12 Results
Relevance
Price: low to high
Price: high to low
Number of reviews
Punta Allen log cabin
2 bedrooms / 2 bathrooms / sleeps 8
Price per night from
$457
Punta Allen villa
5 bedrooms / 5 bathrooms / sleeps 14
Price per night from
$1,141
Great rentals within 20 miles that match your search
Tulum house
4 bedrooms / 5 bathrooms / sleeps 16
Price per night from
$1,023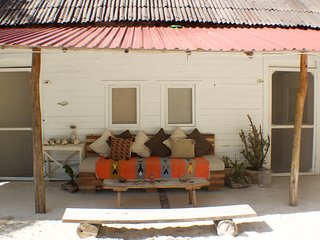 Sian Ka'an villa
4 bedrooms / 4 bathrooms / sleeps 12
"Beautifully appointed, gorgeous!!" We stayed for a week on our honeymoon. The home is spectacular! Beautifully appointed, quality craftsmanship, gorgeous! To have a beach where we only saw two people walking by one day - was heaven!! The water is warm and wonderful for swimming. I cannot say enough good things about this property - we absolutely loved it! The caretakers were very sweet... I highly recommend this property for anyone wishing to get away from it all in luxury!
Price per night from
$962
Akumal house
4 bedrooms / 4 bathrooms / sleeps 10
"Paradise!" Charley and I stayed at the condos over July 4 holiday, for the first time since we bought the fabulous spot in april! We drove to Playa for shopping and found great local artisans making furniture and artwork, which you can see in our new photos. There are three turtle nests on our beach, waiting for their mad dash to the sea, and we swam in the calm waters of Half Moon Bay. Truly, Akumal is so laid back, so easy and fun, we call it Paradise.
Price per night from
$1,022
Tulum villa
4 bedrooms / 4 bathrooms / sleeps 17
Price per night from
$7,215
Tulum villa
6 bedrooms / 6 bathrooms / sleeps 20
Price per night from
$624
Tulum apartment
2 bedrooms / 2 bathrooms / sleeps 5
"Free spirited stay" Our stay at Zama Village was perfect. The condo was clean and kept fresh. All services included in the rental were available and in working order. The location of the condo is ideal for complete relaxation, town shopping, site seeing and the beach proximity is very close. We loved the whole experience and would highly recommend the hosptitality and services provided by the owner.
Responds fast! avg. 3 hours 31 minutes
Travelers' Choice award
Tulum villa
3 bedrooms / 3 bathrooms / sleeps 6
Price per night from
$560
Tulum villa
5 bedrooms / 5 bathrooms / sleeps 10
Responds fast! avg. 2 hours 5 minutes
Price per night from
$2,730
Tulum villa
4 bedrooms / 3 bathrooms / sleeps 10
Responds fast! avg. 2 hours 36 minutes
Price per night from
$561
Tulum house
1 bedroom / 1 bathroom / sleeps 2
Price per night from
$252