10 Results
Relevance
Price: low to high
Price: high to low
Number of reviews
Snowshoe house
5 bedrooms / 4 bathrooms / sleeps 14
Responds fast! avg. 5 minutes
Match: Rental types
All filters match
Price per night from
$386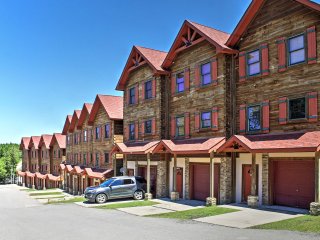 Snowshoe house
3 bedrooms / 2 bathrooms / sleeps 8
"This Place is awesome!" I have to be honest, my husband and I went back and forth about whether or not to write this review. We were afraid that if we told the truth, we may never be able to get another opportunity to stay at this cabin again because all the dates would quickly be taken. But being people who believe that the good things of the world should be made known, we decided to share our opinion about this cabin. This cabin will fulfill or exceed any expectations you have about what a log cabin vacation should be. The cabin itself is just as beautiful as in the pictures, and the view is even better. With all its appointments and beauty, both inside and out, there is one other aspect to the cabin which isn't mentioned in the description, that is how nice and accommodating the owner was to us. Jim's flexibility and accommodation tremendously enhanced our visit to this beautiful residence. We hope this review helps you in making your decision about whether to stay here. It is certainly worth the price and more. Thank you, Jim. We will definitely be staying with you again next ski season.
Responds fast! avg. 2 hours 42 minutes
Match: Rental types
All filters match
Price per night from
$201
Snowshoe house
5 bedrooms / 4 bathrooms / sleeps 12
Responds fast! avg. 3 hours 37 minutes
Match: Rental types
All filters match
Price per night from
$488
Snowshoe house
3 bedrooms / 2 bathrooms / sleeps 7
"Lovely home for a mountain getaway!" We enjoyed a long, wonderful, weekend at The Ridge home. Overall, the house is exactly as presented in the photos. It was immaculately clean, very comfortable, quiet, with all the amenities needed for a great getaway. Everything was in excellent condition, very nice/plentiful linens, great water pressure, well-stocked with all but food & wine/beer! The owner was a pleasure to deal with and payment a breeze using Paypal. Accessibility: The climb up from the main road is on a well graveled, pretty steep road, our aWD sedan had no problems reaching it. We enjoyed all aspects of the home, but the sense of absolute privacy, peace & quiet made for an exceptionally relaxing stay. The satellite TV kept us up-to-date on news and there's a house phone for calls/contacts. No cellular or WiFi, but we loved being out of reach for a change. It's a 5-7 minute drive down to The Fiddlehead Pub for free Wifi. Interior: Comfortable and spacious interior with seating for 6 adults in living & dining rooms. We worried the full-sized beds upstairs would be a bit too small but they were perfectly comfortable for 2 average-sized adults. Downstairs bedrooms had queen beds, perfect for 4 or even 6 people with the double futon. Upon our arrival, the downstairs was a bit musty but running the dehumidifier seemed to quickly dry things up and make it comfortable. The kitchen had ample dishes/glassware, etc. but you might want to bring a few pots and pans if you're planning to cook for 6 or more people. Exterior: The view off the upper deck is spectacular; we enjoyed morning coffee and evening wine with a unrivaled view of the mountains, sunset & stars. The driveway and side/rear yard is great for playing with kids or pets. The mountain air was crisp, clean and perfect for sleeping, hiking and golfing. Hike up the ridge road to the absolute top for a nearly 360-degree view of the mountains. If you are looking for comfortable escape and a great view we recommend a stay at The Ridge.
Match: Rental types
All filters match
Price per night from
$388
Snowshoe house
4 bedrooms / 3 bathrooms / sleeps 13
Match: Rental types
All filters match
Price per night from
$647
Snowshoe house
5 bedrooms / 3 bathrooms / sleeps 12
Match: Rental types
All filters match
Price per night from
$547
Snowshoe house
2 bedrooms / 2 bathrooms / sleeps 8
Match: Rental types
All filters match
Price per night from
$116
Great rentals within 20 miles that match your search
Slatyfork house
6 bedrooms / 4 bathrooms / sleeps 24
Responds fast! avg. 28 minutes
Match: Rental types
All filters match
Price per night from
$318
Bartow house
3 bedrooms / 1 bathroom / sleeps 6
Match: Rental types
All filters match
Price per night from
$180
Webster Springs house
4 bedrooms / 1 bathroom / sleeps 8
Match: Rental types
All filters match
Price per night from
$160