13 Results
Relevance
Price: low to high
Price: high to low
Number of reviews
Watts Bar Dam house
4 bedrooms / 4 bathrooms / sleeps 10
Responds fast! avg. 3 hours 46 minutes
Price per night from
$261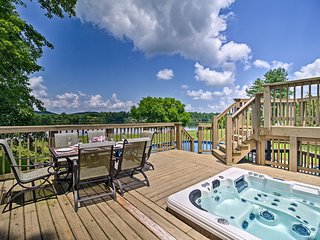 Watts Bar Dam house
3 bedrooms / 3 bathrooms / sleeps 8
Responds fast! avg. 3 hours 46 minutes
Price per night from
$210
Great rentals within 20 miles that match your search
Rockwood house
4 bedrooms / 4 bathrooms / sleeps 12
Price per night from
$802
Sweetwater condo
1 bedroom / 1 bathroom / sleeps 2
Dayton apartment
2 bedrooms / 1 bathroom / sleeps 6
Price per night from
$144
Dayton camper van
1 bedroom / 1 bathroom / sleeps 12
Price per night from
$144
Decatur house
3 bedrooms / 2 bathrooms / sleeps 6
Price per night from
$201
Riceville log cabin
4 bedrooms / 3 bathrooms / sleeps 8
Responds fast! avg. 3 hours 46 minutes
Price per night from
$196
Dayton house
4 bedrooms / 3 bathrooms / sleeps 7
Responds fast! avg. 3 hours 46 minutes
Price per night from
$188
Dayton house
3 bedrooms / 3 bathrooms / sleeps 7
Price per night from
$144
Crossville log cabin
2 bedrooms / 2 bathrooms / sleeps 6
"Christmas" Enjoyed the cabin. The best cabin we have stayed at. Comfortable and fully equipped . Beautiful view loved the fireplace and enjoyed the hot tub.
Responds fast! avg. 1 hour 21 minutes
Price per night from
$201
Dayton house
4 bedrooms / 3 bathrooms / sleeps 15
"Great for Families" This house was perfect for a large family. The kids could play yard games or in the pool while we prepared meals. Nearby Pocket Wilderness and Laurel Falls were beautiful! We ended most days with a fire and stargazing.
Responds fast! avg. 3 hours 46 minutes
Price per night from
$337
Ten Mile house
3 bedrooms / 2 bathrooms / sleeps 10
Responds fast! avg. 2 hours 16 minutes
Price per night from
$165