Previous

Next

property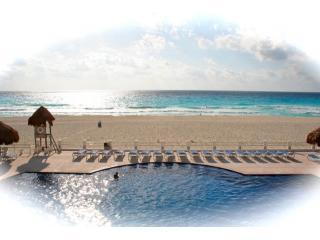 $200
2 BR / 2 BA / Sleeps 2
Inquire
2 BR
/
2 BA
/
Sleeps 2
|

Quick view
"Live" Webcam of our beach in Cancun on our website from 7:00am CT to 7:00pm CT....Oracle Villas and Tours Complex and our condos/service are rated #20 of 160 Hotels in Cancun.....No small feat for a condo management company.....See our Tripadvisor.com reviews by searching for: Villas Marlin and choosing: "Villas …
Suitable for children - ask

Suitable for the elderly - ask

Wheelchair accessible - ask
great luxury for the price
Left on Jul 13, 2011 for a stay in July 2011
Villas Marlin is nicely located close to Downtown Cancun & the airport, only a 10-15min drive by car. The Villas Marlin complex is right on the water, has a nice bar area, great clean pools & a small convenience store on site for the small things that you may need. Fully secure parking lot with a 24hr attendant. The unit itself is very modern/stylish & fully furnished, the pluses were the …
Previous

Next

property
$179
2 BR / 2 BA / Sleeps 8
$179
Book
2 BR
/
2 BA
/
Sleeps 8
|

Quick view
Now offering a Holiday Special, take advantage. Please feel free to shop around. You will see nobody can offer the same value for your buck as us. This unit sits on a top floor, overlooking the 7 shades of the majestic blue Caribbean Sea. This Beachfront Penthouse has a kitchen with granite countertops and a large …
Waterfront

Ocean or water views

Hot Tub/Jacuzzi

Internet Access

Housekeeping Optional
Suitable for children

Suitable for the elderly - elevator access
Will come back soon
Left on Dec 22, 2014 for a stay in November 2014
My hubby and I Loved this place. This gorgeous Penthouse overlooks the entire Hotel zone from south to north tip. You can see it all. We have been coming to Cancun for 7 years and have had to grocery shop in el Centro which made things so inconvenient, but no anymore. Kukulcan Shopping Center located step from Villas Marlin opened a brand new Soriana Grocery Supermarket on November 2014. This …
Previous

Next

property
$258
3 BR / 3 BA / Sleeps 8
$258
Book
3 BR
/
3 BA
/
Sleeps 8
|

Quick view
If you are looking for a relaxing, luxury vacation , you can do no better that this tastefully decorated condo in the center of Cancun's Hotel Zone. Our newly remodeled villa is absolutely gorgeous! Fine art and tasteful interior design makes this unit stand out from ALL the rest. If you are used to the finer things …
Waterfront

Ocean or water views

Shared outdoor pool (unheated)

Internet Access

Washing Machine
Smoking allowed - ask

Suitable for children

Suitable for the elderly - elevator access

Wheelchair accessible - ask
Previous

Next

property
$150
2 BR / 2 BA / Sleeps 2
Inquire
2 BR
/
2 BA
/
Sleeps 2
|

Quick view
"Live" Webcam of our beach in Cancun on our website from 7:00am CT to 7:00pm CT....Oracle Villas and Tours Complex and our condos/service are rated #20 of 160 Hotels in Cancun.....No small feat for a condo management company.....See our Tripadvisor.com reviews by searching for: Villas Marlin and choosing: "Villas …
Suitable for children - ask

Suitable for the elderly - ask

Wheelchair accessible - ask
Villas Marlin condo rental
Left on Apr 09, 2010 for a stay in February 2010
I stayed for a week in this condo. First, I was thrilled with the unit - 615. It is well furnished and has such a great view. The pool and beach areas are fabulous. Plus, I have never found a resort beach pool bar with such great prices. Really didn't want for anything. The reservation process with Oracle was so simple - Alvin was great to work with. Then if you ever had any questions on …
Previous

Next

property
$345
4 BR / 3 BA / Sleeps 11
$345
Book
4 BR
/
3 BA
/
Sleeps 11
|

Quick view
Located in the heart of the Cancun hotel zone. Beautiful fully furnished three-bedroom, condo with 2.5 bathrooms, spacious living and dining room, balcony with amazing views of the Caribbean Sea, fully equipped kitchen with microwave, large fridge, stove, coffee maker, toaster, blender, kitchen and table ware, …
Waterfront

Ocean or water views

Shared outdoor pool (unheated)

Hot Tub/Jacuzzi

Internet Access
Suitable for children

Suitable for the elderly
Previous

Next

property
$300
3 BR / 3 BA / Sleeps 6
Inquire
3 BR
/
3 BA
/
Sleeps 6
|

Quick view
Attention: Web Site in English & Spanish. "Live" Webcam of our beach in Cancun on our website from 7:00am CT to 7:00pm CT....Oracle Villas and Tours Complex and our condos/service are rated #20 of 160 Hotels in Cancun.....No small feat for a condo management company.....See our Tripadvisor.com reviews by searching …
Suitable for children - ask

Suitable for the elderly - ask

Wheelchair accessible - ask
Wonderful days in Cancun at Villas Marlin, Villa 122
Left on Apr 06, 2010 for a stay in March 2010
Before I left to Cancun, I was a little bit worried, because I only communicated with Alvin by email. He did not ask me for a deposit, only to send him info about my arrival flight, so that he can send a van to pick us up. My group of four includes my wife and two adult daughters, taking break from UCLA. Exactly as promised on his email, Alvin and Fernando met us at the front of the condo, when …
Previous

Next

property
$300
2 BR / 2 BA / Sleeps 6
Inquire
2 BR
/
2 BA
/
Sleeps 6
|

Quick view
"Live" Webcam of our beach in Cancun on our website from 7:00am CT to 7:00pm CT....Oracle Villas and Tours Complex and our condos/service are rated #27 of 160 Hotels in Cancun.....No small feat for a condo management company.....See our Tripadvisor.com reviews by searching for: Villas Marlin and choosing: "Villas …
Suitable for children - ask

Suitable for the elderly - ask

Wheelchair accessible - ask
Best value for your money in cancun
Left on Jul 11, 2012 for a stay in July 2012
Our stay at penthouse 715 at villas marlin was all that we hoped for and more . It was my sixth visit to cancun , ive stayed at all inclusives and regular hotels in the past .

Alvin was very understanding and professional about our needs . The apartment was clean had an amazing view , air conditioning worked great , internet was pretty fast and anything we needed was taken care of within minutes…
Previous

Next

property
$89
2 BR / 1 BA / Sleeps 6
Inquire
2 BR
/
1 BA
/
Sleeps 6
|

Quick view
We have a beautiful, ocean view condominium that is a two-story townhouse style unit. It is tastefully decorated, fully equipped, and will accommodate up to six persons comfortably. This unit has marble floors, central air, two TVs with cable, full-size kitchen appliances, and an ocean view terrace. It is located in …
Waterfront

Ocean or water views

Internet Access

Housekeeping Optional

A/C or climate control
Pet friendly - ask

Smoking allowed - ask

Suitable for children

Suitable for the elderly - elevator access

Wheelchair accessible - ask
Safe, quiet, and close to everything you really need
Left on Jun 06, 2014 for a stay in May 2014
This condo is in a nice complex in a great location in Cancun. The police station is right on the corner and the American Conciliate is in the same building. There is a guard at the front gate and one that walks around the complex. I felt safe at the condo and everywhere we went in Mexico. There is a bus-stop right around the corner and a taxi station cattycorner. You will probably want bus …
Previous

Next

property
$300
3 BR / 4 BA / Sleeps 14
Inquire
3 BR
/
4 BA
/
Sleeps 14
|

Quick view
"Live" Webcam of our beach in Cancun on our website from 7:00am CT to 7:00pm CT....Oracle Villas and Tours Complex and our condos/service are rated #20 of 160 Hotels in Cancun.....No small feat for a condo management company.....See our Tripadvisor.com reviews by searching for: Villas Marlin and choosing: "Villas …
Suitable for children - ask

Suitable for the elderly - ask
Perfect location for everyone to have the trip of their dreams!!
Left on Apr 08, 2010 for a stay in February 2010
I cant say enough about the hospitaliity of staying with Alvin and Fernando!! They are terrific hosts and anything that you may need they are there within minutes to handle it for you!!
I am in the hotel business and am aware that sometimes there are needs that customers have --but as I tell my staff all of the time--"never let the customer see you sweat" and thats exactly how you feel with …
Previous

Next

property
$150
2 BR / 2 BA / Sleeps 6
Inquire
2 BR
/
2 BA
/
Sleeps 6
|

Quick view
"Live" Webcam of our beach in Cancun on our website from 7:00am CT to 7:00pm CT....Oracle Villas and Tours Complex and our condos/service are rated #20 of 160 Hotels in Cancun.....No small feat for a condo management company.....See our Tripadvisor.com reviews by searching for: Villas Marlin and choosing: "Villas …
Suitable for children - ask

Suitable for the elderly - ask

Wheelchair accessible - ask
Can't wait to go back !
Left on Apr 07, 2010 for a stay in February 2010
I have had the opportunity to stay at the Villa's Marlin with Alvin and Fernando several times in the past 2 years. I have been a frequent visitor to Cancun over the past 15 years and can say I have found my true Home away from Home at the Villa's. The service is friendly and top notch. If you need something, all you have to do is ask and Alvin and staff will make sure you get it. The beach …
Previous

Next

property
$80
1 BR / 1 BA / Sleeps 3
$80
Book
1 BR
/
1 BA
/
Sleeps 3
|

Quick view
Beachfront apartment consist of one bedroom, bathroom, living room and small kitchen. Rentals over 7 days do not include utilities. A five minute walk from La Isla shopping Plaza and Kukulkan Plaza. Villas Marlin has 3 pools, private parking, 24 hrs security, tennis courts and a beautiful beach.
Waterfront

Ocean or water views

Shared outdoor pool (unheated)

Hot Tub/Jacuzzi

Internet Access
Pet friendly - ask

Smoking allowed - ask

Suitable for children

Suitable for the elderly
---
---