Previous

Next

property
$28
2 BR / 1 BA / Sleeps 4
$28
Book
2 BR
/
1 BA
/
Sleeps 4
|

Quick view
Rent two bedroom terraced house in a quiet place. A room with 1 bed of 1.35 and one with 2 beds of 0.90. 1 common bathroom for both rooms. Includes continental breakfast and wifi. There is a garden and a covered terrace with loungers to relax. 3 minutes from the highway, from where you can visit the most important …
Mountain Views

Internet Access

Housekeeping Optional

Washing Machine

Outdoor Dining Area
Suitable for children

Suitable for the elderly
Previous

Next

property
$28
2 BR / 1 BA / Sleeps 4
$28
Book
2 BR
/
1 BA
/
Sleeps 4
|

Quick view
Penthouse of 45m2 with 1 very spacious room with a queen bed, a fully-equipped modern kitchen, a living room with TV 40 inch led, Smart TV, dvd and a bunk bed with 2 beds. bathroom with shower. Also has free WIFI and phone. Has a capacity of 4 people The apartment is brand new and fully furnished. It has parking and…
Ocean or water views

Internet Access

Washing Machine

Central heating

Patio
Smoking allowed

Suitable for children

Suitable for the elderly - elevator access

Wheelchair accessible - ask
Previous

Next

property
$78
2 BR / 2 BA / Sleeps 4
$78
Book
2 BR
/
2 BA
/
Sleeps 4
|

Quick view
The "Mirador de Usil" Apartment J2 is modern two bedroom apartment has wall-to-wall windows with spectacular views of the Pas river estuary including Mogro Bay, Playa de Usil beach, Liencres Dunes Natural Park and Playa de Liencres beach facing the Cantabrian Sea and Bay of Biscay. It also has a small deck off …
Previous

Next

property
$160
2 BR / 1 BA / Sleeps 4
$160
Book
2 BR
/
1 BA
/
Sleeps 4
|

Quick view
Please note these Check-in Day Requirements for this property: Feb 25 - Jun 13 : Wednesday check-in required, Saturday check-out required.; Jun 14 - Jun 20 : Saturday check-out required.; Jun 21 - Jun 27 : Saturday check-out required.; Jun 28 - Jul 04 : Saturday check-out required.; Jul 05 - Jul 11 : Saturday check-…
Fireplace

Washing Machine

Parking

Dishwasher

Freezer
Smoking allowed

Suitable for children

Suitable for the elderly - ask

Wheelchair accessible - ask
Previous

Next

property
$105
2 BR / 1 BA / Sleeps 4
$105
Book
2 BR
/
1 BA
/
Sleeps 4
|

Quick view
Please note these Check-in Day Requirements for this property: Jul 06 - Jul 08 : Monday, Tuesday and Wednesday check-out required.; Jul 25 - Aug 01 : Saturday check-in required, Saturday check-out required.; Aug 02 - Aug 08 : Saturday check-out required.; Aug 09 - Aug 15 : Saturday check-out required.; Sep 29 - Oct 01…
Washing Machine

Balcony or terrace

Parking

Freezer

Microwave
Smoking allowed

Suitable for children

Suitable for the elderly - ask

Wheelchair accessible - ask
Previous

Next

property
$130
2 BR / 2 BA / Sleeps 4
$130
Book
2 BR
/
2 BA
/
Sleeps 4
|

Quick view
Please note these Check-in Day Requirements for this property: Jul 12 - Jul 18 : Saturday check-out required.; Jul 19 - Jul 25 : Saturday check-out required.; Jul 26 - Aug 01 : Saturday check-out required.; Aug 02 - Aug 08 : Saturday check-out required.; 3-room apartment 75 m2 on 1st floor, south facing position, …
Shared outdoor pool (unheated)

Washing Machine

Balcony or terrace

Parking

Garden
Smoking allowed

Suitable for children

Suitable for the elderly - ask

Wheelchair accessible - ask
Previous

Next

property
$155
2 BR / 1 BA / Sleeps 4
$155
Book
2 BR
/
1 BA
/
Sleeps 4
|

Quick view
Please note these Check-in Day Requirements for this property: Mar 31 - Apr 02 : Tuesday, Wednesday and Thursday check-out required.; 3-room apartment on 2 levels, rustic furnishings: living/dining room with 1 double sofa bed and TV. Exit to the garden. Kitchen (2 hotplates, oven, micro wave, freezer) with dining …
Internet Access

Washing Machine

Balcony or terrace

Parking

Garden
Smoking allowed

Suitable for children

Suitable for the elderly - ask

Wheelchair accessible - ask
Previous

Next

property
$73
2 BR / 1 BA / Sleeps 7
$73
Book
2 BR
/
1 BA
/
Sleeps 7
|

Quick view
Bielva (near san vicente de la barquera) nice attic with wonderful view over the mountains and at only 8 kilometers from the coast and beautiful beaches. Full equipped for 7 people (2 bedroom + living room with sofa-bed). And for big groups the possibility of rent other apartments similar in the house. Prices from …
Internet Access

Washing Machine

Grill

Towels Provided

Dishwasher
Pet friendly - ask

Smoking allowed - ask

Suitable for children

Suitable for the elderly - ask
Previous

Next

property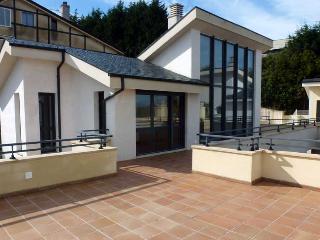 $112
2 BR / 1 BA / Sleeps 4
$112
Book
2 BR
/
1 BA
/
Sleeps 4
|

Quick view
Golf, surfing beaches and tall mountains! Enjoy Cantabria from our modern two-bedroom ocean view apartment with an enormous sun deck overlooking the Bay of Biscay within the Mogro beach community only minutes away from Santander, golf and endless adventure activities. A few minutes walk from the beautiful "Abra …
Previous

Next

property
$67
2 BR / 2 BA / Sleeps 4
$67
Book
2 BR
/
2 BA
/
Sleeps 4
|

Quick view
Cantabria. Noja, playa ris. Beautiful attic comfortable, sunny with views. In infra private. All equipped 4th floor with elevator. The 500 m. De ris beach and 1,100 m trengandin. Everything to the side of the house, shops, inns, fast food, etc.. 2 hab. One bed with y otra 01.35 2 90 cm beds. Independent kitchen and …
Mountain Views

Housekeeping Optional

Washing Machine

Central heating

Balcony or terrace
Pet friendly

Smoking allowed - ask

Suitable for children

Suitable for the elderly - elevator access

Wheelchair accessible - ask
Previous

Next

property
Inquire for rates.
2 BR / 2 BA / Sleeps 3
Inquire for rates
Book
2 BR
/
2 BA
/
Sleeps 3
|

Quick view
Light, space and harmony of volumes in a quiet environment, close to downtown and city beaches. Accessible to visit the province. Ideal for cultural stay - caves of Altamira, Cabárceno Park, Centro Botín, Guggenheim Bilbao (1 hour drive). \ N \ n Proprietary Property unshared where the guest has access to a whole, …
Washing Machine

Balcony or terrace

Linens Provided

Towels Provided

Safe
---
Looking for more rentals?
We're showing only results that match your dates and preferences.
See all 39 Cantabria rentals, all 0 Spain rentals, or start a new search.
---