Enter dates for more accurate prices
Bedrooms
Any

1+ Bedrooms

2+ Bedrooms

3+ Bedrooms

4+ Bedrooms

5+ Bedrooms

6+ Bedrooms

7+ Bedrooms

8+ Bedrooms

9+ Bedrooms

10+ Bedrooms

11+ Bedrooms

12+ Bedrooms

13+ Bedrooms

14+ Bedrooms

15+ Bedrooms
Rental types
Suitability
Popular filters
Jasper Rentals
Jasper log cabin
3 bedrooms / 2 bathrooms / Sleeps 11
Jasper log cabin
1 bedroom / 1 bathroom / Sleeps 4
Jasper guest house
3 bedrooms / 1 bathroom / Sleeps 4
Jasper log cabin
5 bedrooms / 3 bathrooms / Sleeps 16
Jasper log cabin
3 bedrooms / 2 bathrooms / Sleeps 9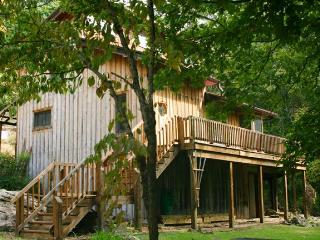 Jasper log cabin
3 bedrooms / 2 bathrooms / Sleeps 6
Jasper log cabin
3 bedrooms / 2 bathrooms / Sleeps 10
Jasper house
1 bedroom / 1 bathroom / Sleeps 2
Jasper house
3 bedrooms / 2 bathrooms / Sleeps 8
"Awesome!" This is a great place. I fulfilled all my needs. Peaceful get away spot. It is a perfect place for a large gathering of friends and/or family. Lots of fun. Enjoyed my time there a lot.
Jasper house
2 bedrooms / 2 bathrooms / Sleeps 5
"Beauiful sunrises and privacy" Had a wonderful stay at Misty Bluffs. Beautiful location! Be sure to check out the local sights. The hiking and caves are wonderful :)
Payment Protection
Your payment for this rental is protected when you pay through FlipKey.
Learn more