Enter dates for more accurate prices
Bedrooms
Any

1+ Bedrooms

2+ Bedrooms

3+ Bedrooms

4+ Bedrooms

5+ Bedrooms

6+ Bedrooms

7+ Bedrooms

8+ Bedrooms

9+ Bedrooms

10+ Bedrooms

11+ Bedrooms

12+ Bedrooms

13+ Bedrooms

14+ Bedrooms

15+ Bedrooms
Rental types
Suitability
Popular filters
Jasper Rentals
About Jasper
Jasper house
2 bedrooms / 2 bathrooms / sleeps 4
Responds fast! avg. 8 minutes
Price per night from
$161
Jasper log cabin
3 bedrooms / 2 bathrooms / sleeps 11
Price per night from
$327
Jasper log cabin
3 bedrooms / 2 bathrooms / sleeps 9
Responds fast! avg. 3 hours 49 minutes
Price per night from
$186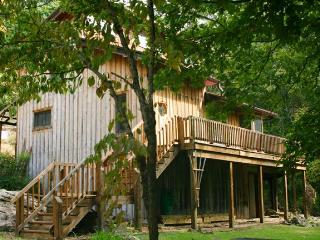 Jasper log cabin
1 bedroom / 1 bathroom / sleeps 4
Responds fast! avg. 3 hours 24 minutes
Price per night from
$146
Jasper house
1 bedroom / 1 bathroom / sleeps 2
Responds fast! avg. 8 minutes
Price per night from
$126
Jasper guest house
3 bedrooms / 1 bathroom / sleeps 4
Price per night from
$101
Jasper log cabin
1 bedroom / 1 bathroom / sleeps 4
Responds fast! avg. 8 minutes
Price per night from
$120
Jasper log cabin
3 bedrooms / 2 bathrooms / sleeps 10
Price per night from
$252
Jasper house
3 bedrooms / 2 bathrooms / sleeps 8
"Comfortable, Clean, and Great Location" Very comfortable accomadations. Situated close to Jasper and the Buffalo River. Very nice kitchen with all the comforts of home. Great entertainment with satellite TV and DVD. Although it's close to 2 highways,
Price per night from
$161
Jasper house
2 bedrooms / 2 bathrooms / sleeps 5
"House in the clouds" We stayed at Misty Bluff in april for a weekend getaway. The location is central to everything, just off senic highway 7 and a short drive to the Buffalo National River. We found the cabin to be exceptionaly clean and well maint
Price per night from
$136
Payment Protection
Your payment for this rental is protected when you pay through FlipKey.
Learn more