5 Results
Relevance
Price: low to high
Price: high to low
Number of reviews
Plains log cabin
3 bedrooms / 3 bathrooms / sleeps 6
"Perfect getaway for friends and/or family!" From the moment we stepped into the cabin, it was the perfect, cozy getaway our family had imagined. Wonderful amentities, (esp the master bathroom-dreamy clawfoot tub) & beautiful views. Great place for couples or families. We will definately be back! Thank you again so much.
Price per night from
$262
Great rentals within 20 miles that match your search
Thompson Falls house
6 bedrooms / 7 bathrooms / sleeps 15
"Wonderful place to relax!" The property was supurb, room very well decorated and comfortable. Our hosts were great! Breakfast was wonderful. I would definitely come back again...
Responds fast! avg. 3 hours 39 minutes
Price per night from
$1,465
Superior guest house
1 bedroom / 1 bathroom / sleeps 9
Price per night from
$138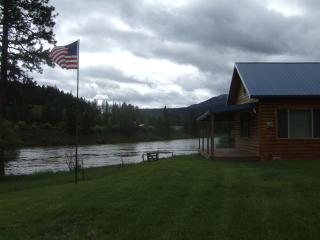 Saint Regis house
3 bedrooms / 2 bathrooms / sleeps 6
Price per night from
$127
Saint Regis log cabin
7 bedrooms / 3 bathrooms / sleeps 10
Responds fast! avg. 2 hours 38 minutes
Price per night from
$613