Enter dates for more accurate prices
Bedrooms
Any

1+ Bedrooms

2+ Bedrooms

3+ Bedrooms

4+ Bedrooms

5+ Bedrooms

6+ Bedrooms

7+ Bedrooms

8+ Bedrooms

9+ Bedrooms

10+ Bedrooms

11+ Bedrooms

12+ Bedrooms

13+ Bedrooms

14+ Bedrooms

15+ Bedrooms
Suitability
Popular filters
Pray Rentals
Pray house
3 bedrooms / 2 bathrooms / Sleeps 6
Pray house
2 bedrooms / 2 bathrooms / Sleeps 8
"Fabulous" The information and directions provided were excellent. What a lovely log cabin--one of the very best we have stayed at, especially the hot tub!! The views and proximity to the Yellowstone River were both exciting and relaxing--sipping a b
Pray house
3 bedrooms / 2 bathrooms / Sleeps 6
"Amazing!" My husband and I rented this cabin for a week of exploration and relaxation. This cabin offered it all - and more! With a 30-40 minute drive, we were at the entrance to Yellowstone National Park which allowed us to do much exploration in o
Pray guest house
1 bedroom / 2 bathrooms / Sleeps 4
Pray house
3 bedrooms / 2 bathrooms / Sleeps 8
"Our stay in Paradise" We so enjoyed our week in Paradise. Thank you for sharing your "Point of View". It has been spectacular. The home was very clean, spacious, and well-appointed. It was actually my second time in Montana. We visited Glacier two
Pray log cabin
1 bedroom / 1 bathroom / Sleeps 4
"Great spot in a beautiful setting." This is a lovely setting just a short drive to north entrance of Yellowston and even shorter distance to the Chico hot springs, which is a great place to spend the day. Gary and Vickie are great host.
Pray house
3 bedrooms / 2 bathrooms / Sleeps 6
"Writer's Retreat" Chico Peak was the perfect place to have a peaceful, productive writing get-away. We loved it! The home is beautiful, and the setting spectacular. We're hoping to go back again next year too.
Pray house
5 bedrooms / 3 bathrooms / Sleeps 11
"Excellent vacation ever had!" It was a very good vacation we ever had .The location is excellent with very nice mountain view. Lots of room for kids to play.
Pray apartment
1 bedroom / 1 bathroom / Sleeps 6
Pray house
2 bedrooms / 2 bathrooms / Sleeps 6
Pray lodge
6 bedrooms / 4 bathrooms / Sleeps 15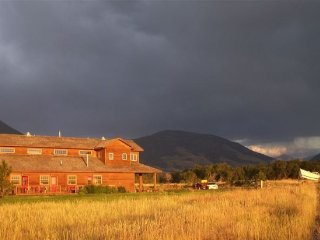 Payment Protection
Your payment for this rental is protected when you pay through FlipKey.
Learn more