7 Results
Relevance
Price: low to high
Price: high to low
Number of reviews
Chalets South Lake Tahoe
South Lake Tahoe chalet
Nearest beach 8 mi
• Child Friendly
3 bedrooms
2 bathrooms
sleeps 8
"Memorable Vacation" Our family rented several Tahoe cabins for our first ever family reunion. I stayed in this cabin with my husband, grandchildren and daughter and son-in-law. It came with lots of toys to keep the kids happy, including horseshoes, an archery set, darts ,board games, etc. Our favorite part was making s'mores and memories around the fire pit in the evenings. The beds were comfortable and plenty of towels were provided. Only drawback is no dishwasher or garbage disposal, which requires the use of paper plates, etc, and that creates a lot of garbage which taxes the limited space provided in the Bear Box. The location was great for quick access to hiking and beaches, but be aware that summer time traffic at Tahoe can be quite congested at times, so pack your patience. The weather was beautiful and we all agreed this was a great base camp for our family.
Price per night from
$235
5 bedrooms
3 bathrooms
sleeps 10
"Charming Chalet" This was a wonderful experience, and I would highly recommend the Charming Chalet. This was my first wintertime trip to the area, and I am glad I was able to stay here with my family. We had a great time playing in the snow, and celebrating a white Christmas. The owner provided a number of amenities, and had a well supplied rental. The information prior to arrival was a huge help, and got us started on a fun and funny trip. If you go in winter, bring plenty of warm clothes. Enjoy a nice fire, the hot tub or some great views from the deck.
Price per night from
$345
South Lake Tahoe chalet
Child Friendly
• Pet Friendly
4 bedrooms
2 bathrooms
sleeps 10
"Family Fun" Great cabin with beautiful views! Plenty of space for young children to play and everyone enjoyed the hot tub. I would highly recommend this cabin for families looking to relax, unwind, and enjoy all Tahoe has to offer.
Price per night from
$242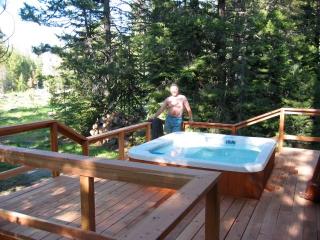 South Lake Tahoe chalet
Nearest beach 16 mi
• Child Friendly
• Private garden
6 bedrooms
3 bathrooms
sleeps 14
"Clean and well stocked" Very well kept and clean. The kitchen was well stocked with everything we needed. Kids had fun playing pool and hanging out in the spa. Definitely would recommend this home if you need a big space with room for everyone.
Price per night from
$572
South Lake Tahoe chalet
Ask about children
• Pet Friendly
4 bedrooms
3 bathrooms
sleeps 8
Price per night from
$229
Great rentals within 20 miles that match your search
Stateline chalet
Child Friendly
• Car not necessary
5 bedrooms
3 bathrooms
sleeps 12
Price per night from
$468
Tahoe City chalet
Child Friendly
• Private garden
1 bedroom
1 bathroom
sleeps 3
Price per night from
$315