9 Results
Relevance
Price: low to high
Price: high to low
Number of reviews
South Lake Tahoe chalet
5 bedrooms / 3 bathrooms / sleeps 10
Responds fast! avg. 1 hour 50 minutes
Match: Rental types
All filters match
Price per night from
$344
South Lake Tahoe chalet
4 bedrooms / 2 bathrooms / sleeps 10
"Family Fun" Great cabin with beautiful views! Plenty of space for young children to play and everyone enjoyed the hot tub. I would highly recommend this cabin for families looking to relax, unwind, and enjoy all Tahoe has to offer.
Match: Rental types
All filters match
Price per night from
$184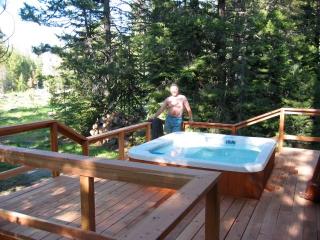 South Lake Tahoe chalet
6 bedrooms / 3 bathrooms / sleeps 14
"Family" My family and i had a wonderful time can't wait to book this house againthis house was clean had everything to cook with even a few snowboards for the kids.
Responds fast! avg. 2 hours 0 minutes
Match: Rental types
All filters match
Price per night from
$689
South Lake Tahoe chalet
2 bedrooms / 2 bathrooms / sleeps 5
Responds fast! avg. 38 minutes
Match: Rental types
All filters match
Price per night from
$122
South Lake Tahoe chalet
4 bedrooms / 3 bathrooms / sleeps 10
Responds fast! avg. 38 minutes
Match: Rental types
All filters match
Price per night from
$368
South Lake Tahoe chalet
3 bedrooms / 2 bathrooms / sleeps 10
Responds fast! avg. 38 minutes
Match: Rental types
All filters match
Price per night from
$125
South Lake Tahoe chalet
3 bedrooms / 2 bathrooms / sleeps 8
Responds fast! avg. 38 minutes
Match: Rental types
All filters match
Price per night from
$371
South Lake Tahoe chalet
4 bedrooms / 3 bathrooms / sleeps 8
Responds fast! avg. 38 minutes
Match: Rental types
All filters match
Price per night from
$130
Great rentals within 20 miles that match your search
Tahoe City chalet
1 bedroom / 1 bathroom / sleeps 3
Match: Rental types
All filters match
Price per night from
$338