Previous

Next

property
$258
2 BR / 2 BA / Sleeps 4
Inquire
2 BR
/
2 BA
/
Sleeps 4
|

Quick view
Windswept 1 has primarily been used as a family vacation home since it was built in 2009. We have decided to make it more available to rental guests beginning with the 2013-2014 season. Windswept 1 is a 2 bedroom, 2 bathroom oceanfront condominium located on quiet, peaceful Water Island, USVI. Described in a …
Waterfront

Ocean or water views

Shared outdoor pool (unheated)

Internet Access

Washing Machine
Suitable for the elderly - ask
a great family vacation
Left on May 01, 2014 for a stay in April 2014
We stayed at Windswept 1 for our first visit to the Usvi, and we loved it. The condo was spacious, beautiful, and clean. The patio and pool were wonderful and offered a nice break from being at the beach. Our daughters (3 and 5 years old) loved riding in the golf cart to explore the island. Honeymoon beach was the perfect size for our family, and there were two restaurants to choose from there…
Previous

Next

property
$80
3 BR / 1 BA / Sleeps 2
$80
Book
3 BR
/
1 BA
/
Sleeps 2
|

Quick view
Located on beautiful Water Island on a dead end road with ocean views. Out door living at its finest. Gives a new meaning to a room with a view. Wake up to the sounds of the ocean.. secluded and very safe. rustic but charming. 10 minute walk to Water island ferry and Honey moon Beach. Rustic and charming. night…
Ocean or water views

Mountain Views

Internet Access

Outdoor Dining Area

Porch
Pet friendly

Smoking allowed

Suitable for children

Suitable for the elderly - ask
Magnificent Beauty in it's own creation
Left on Mar 03, 2014 for a stay in January 2014
Needed some solace and peace in my life. Connected back with my soul and maker in this tranquil breathtaking setting and got my mind, soul, body and spirit reconnected where it is meant to be. Lovely people with hearts pure and the beauty of nature surrounding the simple life. Most pleasurable vacation I have ever had. Tree house cottage AWESOME. Artwork throughout the property and many …
Previous

Next

property
$249
1 BR / 2 BA / Sleeps 2
$249
Book
1 BR
/
2 BA
/
Sleeps 2
|

Quick view
This new 1200 sq ft 1bd 2ba villa is centrally located on 500 acre Water Island. Built by local craftsmen and the owners over twelve years, the details,moldings, brick, arches and reclaimed hardwood floors offer an authentic blend of West Indian architecture and modern conveniences. A canopy of indigenous trees shade …
Ocean or water views

Internet Access

Washing Machine

Clothes Dryer

Outdoor Dining Area
Beautiful views and quiet surroundings in the Caribbean
Left on Jan 31, 2014 for a stay in April 2013
This villa comes with breathtaking views. Only minutes from Honeymoon Beach which offers a variety of food and drink at reasonable prices. Historical WW2 sites easily accessible by road. The ferry to St. Thomas is within minutes too! On our last visit , we never left Water Island. Eating on the beach saturday night at Heidi's was an unforgettable experience. The islanders are friendly and there …
Previous

Next

property
$257
2 BR / 2 BA / Sleeps 4
Inquire
2 BR
/
2 BA
/
Sleeps 4
|

Quick view
Windswept 2 is being advertised on Flipkey/Trip Advisor once again. It was last advertised here in 2010. If you would like to see more reviews, please visit VRBO.com, search # 265978. Water Island is described as a "homeland treasure" in the feature article of the travel section of the Boston Globe (December 6, …
Waterfront

Ocean or water views

Shared outdoor pool (unheated)

Internet Access

Washing Machine
Suitable for the elderly - ask
Windswept - Condo in Paradise
Left on Jun 23, 2010 for a stay in April 2010
A perfect adventure getaway! Windswept is everything it promised! We had an amazing time on Water Island and the condo provided everything we could possibly need. The interior design – the kitchen, living area, and bedrooms are nicely done and the space of the condo was perfect for our group. The views, the pool, and the space are perfect! Everything was beautifully maintained and very …
Previous

Next

property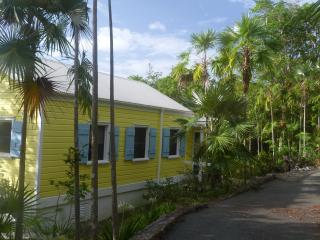 $257
1 BR / 1 BA / Sleeps 4
$257
Book
1 BR
/
1 BA
/
Sleeps 4
|

Quick view
Palm Cottage is a wonderful island cottage within private Sprat Bay Estates. The cottage is very romantic offering excellent views of the Caribbean and the ultimate in privacy. It sits on an acre of palms and guests have access to private beaches where they will often find themselves all alone. It is only a short golf…
Washing Machine

Clothes Dryer

Outdoor Dining Area

Porch

Books
Suitable for children

Suitable for the elderly - ask
Previous

Next

property
$300
2 BR / 1 BA / Sleeps 4
$300
Book
2 BR
/
1 BA
/
Sleeps 4
|

Quick view
Sunny, warm and friendly Water Island, the insider's best secret U.S. Caribbean getaway from winter's blasts, awaits you, in an entrancing 2 BR, house with cathedral ceilings, 70' wraparound deck overlooking two spectacular beaches and sea views, on a hilltop, within a beautifully maintained botanical garden, facing …
Ocean or water views

Wireless Internet

Housekeeping Optional

Washing Machine

Clothes Dryer
Previous

Next

property
$175
1 BR / 1 BA / Sleeps 2
$175
Book
1 BR
/
1 BA
/
Sleeps 2
|

Quick view
One bedroom private oceanfront home available on Water Island, St. Thomas. Fully furnished and available from November 1st. Great views from the covered porch; watch the cruise ships and other boats come and go from your front porch. Breezy and quiet. Parking provided. Owner lives on the property and is available…
Pet friendly - ask

Smoking allowed

Suitable for children - ask

Suitable for the elderly - ask

Wheelchair accessible - ask
wow wanted to snokel all my life wow
Left on Jan 02, 2014 for a stay in December 2013
Agnes is such a nice lady. The apartment overlooking the the water. Was very clean .and what a location water island.A short boat trip to ST Thomas. We rented a golf cart for the week .There are few cars on water Island. honeymoon beach was out of the world. I can say WOW. We very much injoyed our time on Water Island.All the folks there treat you like freands. HAD A GREAT TIME WOULD GO BACK FOR …
Previous

Next

property
$1,215
7 BR / 7 BA / Sleeps 20
$1,215
Book
7 BR
/
7 BA
/
Sleeps 20
|

Quick view
Contemporary Luxury Waterfront Estate - Villa Acquabella invites you to experience the architectural beauty and comfort of this spacious luxury vacation villa. Our Estate adorns the shore of secluded and pristine Water Island, located just minutes from beautiful St Thomas in the U.S. Virgin Islands. The panoramic …
Waterfront

Ocean or water views

Mountain Views

Shared outdoor pool (unheated)

Internet Access
Pet friendly - ask

Suitable for children

Suitable for the elderly

Wheelchair accessible
Nearly perfect spot for a low-key vacation for a large family/group.
Left on Dec 01, 2013 for a stay in November 2013
A gorgeous contemporary property that has the advantage of being on secluded and laid back Water Island, but a short $5 ferry ride to Crown Bay and $5 cab to the VERY busy downtown & cruise ship port. The house is just steps above the ferry dock (a small quiet boat that runs every hour or two) during the day. There is a great beach with a couple of minimalist bar/restaurants (the larger one is …
Previous

Next

property
$229
2 BR / 1 BA / Sleeps 4
$229
Book
2 BR
/
1 BA
/
Sleeps 4
|

Quick view
Water Island is a small (1X2 mile long), secluded island with only 100 private homes and a population of 181 residents. This creates a unique atmosphere of peace, tranquility and charm. Water Island has a laid-back style with an atmosphere of natural surroundings and vacation homes. Water Island is know as the "Last …
Ocean or water views

Wireless Internet

Washing Machine

Clothes Dryer

Outdoor Dining Area
Best on the Island!
Left on Aug 15, 2014 for a stay in July 2014
My husband and I live on a small sail boat in the Virgin Islands. My parents came to visit and we were looking for a villa that had nice sunsets, a good breeze, close proximity to town for eating out - but still had a quite/ slow off the beaten path feel. Sea Breeze is ideal in location, amenities, and Ingrid is the prefect hostess. We especially enjoyed the open layout of the house, the …
Previous

Next

property
$286
2 BR / 2 BA / Sleeps 4
Inquire
2 BR
/
2 BA
/
Sleeps 4
|

Quick view
Villa Terra Nova is a private 2-bedroom, 2-bath single family home perched on a hill crest on Water Island (in world-famous St. Thomas harbor). The outdoor deck wraps around three sides of the villa, providing spectacular views of the Carribean Sea. The higher elevation of this villa means that exhilarating trade wind…
Ocean or water views

Internet Access

Housekeeping Optional

Washing Machine

Clothes Dryer
Pet friendly

Smoking allowed - ask

Suitable for children

Suitable for the elderly

Wheelchair accessible - ask
Caribbean Gem with Spectular View
Left on Sep 29, 2012 for a stay in July 2012
The view from Villa Terra Nova is spectacular! My husband and I have stayed at this home numerous times. Each time is better than the time before. It's easy-just fly into St. Thomas; take a short taxi ride to Crown Bay Marina; pick up a few groceries at the Gourmet Gallery; have a Bushwacker (best island drink) at Tickle's Restaurant & Bar; then hop on the Water Island Ferry (located right …
Previous

Next

property
$243
2 BR / 2 BA / Sleeps 4
$243
Book
2 BR
/
2 BA
/
Sleeps 4
|

Quick view
NEW ON RENTAL MARKET AT EXCELLENT PRICE Painkiller Villa is a 2 BR 2 full bath house recently furnished and new to vacation rental market. It is well located on Water Island. Just a short stroll from Honeymoon Beach and the ferry dock. The master bedroom has a new king size bed. The second bedroom has a full size …
Ocean or water views

Clothes Dryer

Outdoor Dining Area

Deck

Linens Provided
Suitable for children

Suitable for the elderly
Previous

Next

property
$257
1 BR / 1 BA / Sleeps 4
$257
Book
1 BR
/
1 BA
/
Sleeps 4
|

Quick view
Slow Mocean is a 2 BR 2 B house. Completely and comfortabley furnished. Huge deck for sun or shade. Master BR has Queen bed and private access to bath and deck. Second BR has private entrance and queen bed with single trundel. There is a large LR, and separate kitchen dinging area that ajoins another sitting area…
Ocean or water views

Internet Access

Housekeeping Optional

Washing Machine

Clothes Dryer
Suitable for children

Suitable for the elderly
---
---