Enter dates for more accurate prices
Bedrooms
Any

1+ Bedrooms

2+ Bedrooms

3+ Bedrooms

4+ Bedrooms

5+ Bedrooms

6+ Bedrooms

7+ Bedrooms

8+ Bedrooms

9+ Bedrooms

10+ Bedrooms

11+ Bedrooms

12+ Bedrooms

13+ Bedrooms

14+ Bedrooms

15+ Bedrooms
Rental types
Suitability
Popular filters
Crumpler Rentals
Crumpler log cabin
3 bedrooms / 2 bathrooms / sleeps 6
Price per night from
$175
Crumpler log cabin
1 bedroom / 1 bathroom / sleeps 2
"The perfect place for privacy and relaxation" It was just the right place for my husband, myself and our two dogs to get away from our busy schedules. Very cozy! The hot tub, the view of the river and the location were exactly what we wanted. We wou
Price per night from
$111
Crumpler log cabin
4 bedrooms / 2 bathrooms / sleeps 10
Price per night from
$235
Crumpler log cabin
6 bedrooms / 5 bathrooms / sleeps 17
Price per night from
$275
Crumpler log cabin
5 bedrooms / 3 bathrooms / sleeps 8
Price per night from
$184
Crumpler log cabin
3 bedrooms / 2 bathrooms / sleeps 8
Price per night from
$155
Crumpler log cabin
2 bedrooms / 2 bathrooms / sleeps 7
Price per night from
$155
Crumpler log cabin
3 bedrooms / 1 bathroom / sleeps 6
"Wonderful Time!!" We wanted to get away to the mountains for a quiet retreat. The house was clean, the grill was perfect, and the view was great. Also, tubing down the new river was a great time. I would recommend using Zaloos tubing and canoeing.
Price per night from
$120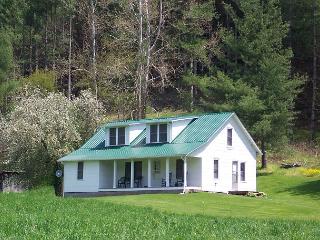 Payment Protection
Your payment for this rental is protected when you pay through FlipKey.
Learn more