Enter dates for more accurate prices
Bedrooms
Any

1+ Bedrooms

2+ Bedrooms

3+ Bedrooms

4+ Bedrooms

5+ Bedrooms

6+ Bedrooms

7+ Bedrooms

8+ Bedrooms

9+ Bedrooms

10+ Bedrooms

11+ Bedrooms

12+ Bedrooms

13+ Bedrooms

14+ Bedrooms

15+ Bedrooms
Rental types
Suitability
Popular filters
Crumpler Rentals
Crumpler log cabin
5 bedrooms / 3 bathrooms / Sleeps 10
Crumpler cottage
2 bedrooms / 3 bathrooms / Sleeps 4
Crumpler log cabin
4 bedrooms / 2 bathrooms / Sleeps 8
Crumpler log cabin
4 bedrooms / 2 bathrooms / Sleeps 6
Crumpler house
3 bedrooms / 2 bathrooms / Sleeps 6
Crumpler cottage
3 bedrooms / 3 bathrooms / Sleeps 9
Crumpler log cabin
3 bedrooms / 1 bathroom / Sleeps 6
"Peaceful Country House New River" Great place to stay. We headed up here for Mother's Day. This place has 180 acres and the New River is right there across the road. This road is not traveled hardly at all. We saw maybe 8-10 cars in a day. It is defin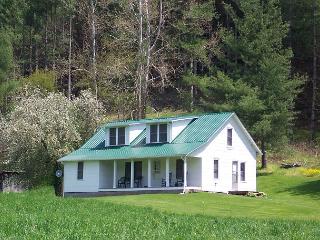 Crumpler log cabin
1 bedroom / 1 bathroom / Sleeps 2
"The Hideaway" We had a great time at The Hideaway. It was as expected a place to lay your head. It is in a good location to winery's and to a tubeing place right outside your door. The view of the New River was great. The only downside was the shower.
Crumpler house
4 bedrooms / 3 bathrooms / Sleeps 8
Payment Protection
Your payment for this rental is protected when you pay through FlipKey.
Learn more