Enter dates for more accurate prices
Vacation Rentals & Cabins in Piney Creek
Filter
Bedrooms
Any

1+ Bedrooms

2+ Bedrooms

3+ Bedrooms

4+ Bedrooms

5+ Bedrooms

6+ Bedrooms

7+ Bedrooms

8+ Bedrooms

9+ Bedrooms

10+ Bedrooms

11+ Bedrooms

12+ Bedrooms

13+ Bedrooms

14+ Bedrooms

15+ Bedrooms
Rental types
Suitability
Popular filters
Vacation Rentals & Cabins in Piney Creek
Piney Creek log cabin
4 bedrooms / 4 bathrooms / sleeps 15
Price per night from
$200
Piney Creek house
4 bedrooms / 3 bathrooms / sleeps 8
Responds fast! avg. 3 hours 16 minutes
Price per night from
$223
Piney Creek cottage
2 bedrooms / 1 bathroom / sleeps 6
Price per night from
$155
Piney Creek log cabin
3 bedrooms / 4 bathrooms / sleeps 6
Responds fast! avg. 3 hours 22 minutes
Price per night from
$149
Piney Creek chalet
2 bedrooms / 2 bathrooms / sleeps 4
Responds fast! avg. 3 hours 26 minutes
Piney Creek house
4 bedrooms / 3 bathrooms / sleeps 12
"Great Property / Great Ownership" Rented property for a Super Bowl getaway weekend. Great property with beautiful views! Newly renovated house has all needed amenities and very nice and functional layout. House was clean and neat. Owners were responsive to every need. Would do it again! Well Done!
Responds fast! avg. 1 hour 1 minutes
Price per night from
$165
Piney Creek house
4 bedrooms / 3 bathrooms / sleeps 8
Responds fast! avg. 3 hours 26 minutes
Piney Creek log cabin
3 bedrooms / 2 bathrooms / sleeps 6
Price per night from
$140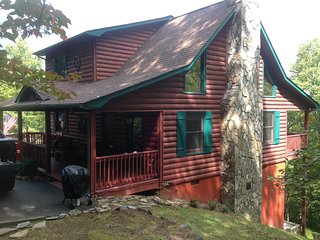 Payment Protection
Your payment for this rental is protected when you pay through FlipKey.
Learn more