9 Results
Relevance
Price: low to high
Price: high to low
Number of reviews
St. John's house
1 bedroom / 1 bathroom / sleeps 3
"Lovely cottage in a peaceful neighborhood" I've been traveling to antigua for the past 6 years and this cottage is one of the most peaceful places I've stayed. The cottage is adjacent to Sarah and John's home and surrounded by a beautiful tropical garden. The property is in a safe residential neighborhood about 3 minutes from antigua's kite-surfing beach. Sarah and John are incredibly generous and kind and make you feel at home. It's a simple cottage that has everything you need - and if you need anything else (like a rental car or restaurant suggestion) Sarah is there to help. I've stayed here multiple times already and highly recommend it. It's absolutely my favorite place to stay in antigua.
Price per night from
$167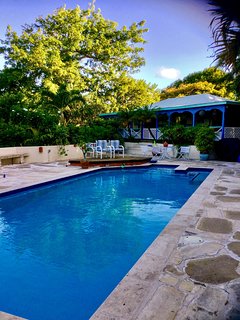 St. John's house
2 bedrooms / 1 bathroom / sleeps 5
"Our visit Friars Hill Cottage" Very clean and well maintained. Great having landlord next door if assistance is required (propane was used up during a meal and they changed it immediately). Very friendly and hospitable to deal with. Good location. Easy access to grocery stores and beaches. Second time staying here and would do so again. Highly recommend.
Responds fast! avg. 3 hours 25 minutes
St. John's b&b
1 bedroom / 1 bathroom / sleeps 2
St. John's house
3 bedrooms / 3 bathrooms / sleeps 6
Responds fast! avg. 3 hours 35 minutes
Price per night from
$287
Cedar Grove cottage
2 bedrooms / 2 bathrooms / sleeps 4
Responds fast! avg. 1 hour 50 minutes
Price per night from
$260
Jumby Bay Beach villa
7 bedrooms / 14 bathrooms / sleeps 14
Price per night from
$15,013
Long Island, Antigua apartment
3 bedrooms / 3 bathrooms / sleeps 6
Price per night from
$5,105
Long Island, Antigua villa
3 bedrooms / 3 bathrooms / sleeps 6
Price per night from
$6,255
Jumby Bay Beach villa
6 bedrooms / 6 bathrooms / sleeps 12
Price per night from
$16,514