Previous

Next

property
$150
2 BR / 2 BA / Sleeps 6
Inquire
2 BR
/
2 BA
/
Sleeps 6
|

Quick view
***WELCOME TO RIVERS EDGE*** *** BE SURE TO ASK ABOUT OUR EASY PAY PLAN! *** *** FEBRUARY BLOWOUT SALE - only $125/nt for stays of three or more nights!*** River's Edge is the latest addition to BRVC's own inventory. It enjoys an absolutely idyllic setting; 135ft of river frontage on the rippling Watauga River; a…
Waterfront

Ocean or water views

Hot Tub/Jacuzzi

Internet Access

Fireplace
Pet friendly

Suitable for children

Suitable for the elderly - ask

Wheelchair accessible - ask
LOVED LOVED LOVED THIS HOUSE
Left on Jul 15, 2014 for a stay in July 2014
This house can never be beat! We had the most fun and found it the most relaxing and perfect vacation we have ever had. The house is adorable, with new mattress and great linens. My back feels great! My wife loved the kitchen so she could talk to all of us while cooking. The dog was so excited about being able to be let out into the fenced yard and able to run without a leash.

The river was …
Previous

Next

property
$160
4 BR / 3 BA / Sleeps 9
Inquire
4 BR
/
3 BA
/
Sleeps 9
|

Quick view
***Welcome to Timber Creek Cabins*** *** BE SURE TO ASK ABOUT OUR EASY PAY PLAN! *** These two log cabins are nestled in the heart of Valle Crucis NC and just off of the Watauga River Road. They are surrounded by two running mountain streams that are easy to wade in, catch salamanders, or just look at the series of …
Hot Tub/Jacuzzi

Wireless Internet

Fireplace

Housekeeping Optional

Washing Machine
Pet friendly

Suitable for children

Suitable for the elderly
Previous

Next

property
$225
4 BR / 4 BA / Sleeps 11
Inquire
4 BR
/
4 BA
/
Sleeps 11
|

Quick view
***Welcome to Black Bear Lodge*** *** BE SURE TO ASK ABOUT OUR EASY PAY PLAN! *** Black Bear Lodge is a 3800+ square foot knotty pine paneled log cabin, comprising two main floors and a loft. It was completed in the fall of 2008 and welcomed its first guests in December 2008. It sits at an elevation of …
Mountain Views

Hot Tub/Jacuzzi

Internet Access

Fireplace

Housekeeping Optional
Pet friendly

Suitable for children

Suitable for the elderly
Previous

Next

property
$125
2 BR / 2 BA / Sleeps 6
Inquire
2 BR
/
2 BA
/
Sleeps 6
|

Quick view
***Welcome to Hummingbird Hollow*** *** BE SURE TO ASK ABOUT OUR EASY PAY PLAN! *** This cozy two bedroom plus loft log cabin is charming and private with all extras including hot tub, wood-burning fireplace and wrap-around porch. This popular log cabin is an absolute charmer - just what you dream about when you …
Hot Tub/Jacuzzi

Internet Access

Fireplace

Housekeeping Optional

Washing Machine
Pet friendly

Suitable for children

Suitable for the elderly
Relaxing
Left on Apr 07, 2013 for a stay in November 2012
This cabin is a fabulous place to stay. Clean, secluded, and peaceful, plus easy access to shopping. A definite place for a return visit.
Previous

Next

property
$150
6 BR / 2 BA / Sleeps 12
Inquire
6 BR
/
2 BA
/
Sleeps 12
|

Quick view
***Welcome to Cabin in the Woods*** *** BE SURE TO ASK ABOUT OUR EASY PAY PLAN! *** Looking for a large family cabin rental that is in a lovely natural setting yet still convenient to area attractions and events? Then allow us to welcome you to Cabin in the Woods - a home that truly offers something for everyone in …
Internet Access

Fireplace

Housekeeping Optional

Washing Machine

Clothes Dryer
Suitable for children

Suitable for the elderly
Great house as listed BUT NO Cable or Satellite TV
Left on Jul 10, 2013 for a stay in July 2013
I have rented numerous mountain cabins over the yrs. this is one of the nicest and best kept! Kitchen felt like home...well stocked. Good linens and plenty of towels. Very nice place overall.
Previous

Next

property
$169
1 BR / 3 BA / Sleeps 4
The Nuthouse Cabin is tucked away on the mountain and sit above The Bear Cabin. The Nut House is Air Conditioned and includes a picnic table and grill, fireplace, kitchenette, television, pine wood interior and hardwood floors. The full size bed has down pillows and a quilt coverlet to keep you comfortable during our…
Wireless Internet

A/C or climate control

Central heating

Balcony or terrace

Linens Provided
Pet friendly

Suitable for children
Previous

Next

property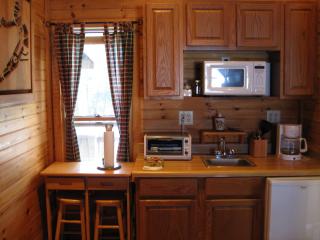 $169
1 BR / 3 BA / Sleeps 5
$169
Book
1 BR
/
3 BA
/
Sleeps 5
|

Quick view
The Bear Cabin is nestled on the side mountain and comes with a wonderful view from it's covered deck. Bear Cabin is Air Conditioned and it includes a loft with twin bed, picnic table and grill, fireplace, kitchenette, television, pine wood interior and hardwood floors. The double size bed has down pillows and a quilt…
Mountain Views

Internet Access

Fireplace

A/C or climate control

Central heating
Pet friendly

Suitable for children
---
---