Previous

Next

property
$448
6 BR / 3 BA / Sleeps 12
Inquire
6 BR
/
3 BA
/
Sleeps 12
|

Quick view
This is one of the villas with private pool Few That You Will Find in San Sebastian city area. Most of the villas with private pools in San Sebastian are far away Located in quiet residential Areas sans public transportation. This villa is an "oasis" in San Sebastian city area. You can catch a bus and go to the beach…
Internet Access

Washing Machine

Balcony or terrace

Parking

Garden
Pet friendly - ask

Smoking allowed - ask

Suitable for children

Suitable for the elderly - ask

Wheelchair accessible - ask
Previous

Next

property
$134
3 BR / 2 BA / Sleeps 6
The Beethoven apartment is a beautiful apartment located on the 6th floor of an building with elevator. It is located in a good and quiet area of San Sebastian. There are two shared Swimming pools in the building. General Information Elevator, Heating, Bed linen and Bath towels are provided Bedding Information …
Shared outdoor pool (unheated)

Internet Access

Dishwasher

Freezer

Microwave
Pet friendly - ask

Smoking allowed - ask

Suitable for children - ask

Suitable for the elderly - ask

Wheelchair accessible - ask
Previous

Next

property
$504
4 BR / 5 BA / Sleeps 8
Inquire
4 BR
/
5 BA
/
Sleeps 8
|

Quick view
* Exclusive and private area * Garden with outdoor pool * Gym, table tennis and sauna * Wine cellar * Panoramic views villa SOFIA is a holiday rental located in one of the most exclusive areas of San Sebastian, in a quiet hill with a wonderful view of the city. The property is surrounded by a garden where you will …
Sauna

Internet Access

Washing Machine

Clothes Dryer

Outdoor Dining Area
Suitable for children

Suitable for the elderly - ask

Wheelchair accessible - ask
Previous

Next

property
$560
1 BR / 3 BA / Sleeps 6
$560
Book
1 BR
/
3 BA
/
Sleeps 6
|

Quick view
The house of the future" This is the first house to be built in Euskadi (Basque Country) with a new concept of creating its own power completely organically. It is constructed with high quality technology products, contributing to build a high level of comfort. The house is displayed on one floor of more than 170 …
Mountain Views

Hot Tub/Jacuzzi

Wireless Internet

Fireplace

Washing Machine
Suitable for children

Suitable for the elderly

Wheelchair accessible
Previous

Next

property
$336
2 BR / 5 BA / Sleeps 4
$336
Book
2 BR
/
5 BA
/
Sleeps 4
|

Quick view
OKANA HOUSE : The house is displayed on the ground floor which as 150 square meters: where you´ll find a fully equipped modern kitchen and a spacious lounge, fully glazed with a beautiful garden that surrounds the house and you can enjoy through the glass wall. Sleeps 4 people: There is 2 bedrooms with large beds (2…
Hot Tub/Jacuzzi

Sauna

Wireless Internet

Fireplace

Washing Machine
Pet friendly - ask

Suitable for children

Suitable for the elderly - ask

Wheelchair accessible - ask
Previous

Next

property
$499
4 BR / 3 BA / Sleeps 8
Inquire
4 BR
/
3 BA
/
Sleeps 8
|

Quick view
If for your next visit to San Sebastian you are looking for a very special place, a dream vacation home offering all what anyone could expect for an all luxurious and private holiday, then Villa Borobil is without doubt the place for you. Borobil is a Basque word meaning circle. The villa received this name because of…
Sauna

Wireless Internet

Fireplace

Clothes Dryer

A/C or climate control
Suitable for children

Suitable for the elderly - ask

Wheelchair accessible - ask
Previous

Next

property
$499
4 BR / 3 BA / Sleeps 8
Inquire
4 BR
/
3 BA
/
Sleeps 8
|

Quick view
If for your next visit to San Sebastian you are looking for a very special place, a dream vacation home offering all what anyone could expect for an all luxurious and private holiday, then Villa Borobil is without doubt the place for you. Borobil is a Basque word meaning circle. The villa received this name because of…
Sauna

Wireless Internet

Fireplace

Washing Machine

Clothes Dryer
Suitable for children

Suitable for the elderly - ask

Wheelchair accessible - ask
Previous

Next

property
$499
4 BR / 4 BA / Sleeps 8
Inquire
4 BR
/
4 BA
/
Sleeps 8
|

Quick view
Villa Nola in San Sebastian is much more than just a holiday accommodation. It is a modern and luxurious designer's villa where everything has been taken care of, even the tiniest detail, so that you and your party will have an unforgettable holiday in San Sebastian. Thanks to its design with most of the outside walls…
Sauna

Wireless Internet

Fireplace

Washing Machine

A/C or climate control
Suitable for children

Suitable for the elderly - ask

Wheelchair accessible - ask
Maison agréable
Left on Aug 18, 2014 for a stay in August 2014
Maison contemporaine agréable à vivre et spacieuse, parfaite pour 2 familles dans un quartier éloigné de la ville de San Sebastian , mais il y a un arret de bus non loin de la maison et si vous circulez en voiture il y a de nombreux parkings à San Sebastian.

La cuisine est très peu équipée en vaisselle , le sauna ne fonctionne pas mais à part ça toutes les prestations étaient top
Previous

Next

property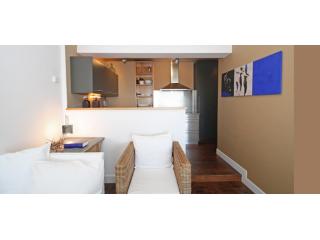 $114
1 BR / 1 BA / Sleeps 2
Inquire
1 BR
/
1 BA
/
Sleeps 2
|

Quick view
If you are planning a romantic break in San Sebastian, having a bit of peace as well as the city live but surrounded by nature, we have the perfect place for you. The vacation apartment Igeldo Garden has recently been refurbished by a team of professional interior designers. It is a charming and, at the same time, …
Shared outdoor pool (unheated)

Wireless Internet

Washing Machine

Balcony or terrace

Garden
Suitable for children

Suitable for the elderly - ask

Wheelchair accessible - ask
Great appartment and great service
Left on Sep 12, 2013 for a stay in August 2013
Igeldo Garden is a fantastic appartment for a couple. It has great views and there is a big pool in the complex to use. It is in a quiet residential area and you definitely need a car to get about. It's about 10-15 mins to the centre of San Sebastian. We got lost trying to find the appartment and the landlady drove out to find us at 11 o clock at night!
The view from the balcony is beautiful, so…
Previous

Next

property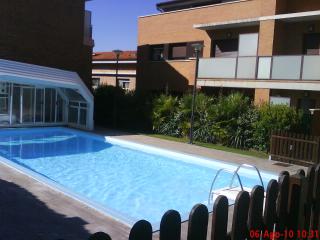 $101
1 BR / 1 BA / Sleeps 3
$101
Book
1 BR
/
1 BA
/
Sleeps 3
|

Quick view
A charming apartment located in a very quiet place called Olloki, close to Pamplona (5 km.). The apartment has a heated indoor swimming pool and a very nice garden. With a capacity for three persons, the apartment it's self is in a great condition. it includes a double bedroom and other extra bed into the living room…
Mountain Views

Internet Access

Balcony or terrace

Parking

Garage
Pet friendly

Smoking allowed

Suitable for children

Suitable for the elderly

Wheelchair accessible - ask
Previous

Next

property
$179
3 BR / 3 BA / Sleeps 5
Inquire
3 BR
/
3 BA
/
Sleeps 5
|

Quick view
* Stunning duplex with private terrace * 3 bedrooms, 2 bathrooms * Community Pool at rooftop * Free Wifi * Private Garage for 2 cars * Fireplace Wonderful duplex of 140m2 with 60m2 private terrace. It has a large living room with views of La Concha Bay. Few steps to Ondarreta beach, but away from traffic noise…
Waterfront

Ocean or water views

Shared outdoor pool (unheated)

Hot Tub/Jacuzzi

Internet Access
Suitable for children

Suitable for the elderly - ask

Wheelchair accessible - ask
Extraordinary view of the bay
Left on Aug 22, 2014 for a stay in August 2014
This flat is located at the top floor of a building, 10 minutes walk to the beach, although the road is quite steep. The flat has a private garage (suitable for 1 large car or 2 small cars) and is equipped with everything you might need, including all kitchen accessories, dishwasher, tv-set, a good wi-fi connection, a washing machine and dryer and even toys for your kids. The only missing …
Previous

Next

property
Inquire for rates.
1 BR / 1 BA / Sleeps 2
Inquire for rates
Book
1 BR
/
1 BA
/
Sleeps 2
|

Quick view
This word means granary, it is a beautiful restored granary for 2 people. This little cottage for couples is a luxurious retreat for special occasions or just a relaxing break. Lounge, kitchen and bedroom are nicely displayed in the 40squere meters and the bathroom has all new and fresh modern appliances. The best …
Hot Tub/Jacuzzi

Wireless Internet

A/C or climate control

Central heating

Balcony or terrace
---
Looking for more rentals?
We're showing only results that match your dates and preferences.
See all 305 Basque rentals, all 0 Spain rentals, or start a new search.
---