Previous

Next

property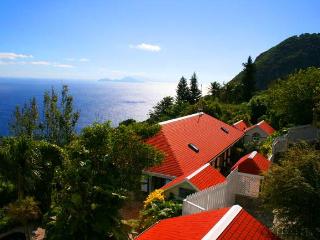 $375
5 BR / 5 BA / Sleeps 10
Inquire
5 BR
/
5 BA
/
Sleeps 10
|

Quick view
Hummingbird Villa is the only secluded, gated, seaside villa available for rent on Saba's Windwardside and is beautifully situated on two walled acres with private pool, magnificent sunrises and unobstructed, panoramic views of the ocean and 6 islands. Hummingbird Villa is a quick five-minute walk to the heart of …
Ocean or water views

Hot Tub/Jacuzzi

Internet Access

Housekeeping Optional

Outdoor Dining Area
Suitable for children

Suitable for the elderly
Perfect Gem : In the real West Indies
Left on Mar 30, 2011 for a stay in December 2009
This Villa has it all- : location ; with views, views , views- unobstructed - Every amenity you need- and more. All in
a location that is private, quiet, and exuding the true West Indies feel. Excellent service- We have stayed in Villas on Nevis; St Bart's and Bequia- for over 15 yrs. This is a gem- especially for the discerning traveler who knows how to travel. Btw.. the locals , …
Previous

Next

property
$608
3 BR / 3 BA / Sleeps 6
Inquire
3 BR
/
3 BA
/
Sleeps 6
|

Quick view
Haiku is a form of Japanese poetry where the predominant theme is peace, tranquility and harmony between nature and man. Based on a 16th Century Japanese home, Haiku House is a luxurious mountain hideaway. It is located on top of Troy Hill and in the middle of the tropical rainforest and has a magnificent island and …
Shared outdoor pool (unheated)

Hot Tub/Jacuzzi

Internet Access

Television

DVD Player
Pet friendly - ask

Smoking allowed - ask

Suitable for children - ask

Suitable for the elderly - ask

Wheelchair accessible - ask
A true delight
Left on Dec 12, 2013 for a stay in December 2013
I stayed at Haiku House with my familiy in the first week of December 2013. This was my first time in Saba and I wasn't quite sure what to expect. I absolutely love the Lesser Antilles with their tropical beauty and most gentle climate which almost seems surreal to my European senses especially when visiting during our cold months. When choosing a new vacation spot I always look for …
Previous

Next

property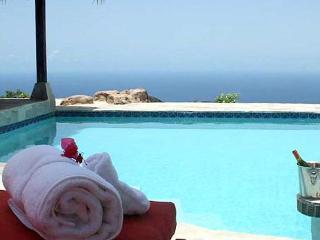 $429
3 BR / 2 BA / Sleeps 6
Inquire
3 BR
/
2 BA
/
Sleeps 6
|

Quick view
Our beautiful, Sabanian house "Villa Fairview" has a very unique location on the island of Saba. At 1000 feet, 'Fairview' overlooks the charming village of Windwardside in the middle of the island. You will find numerous fine restaurants and shops, all within walking distance. The house, which is surrounded by …
Shared outdoor pool (unheated)

Hot Tub/Jacuzzi

A/C or climate control

Dishwasher
Pet friendly - ask

Smoking allowed - ask

Suitable for children - ask

Suitable for the elderly - ask

Wheelchair accessible - ask
"Absolutely Fantastic!"
Left on Dec 11, 2014 for a stay in November 2014
My boyfriend and I traveled to Saba with a childhood friend of mine and her husband. We had an absolutely fantastic time! This rental was perfect for our vacation, the grounds are gorgeous, the pool was fantastic and the views were breathtaking. We loved cooking in the kitchen and sitting out watching the sunset over the horizon out by the pool. I would recommend a car to travel the island, …
Previous

Next

property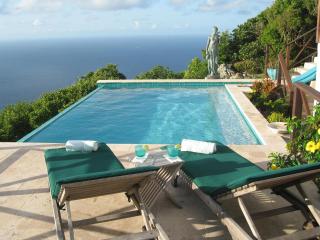 $140
1 BR / 1 BA / Sleeps 2
$140
Book
1 BR
/
1 BA
/
Sleeps 2
|

Quick view
Totally renovated designer furnished one bedroom apt. with fully equipped kitchen and bath, ample storage. Ceiling fans in each room, air-conditioned bedroom. T.V., local telephone, internet access, stereo. Apt is within 15 minute walking distance to Windwardside village. Shared pool facilities.
Shared outdoor pool (unheated)

Wireless Internet

A/C or climate control

Books

Garden
Previous

Next

property
$215
2 BR / 2 BA / Sleeps 4
Inquire
2 BR
/
2 BA
/
Sleeps 4
|

Quick view
Welcome to Flamboyant Cottage, our gingerbread-cute vacation home on Saba, The Unspoiled Queen of the Caribbean. With two bedrooms, two bathrooms, fully equipped kitchen and private pool, it's a beautiful and relaxing home away from home. The cottage is the perfect base from which to experience Saba's timeless charm. …
Ocean or water views

Internet Access

Housekeeping Optional

Outdoor Dining Area

A/C or climate control
Suitable for the elderly - ask
Cute as a button!!!
Left on Mar 03, 2011 for a stay in February 2011
We've stayed in 20+ cottages over the years and Flamboyant cottage was truly the closet to the descriptions on the website. Clean, well-maintained, welcoming, well-equipped and absolutely the only cottage I ever dreamed of returning to. We were delighted to find staples in the fridge, super-comfy beds and spotless bathrooms. What was the best was the great big hug I got from Trisha who over-sees …
Previous

Next

property
$350
3 BR / 3 BA / Sleeps 5
$350
Book
3 BR
/
3 BA
/
Sleeps 5
|

Quick view
We invite you to stay at Spyglass, our private villa located on the peak of Booby Hill - where the near 360 degree view allows guests to watch horizon sunrises and sunsets from the same spot! This villa is a true haven of tranquility and beauty. Spyglass boasts a walkout panoramic veranda and large lower sun deck …
Suitable for children - ask

Suitable for the elderly - ask

Wheelchair accessible - ask
Previous

Next

property
$350
3 BR / 3 BA / Sleeps 5
$350
Book
3 BR
/
3 BA
/
Sleeps 5
|

Quick view
Spyglass is a private villa located on the point at Boobyhill but within an easy stroll into Windwardside. This villa is a true haven of tranquility and beauty. Spyglass boasts a walkout panoramic veranda and large lower sun deck and patio with extraordinary views of the surrounding islands, Caribbean sea and Saba…
Suitable for children - ask

Suitable for the elderly
Previous

Next

property
$224
1 BR / 1 BA / Sleeps 2
Inquire
1 BR
/
1 BA
/
Sleeps 2
|

Quick view
House on the Path on the island of Saba is an original Saban style cottage, five minute hike to peace and tranquility! A 12 minute flight from St. Maarten or by Ferry one and a half hour to the beautiful island of Saba. Great also for Scuba Diving, Unforgettable Dives! • $1570/week: House on the Path Nestled 1500 …
Pet friendly - ask

Suitable for children
Previous

Next

property
$475
2 BR / 2 BA / Sleeps 4
Inquire
2 BR
/
2 BA
/
Sleeps 4
|

Quick view
Recently renovated by the enthusiastic new owners, Carolina Cottage is one of the premiere rental accommodations on the beautiful island of Saba. Perched comfortably, high atop exclusive Troy Hill, amid the unspoiled tropical rainforests of Saba, in the Dutch West Indies, sits the luxury vacation villa Carolina …
Shared outdoor pool (unheated)

Internet Access

Outdoor Dining Area

Grill

Linens Provided
Suitable for children - ask

Suitable for the elderly - ask

Wheelchair accessible - ask
---
---