Previous

Next

property
$227
2 BR / 2 BA / Sleeps 4
1 / 11
(7)
" Excellent "
Inquire
Sapphire house
2 BR
/
2 BA
/
Sleeps 4
|

Quick view
Welcome to "The Townhouse" located in the heart of Sapphire Valley where you are only a short distance from the Village of Cashiers. The view of the mountains from this location is truly spectacular, especially in the Fall when the leaves are all vibrantly and bold colored. It would make a gorgeous backdrop for your …
Shared outdoor pool (unheated)

Internet Access

Fireplace

Washing Machine

Deck
Suitable for children - ask

Suitable for the elderly - ask
Lakeside playtime
Left on Jul 01, 2009 for a stay in June 2009
We had a good time at this house, but I have to say I was disappointed that
there was no pantry for our use. We had to keep everything on the counter in
the kitchen, and we could've benefited from an extra shelf in the laundry room
to store our groceries. Another issue we had was the unexplained LOCKED
kayaks that were under the deck. I would presume that some communication
from the …
Previous

Next

property
$225
4 BR / 4 BA / Sleeps 8
1 / 21
(1)
" Excellent "
$225
Book
Sapphire cabin
4 BR
/
4 BA
/
Sleeps 8
|

Quick view
Our Cabin, located 10 minutes from Cashiers, NC is located in the beautiful subdivision of Whisper Lake. Situated on a high bluff with a panoramic mountain view, this new cabin will make you feel right at home. The cabin has an upper and lower back deck where you can sit and listen to the waterfalls on the …
Mountain Views

Shared outdoor pool (unheated)

Hot Tub/Jacuzzi

Sauna

Internet Access
Suitable for children

Suitable for the elderly

Wheelchair accessible - ask
Amazing time and experience!
Left on Aug 05, 2014 for a stay in July 2014
We had 8 guests total staying in the cabin. Plenty of space in and out, with modern amenities and lots to do nearby - mountain hikes, waterfalls, canoeing, fishing, gem mining and visiting towns like Cashiers. The exterior atmosphere was serene and peaceful with lots of deck space. Owner (Jon) was a pleasure to work with and we had everything that we needed for a fun-filled, easy-going week. …
Previous

Next

property
$220
3 BR / 2 BA / Sleeps 6
1 / 10
(1)
" Excellent "
Inquire
Sapphire cabin
3 BR
/
2 BA
/
Sleeps 6
|

Quick view
Welcome to Whispering Pines, yet another fabulous home located in the beautiful gated community of Misty Mountain. You'll be embraced by the purity of nature in this pine and hardwood forest; where the whisper of the pines will softly sing songs of soothing enchantment. The richness and warmth created by the …
Shared outdoor pool (unheated)

Internet Access

Fireplace

Washing Machine

Clothes Dryer
Pet friendly

Suitable for children - ask

Suitable for the elderly - ask
Excellent in all ways!
Left on Oct 17, 2014 for a stay in October 2014
Stayed here for a long weekend with the family. Location is excellent-very close to amenities, groceries and downtown Cashiers. House was very clean, beautifully decorated, comfortable and on a nice lot that the kids could run and play in. This is a house we'd definitely rent again.
Previous

Next

property
$108
2 BR / 2 BA / Sleeps 2
Inquire
Sapphire condo
2 BR
/
2 BA
/
Sleeps 2
|

Quick view
Sometimes less can be more and that is certainly true here at Chestnut Ridge. This terrific one bedroom home with a loft is close to town yet very private. It's located in Sapphire Valley and just a stone's throw away from anything you may want to do in the area. You'll love the warm welcome feel you have from the …
Shared outdoor pool (unheated)

Internet Access

Fireplace

Washing Machine

Clothes Dryer
Suitable for children - ask

Suitable for the elderly - ask
Previous

Next

property
$325
2 BR / 1 BA / Sleeps 4
1 / 20
(6)
" Excellent "
Inquire
Sapphire cabin
2 BR
/
1 BA
/
Sleeps 4
|

Quick view
Ten minutes from Cashiers, and 55 minutes southeast of Asheville, N.C. is Sapphire Heaven; a cozy, solar powered, cabin of rustic elegance, which offers your soul over 200 acres of privately gated nature, peace, solitude, but yet the convenience of being so close to everything. Fine dining, boutique and convenience …
Ocean or water views

Mountain Views

Hot Tub/Jacuzzi

Internet Access

Fireplace
Pet friendly

Suitable for children
An incredible retreat that is unlike anything you will find in t
Left on Dec 30, 2011 for a stay in December 2010
This cabin is well beyond "Luxury Rustic Cabin with spectacular View!" Luxury is a word that tends to be overused in rental descriptions. In this case, luxury only scratches the surface. Not only is the view "spectacular," but the entire cabin is "spectacular." Attention has been paid to every detail recreating a genuine rustic feel. The cabin has complete privacy and the property is natural…
Previous

Next

property
$413
6 BR / 5 BA / Sleeps 12
Inquire
Sapphire house
6 BR
/
5 BA
/
Sleeps 12
|

Quick view
Come to where the earth meets the sky and the eagles fly - where you can see forever and the stars appear endless. Welcome to Eagle Ridge. This spectacular home awaits those with the most discerning of tastes. Eagle Ridge is a spacious home with a great view. It has six bedrooms, five bathrooms, plus 2 half …
Shared outdoor pool (unheated)

Internet Access

Fireplace

Washing Machine

A/C or climate control
Suitable for children - ask

Suitable for the elderly - ask
Previous

Next

property
$170
2 BR / 2 BA / Sleeps 4
$170
Book
Sapphire condo
2 BR
/
2 BA
/
Sleeps 4
|

Quick view
This two bedroom, two bathroom condo is located in Sapphire Valley. It has a fully equipped kitchen with new stainless steel appliances and with new quartz counter tops in kitchen and baths, a Great Room with a wood burning fireplace, 3 large flat panel TV's and six-seat dining. Master bedroom has a queen bed and the …
Mountain Views

Shared outdoor pool (unheated)

Internet Access

Fireplace

Housekeeping Optional
Smoking allowed - ask

Suitable for children

Suitable for the elderly
Previous

Next

property
$244
3 BR / 3 BA / Sleeps 6
Inquire
Sapphire house
3 BR
/
3 BA
/
Sleeps 6
|

Quick view
If you have discerning tastes and love the finer things in life, you'll love A Place Set Apart located in the Burlingame Country Club. This is an adorable Villa three bedroom, three bathroom private home located in Burlingame in Sapphire. This private home offers a King, two queen beds and two twin beds. There is…
Shared outdoor pool (unheated)

Internet Access

Fireplace

Washing Machine

Clothes Dryer
Pet friendly

Suitable for children - ask

Suitable for the elderly - ask
Previous

Next

property
$596
3 BR / 4 BA / Sleeps 6
Inquire
Sapphire house
3 BR
/
4 BA
/
Sleeps 6
|

Quick view
Twin Falls is a uniquely stunning property located in Sapphire Valley. It has two fast flowing waterfalls on the property creating an ambiance of peace, tranquility and relaxation. It would also make an exquisite backdrop for a romantic night on the deck. All of the rooms in the main house overlook the waterfalls …
Shared outdoor pool (unheated)

Internet Access

Fireplace

Washing Machine

A/C or climate control
Suitable for children - ask

Suitable for the elderly - ask
Previous

Next

property
$220
3 BR / 2 BA / Sleeps 6
Inquire
Sapphire cabin
3 BR
/
2 BA
/
Sleeps 6
|

Quick view
Welcome to Dancing Bear! This terrific and whimsical home will make you feel right at home in the mountains as soon as you step inside the door. From the bright and open floor plan to the warm and welcoming décor, you'll never doubt that you're in the majestic mountains, the home of the proud and handsome black …
Shared outdoor pool (unheated)

Internet Access

Fireplace

Washing Machine

Clothes Dryer
Suitable for children - ask

Suitable for the elderly - ask
Previous

Next

property
$436
4 BR / 4 BA / Sleeps 8
Inquire
Sapphire cabin
4 BR
/
4 BA
/
Sleeps 8
|

Quick view
With views of the "island" 15th green on Sapphire National golf course as well as the majestic and beautiful Smoky Mountains, this spacious and fabulous home has it all! The park like yard has a fire pit and a horseshoes game set up and ready for your playing pleasure. Or you can go fishing in the pond, play…
Shared outdoor pool (unheated)

Internet Access

Clothes Dryer

A/C or climate control

Deck
Pet friendly

Suitable for children - ask

Suitable for the elderly - ask
Previous

Next

property
$155
2 BR / 2 BA / Sleeps 4
Inquire
Sapphire cottage
2 BR
/
2 BA
/
Sleeps 4
|

Quick view
Oggies Nook is an adorable Villa located in the beautiful Burlingame Country Club. It is tastefully decorated with granite counter tops and wood floors. The living room has a wood burning fireplace and a flat panel TV. It opens up into the cozy dining room the will entertain up to six. The kitchen is spacious, …
Shared outdoor pool (unheated)

Internet Access

Fireplace

Washing Machine

Clothes Dryer
Pet friendly

Suitable for children - ask

Suitable for the elderly - ask
Previous

Next

property
$246
3 BR / 2 BA / Sleeps 6
This lovely and fabulous home in the heart of the Sapphire Valley is conveniently located in the Country Club of Sapphire Valley, within walking distance to the Ski Sapphire Valley Ski Resort which offers Skiing, Snow Boarding as well as Tubing. It will please the most discerning guest and welcome those who are …
Shared outdoor pool (unheated)

Internet Access

Fireplace

Washing Machine

Clothes Dryer
Pet friendly

Suitable for children - ask

Suitable for the elderly - ask
Previous

Next

property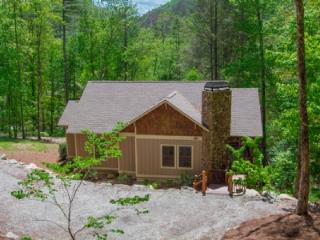 $188
2 BR / 2 BA / Sleeps 4
Inquire
Sapphire cabin
2 BR
/
2 BA
/
Sleeps 4
|

Quick view
Welcome to Morning Mist! This home is so aptly named, for anyone who's seen the beautiful Smokey Mountains knows about the magical mist that hangs in the air overnight and in the morning. The Native Americans were the original inhabitants and the ones who named our majestic mountains for that very mist. They thought…
Shared outdoor pool (unheated)

Internet Access

Fireplace

Washing Machine

Clothes Dryer
Pet friendly

Suitable for children - ask

Suitable for the elderly - ask
Previous

Next

property
$280
4 BR / 3 BA / Sleeps 10
Inquire
Sapphire house
4 BR
/
3 BA
/
Sleeps 10
|

Quick view
Black Oak in Holly Forest is a lovely new home nestled on a private wooded lot. Enjoy the open floor plan, spacious kitchen and large covered back porch with gas log fireplace. The great room has a wood burning fireplace and large flat screen TV. The Master Bedroom has a king sized bed and flat screen TV. The …
Shared outdoor pool (unheated)

Internet Access

Fireplace

Washing Machine

Clothes Dryer
Suitable for children - ask

Suitable for the elderly - ask
---
---