9 Results
Relevance
Price: low to high
Price: high to low
Number of reviews
Pine Mountain Club house
4 bedrooms / 3 bathrooms / sleeps 50
Responds fast! avg. 3 hours 59 minutes
Price per night from
$407
Pine Mountain Club house
4 bedrooms / 3 bathrooms / sleeps 10
"Wonderful Family Home" Our family had a wonderful time in your beautiful home - everything we needed was there - nothing was lacking. There was plenty of room and sleeping arrangements for everyone! We were able to drive to the snow to go sledding for the day and then come right back and play board games the whole night. What a wonderful way to re-connect as a family! Thank you so much for sharing your lovely home with us! We look forward to returning with family and friends!! Julie even called us to check up on how we were doing. We really appreciated all your hospitality!
Price per night from
$401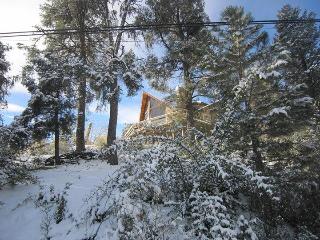 Pine Mountain Club log cabin
2 bedrooms / 1 bathroom / sleeps 4
Responds fast! avg. 2 hours 10 minutes
Price per night from
$171
Pine Mountain Club log cabin
3 bedrooms / 2 bathrooms / sleeps 6
"Chris' cabin is the way to go!" I recommend Chris' cabin to anyone looking for a peaceful getaway. The cabin is clean and comfortable, and comes fully stocked. I stayed two nights with three other friends, and had an excellent stay.
Responds fast! avg. 49 minutes
Price per night from
$201
Pine Mountain Club house
7 bedrooms / 5 bathrooms / sleeps 32
"Fun Bachelor Weekend" This house was fantastic. We brought 11 guys up for my brother's bachelor party weekend. It was the perfect place for us to stay altogether (comfortably). There were more than enough beds and the kitchen was nice and large. In addition to its size, the location was great - close enough to the general store and the golf course. I highly recommend Heidi's Retreat (and Pine Mountain Club, generally) for a weekend of golf, hiking and even jousting!
Price per night from
$544
Pine Mountain Club log cabin
2 bedrooms / 2 bathrooms / sleeps 4
Price per night from
$228
Pine Mountain Club house
2 bedrooms / 2 bathrooms / sleeps 4
Price per night from
$160
Great rentals within 20 miles that match your search
Frazier Park house
8 bedrooms / 6 bathrooms / sleeps 35
Responds fast! avg. 44 minutes
Price per night from
$916
Frazier Park log cabin
6 bedrooms / 5 bathrooms / sleeps 50
Responds fast! avg. 44 minutes
Price per night from
$916